If you have been in the Lancaster area, you have most likely been to a Turkey Hill market. No matter where you are, there is always one around, some within a mile radius of one another (it is unavoidable). But despite there being so many Turkey Hill's, the franchise is working EXTREMELY hard to make a difference and to go green. There is this thing called "sustainability" and it's taking over! Everyone is trying to go green and to support sustainability, and Turkey Hill is one of them.
What is Turkey Hill?
As I said, Turkey Hill Markets is a Lancaster County based convenience store. Turkey Hill's headquarters is right over in Manor Township.
Fun fact: the Native Americans called "Susquehannocks", were the first to inhabit the area. Actually, they were the ones to give "Turkey Hill" its name because it was an abundant hunting ground for turkeys. ( I know– so interesting!)
During the Great Depression, Armor Frey gathered a few bottles of milk and sold each bottle to his neighbors and as time went on, his sales grew and it eventually became his primary business. Then in 1947, Glenn, Charles, and Emerson Frey bought their father's business. The brother's goal was to provide quality products and excellent service (I think everyone can agree: they succeeded).
The first store was opened in 1967 in Lancaster and in 1980 the Frey brothers expanded their businesses to ice cream production. Eventually, Turkey Hill ice cream became a favorite in local Lancaster County stores. In 1981, the franchise moved to the Philadelphia area and there are now over 270 stores all over the state. All stores offer a variety of extra services, like ATMs, state lottery gaming, gasoline, and quick shopping. In Columbia, Pa there is actually an attraction called the "Turkey Hill Experience", where you can have the experience of going through different exhibits that explain dairy culture, the story of Turkey Hill Dairy, and how the company's ice cream and iced tea flavors are selected and created.
So…What is Turkey Hill doing?
Turkey Hill is actively putting many green initiatives into effect in order to drive out waste, reduce packaging, and reduce outputs to the environment. The Frey family has been on the Turkey Hill farm since 1817 and wants to continue to ensure that future generations can enjoy Lancaster County. The family has decided to take a few steps to make this county a better place for residents and visitors. To do this, Turkey Hill has started using energy efficient lighting, landfill gasoline, recycling, reducing plastic usage, backhauling and many more sustainable tactics. President of the company, Quentin Frey, wants to continue to be a positive impact on the environment. Actually, he recently enabled nearly 15 new initiatives of going green.
I See… But How Are They Doing It?
One way Turkey Hill supports sustainability is through food products. Despite everything being made locally, the company has found ways to reduce their ice cream waste, by investing in systems to capture and safely reclaim waste from production. Since then, there has been a one-third reduction of ice cream mix waste. This has eliminated the use of additional commodities to replace the waste & the transportation of heavy liquid to a disposal location.
Turkey Hill does many things to support sustainability, outside of their food products. The company has reduced their plastic fruit pails from a plastic 30 lb. pail to a reusable 2500 lb. tote system, which they backhaul from their facility when ingredients are delivered. Turkey Hill is now utilizing 45,000 fewer pails (135,000 pounds of plastic) per year.
The company has also switched to paper ice cream lids, which saves about 210,000 pounds of plastic per year. They continue to use these paper lids, even though they could save money by using the plastic rims. Their paper ice cream cartons now weigh approximately 5.5% less than the previous cartons, which has reduced annual paperboard requirements by 200,000 pounds.
They recently redesigned the half-gallon containers that now allows them to fill the handle of the container. This new container has 22 grams less of HDPE resin than the previous container.
Turkey Hill has recently installed Wind turbines, which provides energy diversification, and has reduced electrical costs. The output from the turbines is delivered right to Turkey Hill for use in its manufacturing facility. These turbines have reduced greenhouse gas emissions by about 5,900 tons per year.
Gotcha…Is That It?
You would think that's it… but you'd be wrong. Turkey Hill also has an active recycling program. Their major waste streams include cardboard, HDPE and LDPE plastics, ferrous and nonferrous metals, paper products, and food-grade waste. In the past three years Turkey Hill has recycled the following volumes of major items:

Cardboard: 902 tons

Plastics: 305 tons

Metals: 130 tons

Paper: 135 tons


Food-grade: 720,000 gallons

They have begun reducing their annual operating costs for lightening. They have also extended lamp life cycles, lower maintenance costs, and reduced heat load in
warehouses. They recently switched T-12 fluorescent lights with higher efficiency T-8 lights and metal halides & high-pressure sodium fixtures.
Also, through their landfill gas, they have reduced the use of diesel fuel by an estimated 150,000 gallons per year. Now, there has been less fuel consumption, reduced energy costs, capital avoidance, and less air emissions.
Then there is Turkey Hill's wastewater treatment, which collects and burns methane gas generated from their own anaerobic wastewater treatment facility. It reduces its use of propane gas by nearly 85 % or the equivalent of more than 120,000 gallons of propane per year. They are currently installing UV equipment to replace chlorine gas as a disinfection chemical.
Turkey Hill locally sources their raw materials and packaging from local suppliers. A quote from the Turkey Hill Facebook page, "The chocolate chips used in our All Natural Chocolate Chip Ice Cream are made right down the street from the Dairy, at the Wilbur Chocolate Factory!". Because they locally source their materials, this reduces number of miles that trucks drive to their facility to drop off products. As a result, it reduces total number of deliveries to plant and ensures that delivery trucks are full when shipped.
They have recently adopted the "LEAN Processing Principles," which are being implemented through training and certification for their associates.

There are five steps in LEAN:
Specify value from the standpoint of the end customer by product family.

Identify all the steps in the value stream for each product family, eliminating whenever possible those steps that do not create value.

Make the value-creating steps occur in tight sequence so the product will flow smoothly toward the customer.

As flow is introduced, let customers pull value from the next upstream activity.

As value is specified, value streams are identified, wasted steps are removed, and flow and pull are introduced, begin the process again and continue it until a state of perfection is reached in which perfect value is created with no waste.
These principles focus on identifying and getting rid of all the waste in their systems. A quote from the Turkey Hill website, "Through company wide continuous improvement, we will find more ways to increase sustainability of our business and products" (Turkey Hill, n.d.).
Sweet, But What Does This Have To Do With Me?
So now how can you support sustainability? Well, there are so many ways! You could support Turkey Hill and their sustainable ways by buying their products and that way, you are implementing this company's goals into your own life style. There's always other options, like recycling at your own residence or simply by purchasing their 16-ounce coffee, which is 100% recyclable material. You could always support them at their free events, like the Country Music Festival, because who doesn't like a free music festival? or And then there's the easiest way out of them all… tell your friends and family about Turkey Hill! Just mention to them how this company wants to make the world a better place for future generations. Doing any of these things makes you a great supporter not just for Turkey Hill but for sustainability and for a greener world!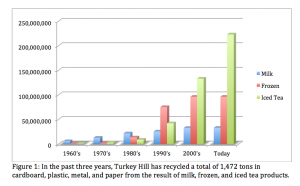 Glossary
Sustainability- involving methods that do not completely use up or destroy natural resources
HDPE (High-density polyethylene) plastic- tough/strong plastic material used for milk jugs, plastic bags and refillable plastic bottles
LDPE (low-density polyethylene) plastic- plastic material used most commonly for plastic bags but also dispensing bottles and wash bottles
Ferrous metals-used for their tensile strength and durability mild steel; examples: carbon steel, stainless steel, cast iron, and wrought iron
Non-ferrous-more malleable and lighter than ferrous metals; examples: metals include aluminum, brass, copper, nickel, tin, lead, and zinc
LEAN- a way to create customer value while using fewer resources
References
Sustainability and Environmental Impact-Reduction Projects from Turkey Hill. (n.d.). Retrieved from (https://www.turkeyhill.com/about/green.aspx).