The Lancaster Central Market
By Jacob Sovine
Lancaster Central Market is the oldest, continuously running, farmers market in the country. Opening in 1730, farmers from all over the county would bring their goods to sell on this 120-square-foot plot of land. This market was a key factor when King George II designated Lancaster as a market town in 1742. They continued to embrace this new market town name, and even appointed a market clerk. In 1757, the first permanent market building was built. This building housed the market for over a hundred years until it was torn down and replaced in 1889. The new building still stands in Lancaster today.
Timeline of Lancaster Central Market
1730 – Opening
1742 – King George appointed Lancaster as a market town
1752 – First permanent market building constructed
1889 – New building constructed
The Lancaster Central Market is home to many different vendors.
Since it's beginning the Lancaster Central Market has been home to many vendors to sell their goods. At the beginning there were only a few farmers selling their produce. Now the market has about sixty vendors. These vendors sell a variety of things including meats, vegetables, fruits, bread, cheese, and much more. The Lancaster Central Market strives to bring the freshest food to its customers.
Brogue Hydroponics in particular uses hydroponics as a way to grow their produce. Hydroponics uses a mineral solution instead of soil to grow their produce. There are various types of hydroponics that uses different methods. This vendor uses peat moss instead of soil and has eight greenhouses that grow various things such as lettuce, tomatoes, and strawberries. The greenhouses are all closed systems and all nutrients are replenished and used again. This helps the environment immensely because they are not destroying the land or using an abundance of resources to grow their produce.
Another vendor that emphasizes sustainability is Green Circle Organics. Green Circle Organics gets fresh, organic produce from local farmers and then delivers them to households. They have many different boxes full of produce that can be delivered within two days after purchase. Delivery is free and the boxes include produce such as carrots, kale, mushrooms, apples, and much more. Green Circle Organics opened in 2003 and is still serving people fresh produce today.
Since it's beginning the Lancaster Central Market have had many patrons come through its door. About three thousand people visit the market everyday in search of fresh food. Many of the vendors promote fresh, sustainable food that customers cannot get at their local grocery store.
Other Vendors
Pureblend Tea
Pureblend Tea is another vendor at the Lancaster Central Market that promotes a healthy alternative. The creator of Pureblend Tea wanted to create a tea that could be an alternative to taking over the counter drugs. All of the ingredients and herbs are obtained from vendors certified by the United States Department of Agriculture. This allows them to create the most organic and fresh tea. One tea that this tea bar sells is matcha tea. Matcha tea has many healthy benefits including boosting metabolism and lowering cholesterol and blood sugar. Pureblend Tea can be found at Stand 11 in the market.
Tulip Tree Hill
Tulip Tree Hill promotes growing produce organically as well. Instead of using chemicals to fertilize the plants and for pest control, they use alternatives. This includes compost. Compost has many benefits to the environment. One benefit is that it recycles food and yard waste that would be thrown away anyway. Compost also helps to enrich the soil. It provides nutrients to the soil that make it healthier. Tulip Tree Hill also grows their plants in a different way from most. In the summer they grow vegetables that love heat, and in the winter they grow cool-weather greens. Tulip Tree Hill can be found at Stand 37 in the market.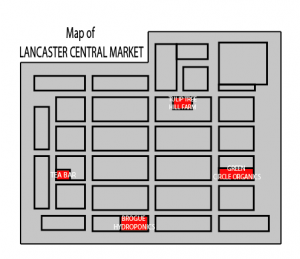 Lancaster Central Market Recognition
The Lancaster Central Market has won any awards since it was created. In 2013, it was given the American Planning Association's 2013 National Planning Excellence for Urban Design. Each year they award people's planning efforts. In 2013, The Lancaster Central Market: Assessments, Guidelines, and Recommendations for Preservation and Development guidelines were created. The guidelines show how the market is significant in a historical, cultural, and architectural way. The plan has also helped to secure the city's food supply and reconnect the market economy between the consumers and the farmers. The plan has been in effect since it was created and is still working to achieve what it set out to do.
The Building
The building that houses the market was built in 1889 by architect, James H. Warner. His idea was to have it made out of red brick, with two pointed top towers, and a slate roof. Construction started in June of 1889, and the building was finished in November. Warner was originally born in England, but made Lancaster his home after designing multiple buildings in the area. He has also designed the Lancaster court house, and the Old Library in Millersville which now is used as the Office of the President. All Warner's buildings still stand today and are honored by many for their beauty.