Providing wild and forested lands and clean waterways for our community. Forever.
By Taylor Wiedeman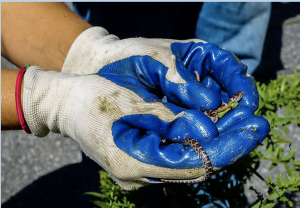 The Lancaster County Conservancy started in 1969. The purpose of the conservancy is for future generations to have open space lands that they would like to go to and enjoy. The conservancy currently has 2,600 plus members. No one wants to go to a place where they have trash all over the ground. Lancaster County residents want to live in a clean community. Not sure what a conservancy is? A conservancy is, "an organization that works to protect animals, plants, and natural resources especially by purchasing and caring for areas of land."The conservancy consists of 46 nature preserves. The conservancy has four main program areas that include the land protection program, stewardship program, education program, and urban greening program.
The first program is the land protection program which is about interests in land before they are made. The second program which is stewardship is about healthy and safe places the public can visit. Third program which is education is about public schools and to increase learning about nature. The last but not least program is urban greening which is about building a strong Lancaster city. The conservancy is conveniently located in Lancaster city.
The conservancy has many accomplishments. The conservancy has permanently protected over 6,000 acres of land. The conservancy currently works with seven school districts.  2,500 students visiting the preserves is very impressive. The organization is very successful including nature walks, annual member picnic, and other events that the public are welcome to.
One of the major events that the conservancy hosts is Lancaster Water Week.    Lancaster County consists of 12 watersheds and the purpose of Water Week is to celebrate the unique water ways that the county consists of. Water connects us all and wetlands are one of the most important ecosystems on the planet.
As of last year the conservancy has protected over 6,000 acres of land.
This year Lancaster Water Week will be held from June 1st, to June 9th. This will be a 9 day process with 20 events involved. 47% of Lancaster county's streams are impaired or polluted which is an important issue because water is a resource. People want to live in places that have as clean water as possible so it is a major problem when almost half the streams are polluted.
Some of the events that will take place during Lancaster Water Week are First Friday in downtown Lancaster, pedal to preserve bicycle ride, Riverlands trail festival, canoe classic, Wilton meadows hike, stream health and science 101, a day on Lititz run, 4th annual clean waters golf tournament, rain garden design and installation workshop, clean streams farm tour, Chiques watershed expo, native plant conference, Kelly's run nature hike, green infrastructure bike tour, propagating native plants at home, Eshleman run tree planting and many more.
For more information regarding events, dates, and times visit https://www.lancasterwaterweek.org.
The conservancy is a successful conservancy that has been around for fifty years. Phillip R. Wenger is the President & CEO of the conservancy. He has many accomplishments and achievements which makes him a great candidate as president of the conservancy. He has led numerous organizations and within his first year at Lancaster County Conservancy he has protected 570 acres of land. He also has a great team of people to work with including Kathie Shirk-Gonick who is the Director of Land Protection and In-House Counsel, Fritz Schroeder who is the Director of Urban Greening, Lydia Martin who is the Director of Education, Brandon Tennis who is the Director of Stewardship, and Jerry Fulmer who is the Finance Administrator/Consultant. But that is not all, there are also many important board members that are part of the conservancy.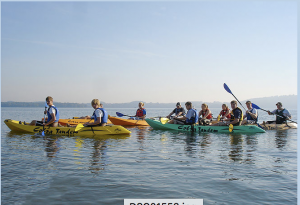 Overall the conservancy is very successful and has had many accomplishments over 50 years. Donations are always welcome and anyone who donates immediately becomes a member of the conservancy. This is a great opportunity to get involved in your community and meet people that want to live in a safe and healthy environment as well. To donate visit https://lancasterconservancy.org/donation/. Also, if you would like to sign up for any events during Lancaster Water Week please visit https://www.lancasterwaterweek.org/events.
Timeline:
First Friday in Downtown Lancaster: Friday, June 1 ~ 6pm – 10pm
Lancaster Farmland Trust: Pedal to Preserve Bicycle Ride, Saturday, June 2 ~ 8 am
Stream Health and Science 101: Saturday, June 2 ~ 9am – 12 pm
Friends of Fishing Creek at Quarryville Library: Saturday, June 2 ~ 10 – 11:30 am
Riverlands Trail Festival: Saturday, June 2 ~ 10 am – 3pm
Wilton Meadows Hike: Saturday, June 2 ~ 9:30 am – 3pm
Canoe Classic: Saturday June 2 ~ 10am – 3pm
A Day on Lititz Run: Saturday, June 2 ~ 2 – 5pm
Map: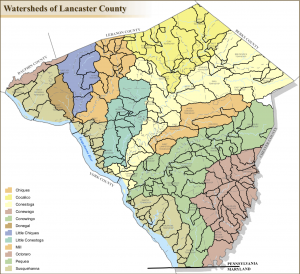 Two related stories:
Save it!: This is a campaign to help people save water, save money and prevent pollution. It is important to preserve clean drinking water and make sure it does not go into the sewer systems. We want to all be healthy and 750 million gallons of water are polluted into the Conestoga River. Everyone can help and make a difference. No one wants to drink polluted water. We want to drink the cleanest water possible and with this program we are benefiting the community from possible pollution. Below is a video more about this program. Remember, your water, your money, your city.
Lancaster Tree Tenders: This program was designed for people to care for trees and to plant them. This program hopes to reduce pollution and increase biodiversity. The first time this took place was in fall 2015 when 28 trees were planted on 5 city blocks. This is a great way to engage with your community and to educate people on the benefits of trees. Some of the benefits of trees are:

reduce erosion
reduce stormwater costs
beautify neighborhoods
reduce cooling and heating costs
reduce stress
improve air quality
mitigate noise
prevent 3,000 plus gallons of stormwater from entering sewer system
Two profiles:
Lydia Martin, Director of Education – Lydia Martin has been with the conservancy since 2012. She has been the director of education since 2015. She is a Pennsylvania master naturalist which makes her qualified because of her knowledge of landscaping. For 10 years she worked for the Manheim Township Parks and Recreation. She loves children and currently has four of her own. Some of her hobbies are gardening, reading, writing, and taking pictures. She wants to make students aware of nature and its importance. Education is important to her and she wants to make sure that people are educated on recreation and observation as well.
Jerry Fulmer, Finance Administrator/Consultant – Jerry Fulmer started with the conservancy as a consultant in 2000. In 2011 he became vice president of Finance and Administration. In 2014 he decided to go back to consulting. He currently volunteers at St. Mary's Catholic Church. Jerry has a love nature and enjoys going on walks. He is in charge of finance, audit, budgeting, Human Resources, and project manager. He has also been the manager of other companies such as Information Services for Champion Aviation in South Carolina, Cooper Tools in North Carolina, and Campbell Chain in York, Pennsylvania and Trojan Boat in Lancaster. Jerry has many accomplishments which makes him a great candidate for his position and a great attribution to the conservancy.
Below are some pictures taken by myself of the Conestoga River. The Conestoga River is one of the twenty watersheds in Lancaster County. Conestoga River is conveniently located by Sheetz on Millersville Rd/Wabank Rd.
References
Frequently Asked Questions. Retrieved from https://www.lancasterconservancy.org/about/faqs/
2018 Events. Retrieved from https://www.lancasterwaterweek.org/events
"Conservancy." Merriam-Webster, Merriam-Webster, www.merriam-webster.com/dictionary/conservancy.
Watersheds of Lancaster County. co.lancaster.pa.us/DocumentCenter/View/215/Lancaster-County-Small-Watersheds.
"Save It! Your Water. Your Money. Your City – Lancaster City PA." YouTube, YouTube, 13 Dec. 2013, www.youtube.com/watch?v=MC5mfnRgNPY.