Kreider farms and Penn Township's Northwestern Lancaster County Authority come together to help protect the environment and educate the public about the impacts they make.
By Miriam Gamache
---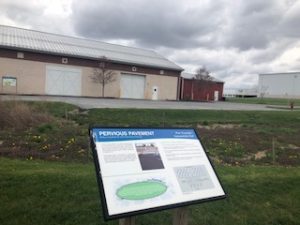 Photo by Miriam Gamache
The Water Treatment Plant's Sustainability Park in Penn Township is a project that works hard to help protect the environment and teach the community about the importance of helping the earth. The Sustainability park is a part of the effort of township officials in Northwestern Lancaster County Authority (NWLCA) and Kreider farms. The four-acre park was purchased by NWLCA from Kreider farms in 2011 for $140,000. After a lot of work, the land was turned into a scenic park that surrounds the state-of-the-art treatment facility and opened to the public on May 3, 2014.
The park is open from dawn to dusk and includes a 1/4-mile loop walking trail that takes you through meadows, alongside a maturing wooded riparian buffer, and several rain gardens. The trail has a great atmosphere for nature lovers, exercise seekers, and families who want a fun outdoor, educational experience. The route has seven interpretive stations with educational signs that detail the various features and "Take-Home Tips." The informational plaques to educate visitors, especially school children, about the "green" practices in front of them. They explain the numerous ways the environment is being protected at the site. There also little tidbits on how people can take home these practices and use them in their own backyards. "Our focus is much broader than just completing a construction project," said Dave Kratzer Jr., township manager. "It's about making a lasting impact."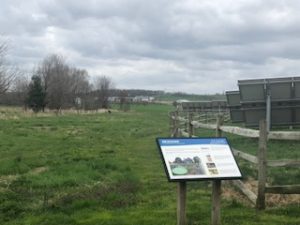 Photo by Miriam Gamache
The land has access to a high-volume water well that has been transformed into the  NWLCA water treatment facility that provides safe drinking water to the community. The well has the capacity to provide water to Doe Run Elementary school as well as 650 more customers. It is a highly productive water source and is run through the water treatment plant. The site also manages storm water runoff into their aquifer.
Ron Kreider, president and CEO of Kreider Farms, said the company is "happy that a former portion of our farm could be used as a valuable source of drinking water as well as a beautiful park where visitors can experience nature and learn about simple strategies for improving the environment."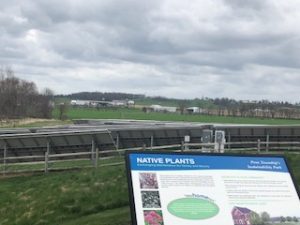 Photo by Miriam Gamache
Other parts of the park/treatment plant that help protect our environment
Bion Waste Treatment

Due to their position upstream from the Chesapeake Bay, the NWLCA water treatment facility works hard with Kreider Farms to help lessen the pollution from the runoff waste of the dairy farms. Instead of having the traditional method and approach of water treatment that are normally used at municipal wastewater and storm water facilities, they are using Kreider Farms' new Bion micro-aerobic digestion technology. This "provides on-site nutrient treatment at the livestock farm before waste ever has an opportunity to flow into local strea

ms and watersheds." This allows for an opportunity to help reduce nitrogen and phosphorus from animal waste that could flow into the Chesapeake Bay.

Riparian Buffers

A riparian buffer is a vegetated area next to a water source the protect the water from pollution from fields and helps provide bank stabilization and supports aquatic and wildlife habitats. The buffer helps keep sediments on the fields and out of the water source, help replenish groundwater and decreases the frequency and intensity of flooding. It also helps filter out pollutants from entering the stream. To protect the areas around Kreider dairy farms, they have a Riparian buffer near a stream to help protect it from the impact of the land around it.

No-Till Farming

Growing crops without disturbing the soil from tillage. This help increases the amount of water that can get absorbed into the soil, increases organic matter retention and helps keep more nutrients in the soil. It can also help prevent soil erosion. There are also more benefits for no-till farming than just benefiting the crops. No-till farming also helps

reduce fuel, labor, and equipment costs.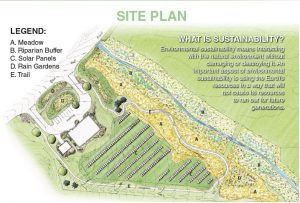 Photo from Kreider Farms
---
Side Projects
Solar Panels
Kreider Farms also has recently installed solar panels on the roofs of their four, new, state-of-the-art chicken houses. These egg-processing facilities has 3,226 solar panels that cover 67,000 square feet of roof space, costing around $2 million. Of course, a roof is the best place for a solar panel on a farm. Lancaster County land is too valuable, Ron Kreider said. The solar panels have the capacity to generate about 3.5 million kilowatts of clean, renewable of energy each year. That is enough electricity that can power an average of 100 homes a year, according to a press release.
Manure Blend and Potting Mix
Kreider Farms likes to make an effort to eliminate waste whenever and wherever possible. As a result of being the only Diary and large egg combination farm in the nation, they mix a home and garden fertilizer that is twenty-five percent fresh, dried chicken manure with seventy-five percent composted cow manure. They also fortify their potting mix with the chicken and cow manure blend that helps potted vegetables and plants grow. "Kreider's exceptional chicken and cow manure blend provides a mix of nutrients not found in other blends on the market," said Ron Kreider
---
Contributors 
Ron Kreider
Ron Kreider is the current CEO and president of Kreider Farms. Ron grew up in Lancaster County and has called Kreider Farms his home, just like has been for generations of his family since 1736. He likes to help the environment and makes sure that his company does its best to contribute to helping the environment with different conservation efforts. Kreider is also a member of the policy committee of the Coalition for an Affordable Bay Solution (CABS) a non-profit advocacy group formed to support the creation of a competitively-bid procurement program for nutrient (nitrogen and phosphorus) reductions in Pennsylvania.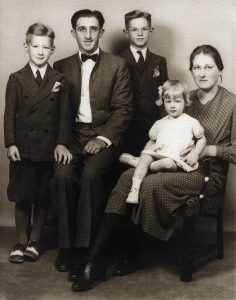 Noah and Mary Kreider
Noah and Mary Kreider are the founders of Kreider Farms. They bought the land from John B. Hershey, Mary's father and cousin to Milton Hershey, in 1935. They started with a small farm of 102 acres of land, twelve dairy cows and around 200 chickens. They grew vegetables and the eggs and peddled them from house to house. As time passed and Noah and Mary's sons grew and got married, they bought adjourning farms and Kreider Farms was up and running. Production grew rapidly until Kreider Farms emerged as the largest egg producer in the state of Pennsylvania. Noah and Mary lived with a philosophy of high quality, hard work. They were willing to take risks and tried to demonstrate the highest of moral and ethical values and it is the "mission" that Kreider Farms still uses today.
---
Resources:
Submission. "'Sustainability Park' Now Open in Penn Township." LancasterOnline, 25 Apr. 2014, lancasteronline.com/manheimcentral/news/sustainability-park-now- open-in-penn-township/article_e9bad42a-ccaa-11e3-8624-0017a43b2370.html.
Kreider Farms. Environmental Stewardship. www.kreiderfarms.com/history-mission/environmental-stewardship/. Simpson, Jordan. Riparian Buffers:
What Are They and How Do They Work. www.soil.ncsu.edu/publications/BMPs/buffers.html. Sustainability Project. 8 Feb. 2018, penntwplanco.org/government/boards-commissions/sustainability-project/. "The Science Behind the Need for
Riparian Buffer Protection." The Science Behind the Need for Riparian Buffer Protection : ConservationTools conservationtools.org/guides/131-the-science-behind-the-need-for-riparian- buffer- protection. Writer, TIM MEKEEL Staff.
Penn Township Water Project Takes 'Green' Approach. 7 Mar. 2012, lancasteronline.com/business/penn-township-water-project-takes- green-approach/article_3dbf5d4e-4b41-5fa6-b10f-f233c6e9c39a.html.