Sustainability of Artificial Turf
Is natural grass more sustainable than artificial turf?
By Angie Palmer
Here in Lancaster county, we are filled with many school districts that play on turf or natural grass to compete in many different sports. Some schools are well off than others, so some are able to get the turf and some are not. Having to mow and take care of natural grass takes a lot of time, so schools took to artificial turf. It is expensive, but in the long run it is eco-friendly and sustainable. After a rainy day and a sports team plays on natural grass, it can get ripped up very easily. Then that damages the field even more leaving ditches and holes. The artificial turf stays nice no matter what kind of weather occurs. We all love natural grass, for it being semi-easy to grow and looks "pretty." Although have you ever thought about synthetic turf meaning more to the environment? In fact, synthetic turf is less harmful to the environment than natural grass. Natural grass is full of pesticides, including harmful ingredients designed to kill, and is overly watered down. Artificial turf has it's own cleaning mechanisms made into them. Including, "Alphasan." Alphasan includes a silver sodium hydrogen zirconium phosphate, which is safe for humans, food contact, birds, and mammals (Treehugger.com). Many people are unaware what artificial turf is actually made of. It is 100% recyclable. The plastic grass is made from recycled plastics used for water bottles. According to Treehugger.com, the padding between the blades and webbing is soy-based and webbing itself is 100% post-industrial recycled plastics. 75% is compromised of recycled materials and at the end of the plastic grass' very long life, it is 100% recyclable. The manufacturing of matrix-turf is environmentally-friendly. They use raw materials to make the fibers and produ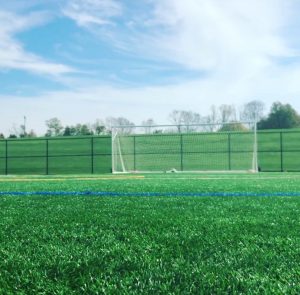 ce non-toxic and petroleum-free polyurethanes for the turf. This process concludes the top quality eco-friendly products. The constant maintenance of natural grass takes a toll on the environment after some time. Just in north America, we have conserved six billion gallons of water and close to a billion pounds of harmful fertilizers and pesticides, as of 2012. One full-size synthetic turf sports field saves 500,000 to 1,000,000 gallons of water each year. Replacing natural grass with turf, has eliminated the need for a billion bounds of harmful pesticides and fertilizer. Which has tons of health and environmental implications. This is a principal cause of water pollution. They also keep more than 105 million used tires out of landfills. In a more recent study, most American families use around 320 gallons of water per day. Approximately 30% of that amount is used from outdoor use. Form watering lawns to other gardening roles. That's almost 9 billion gallons per day. With synthetic turf, your water bill would drop significantly, because the only thing you would need to hose down on the turf, is pet waste. Turf also decreases CO2 emissions. Mowing the lawn, contributes to global CO2 levels. These levels can pollute more thanyou can imagine. The only maintenance turf needs are brushing away debris. Astroturf is always looking for more progressive ways to better themselves for the environment. In the future, AstroTurf will be the new grass, everywhere. According to Astroturf.com, a BAASF study was placed to compare synthetic and natural grass. This study looked at 11 environmental categories including primary energy consumption, raw material consumption, greenhouse gas emissions, ozone depletion potential, photochemical ozone creation potential, water emissions, solid wasted emissions, toxicity potential, risk potential, and land use. They concluded synthetic turf being lower in terms of impacting the environment. Astroturf's plastic grass is made from recycled plastic bottles, giving them a huge resource in recycling them.
John Walk sports writer
Lampeter-strasburg takes steps toward 3.5million project for turf football and soccer fields
The condition of the soccer and football fields are an utter mess after the sports are done with them. Just alone one rainy day could destroy the field after a game or practice. LS has had plans to work to replace the grass surface at its football and soccer fields with artificial turf. The replacement would cost about $3.5 million (part of a plan the school has budgeted $5 million for the outdoor athletic facilities.) Keeping up with the natural grass, in the long run, would cost more than putting in synthetic turf. Ls would have to cancel games sometimes prior to a big rainout. They cannot play on a field that is flooded with water, and a bunch of holes in the dirt from sports ahead of time. The synthetic turf would allow students/athletes to play daily on the synthetic turf.
No Food or Drinks Allowed
This picture was taken right here in Millersville, at Comet field. They simply have this hanging up to watch out for their ni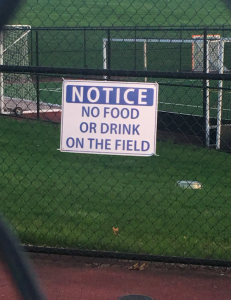 ce turf field. The owners do not want food crumbs, bread, pretzels, juices, plastic bottles, etc., on their turf. There's a time and place for pets to be allowed on turf too. Almost on every sports facility, you could find a "No Pets Allowed" sign hanging up on the fence outside of the turf too. The reason for that is, they don't want to be cleaning up after your dog. The turf is strictly for sports purposes only. Although, in Lancaster city, there is a dog park. The Buchanan dog park has its own synthetic turf used for friendly dogs to come play. The turf used here is obviously pet friendly, and that is the time to bring your pet on turf. Sports facilities turfs were meant to be put in so they don't use a lot of maintenance. Therefore, if one were to bring their dog on one, it wouldn't properly get cleaned up. At dog parks, someone is maintaining it.
Ahmed, Touhid. "Eco Friendly & Organic Turf For Sports Fields | Matrix Turf." Matrix Turf –
Synthetic Turf Systems, www.matrix-turf.com/about/green-practices/.
Lepisto, Christine. "Artificial Turf Versus Real Grass: Which Is Greener?" TreeHugger,
Treehugger, 5 Feb. 2018, www.treehugger.com/green-food/artificial-turf-versus-real-grass-which-is-greener.html.
"Sustainability." AstroTurf, 2 Jan. 2018, www.astroturf.com/synthetic-turf-fields-       technology/synthetic-turf-systems-sustainability/.