Ditching plastic is more complicated than it looks. In March 2019, Millersville eliminated single-use straws, but they've since returned.
Written by Emily Hyser
The Straw Problem
The Millersville Dining Hall and Conference Service Team dedicates their time to reducing imperishable waste. Over the years, their team created composting, recycling, and plastic-reduction initiatives. Chris Steuer, the Director of Sustainability at Millersville, says the transition from plastic to paper straws was successful. He explained this campaign significantly reduced unnecessary waste from the campus dining halls.
"Plastics are amazingly versatile materials that have improved our quality of life in countless ways," explains Steuer. "But they can also take hundreds of years to decompose."
Single-use plastic is one of the primary materials responsible for pollution. Though the exact figure is unknown, experts estimate the United States throws away millions of plastic straws every day. Additionally, plastic straws are one of the most common objects littered after their use. As a result, they accumulate on the shorelines of beaches.
Well… that was 2019. There's been no official update on the straw ban, but they have appeared on campus this year (even if in small numbers). While many facilities still offer paper straws, several dining facilities across campus have begin offering plastic again, too.
Yet Another Straw Problem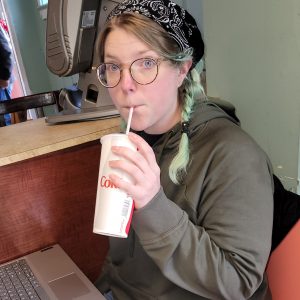 Whitney Walmer is a rising junior at Millersville University—pursuing a double-major in English and Journalism with a minor in Writing Studies.
Walmer's goal post-graduation is to land a career in food journalism. Additionally, she has been cooking, baking, and writing food reviews since 2015—which helped her land her position as the Arts and Culture Editor for The Snapper. Because of her experience, Walmer has conducted research on how non-plastic straws affect the general public and the restaurants they frequent.
"Essentially, the material the straw is made of, changes the taste of the product," says Walmer. "It could really turn off consumers from going out to eat! Businesses exclude disabled customers just to offer a lower quality experience for your other customers."
It's Not as Simple as It Seems
As more straw bans form, non-plastic straw manufacturers begin to struggle to produce enough to meet the demand. In a time where supply shortages are already a problem, this could be bad for business.
Another concern is that biodegrable straws are more expensive—costing roughly $45 more than plastic straws for 5,000 straws. It may not sound like much, but when businesses serve more than 5,000 people in a week–or even a day–the difference adds up. And in the end, some biodegrable alternatives still don't break down properly unless you dispose of them properly—just like plastic straws.
The Forgotten Variable
Millersville's disabled population raises their concerns about plastic straws. Millersville University's The Snapper published an editorial piece entitled "Some of Us Need Straws: Stop Banning Them." Nick Hughes, the author, says that many disabled people need these straws as accommodation for mobility problems.
We might have to take medications because it helps us; we might use a cane because it helps us," says Hughes. "And we might use straws because they help us."
Straws are imperative for people with strength, coordination, and mobility problems, and in many cases, the sustainable alternatives are harmful. For example, straws that are made of metal, bamboo, or other harder materials create the risk of injury. Paper, hay, or pasta straws pose a choking hazard among disabled people because they break down too quickly. Finally, compostable straws cause allergic reactions at high rates and are deadly to vulnerable populations.
Something to Consider
The Department of Energy and Environment (DOEE) requires restaruants to keep a "small supply" of bendable plastic straws for disabled customers—and to only hand them out if they request them.
Erin Vallely is a disability and healthcare advocate, policy analyst, and a writer. Currently, she works as an Advocacy Specialist at Access to Independence of Courtland County, Inc.
Vallely is also disabled. She lives with muscular dystrophy and is a self-proclaimed "proud wheelchair user." She has a B.A. in Sociology and Anthropology from Wells College and an M.A. in Social and Public Policy from SUNY Empire State College.
In 2018, she worked and wrote for the Center for Disability Rights (CDR)—an organization that advocates for accessibility and inclusion for disabled individuals. In her piece "Grasping at Straws," Vallely voices her concern about requiring disabled people to request single-use straws because, in the past, businesses have denied them.
And in other cases, resteraunts have instituted a policy that servers must ask, "Do you want a straw, or do you want to save the turtles?" In Vallely's opinion, this kind of question contributes to the stigmatization of disability.
Vallely insists that the solution is to work with disabled communities to invent a better plastic alternative. In the meantime, however, she suggests being kind to those who use single-use straws.
An Elegant Solution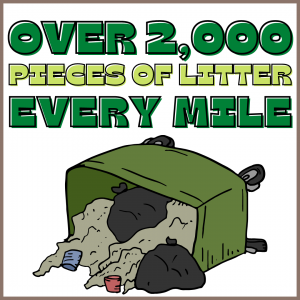 Roughly 8 million tons of plastic end up in our oceans every year, but they account for only 4-7% of the litter found on coastlines. Meanwhile, food wrappers and containers make up around 31%. Ultimately, the issue is proper waste disposal.
To address the issue of litter, just don't do it! Additionally, if you see litter, pick it up and put it in the nearest bin.
Another solution is to make sure you're recycling properly. Millersville Sustainable Campus page says to recycle these four items:
Cardboard
Glass
Metal Cans
Plastic with a Neck
There are some exceptions including food containers and paperboard.
Be sure to only throw out plastic that has a neck, and remember to rinse out your materials before recycling it.
As for plastic waste, Lancaster County has the fix.
"In Lancaster County, LCSWMA will combust the trash and make electricity from it," says Kathryn Sandoe, chief commercial officer at Lancaster County Solid Waste Management Authority. Sandoe emphasizes the importance of proper disposal methods for plastic straws. She says if the people of Lancaster County can be mindful of their consumption as well as their waste, then they will make an impactful difference without sacrificing straws.
Other Educational Posts
References
Allen, M. (2019, November 18). Plastic straw bans: Environmental awakening or just a distraction? Science Over Everything http://scienceovereverything.com/2019/02/22/plastic-straw-bans/.
Andrelczyk, M. (2019, June 8). The Last Straw: Sustainable Solutions to Unnecessary Waste. LancasterOnline https://lancasteronline.com/features/the-last-straw-sustainable-solutions-to-unnecessary-waste/article_8e4bc300-892a-11e9-97c4-530dd60f1bd5.html.
Davila Gonzalez, G. (2019, February 21). National Skip the Straw Day: Pioneers in Disappearing Plastic Straws. National Skip the Straw Day: Pioneers in Disappearing Plastic Straws | In Custodia Legis: Law Librarians of Congress. https://blogs.loc.gov/law/2019/02/national-skip-the-straw-day-pioneers-in-disappearing-plastic-straws/.
Hughes, N. (2018, October 20). Some of Us Need Straws: Stop Banning Them. The Snapper. Retrieved December 3, 2021, from http://thesnapper.millersville.edu/index.php/2018/10/20/some-of-us-need-straws-stop-banning-them/.
Keep America Beautiful. (2021, May 20). Keep America beautiful releases largest study on litter in America [Press Release]. https://kab.org/keep-america-beautiful-releases-largest-study-on-litter-in-america/.
Get to know the big 4. Millersville University. (1970, December 11) https://www.millersville.edu/sustainability/sustainable-campus/recycling.php.
Vallely, E. (n.d.). Grasping at Straws: The Ableism of the Straw Ban. Center for Disability Rights. https://cdrnys.org/blog/disability-dialogue/grasping-at-straws-the-ableism-of-the-straw-ban/.
Walmer, W. (2021, December 5). Personal Interview.