Fast fashion seems to be the most popular way to shop nowadays. Unfortunately, it leaves a huge environmental footprint in the production process.
By Erica Dooley
Fast fashion is very environmentally damaging. The production of fast and cheap clothing requires such large amounts of resources and energy to produce. The toxic dyes used in the fabric and other chemicals that pollute the fresh water used in the process creates incredibly harmful effects to the environment. Not only is fast fashion production a tenth of the world's carbon emissions but 40 million workers are under poor working conditions and earn unfair wages.
Thrift shopping has brought so much light to shopping sustainably. The quote, one man's trash is another man's treasure is very appropriate for this popular topic.
Thrift shopping is not only sustainable but also becoming more popular in recent years. Thrifting and shopping at consignment stores is one of the best options for shopping sustainably. It reduces so much waste, it is a great way to reuse clothing and recycling old clothes saves them from being dumped in a trash pile.
Thrift shopping is super affordable and amazing for finding unique clothes to add to your wardrobe. It is important to keep in mind that some individuals have no other option that to shop second hand, remember to stay respectful to others when shopping second hand. A great way to stay mindful is to not over buy and lean more towards consignment stores as they provide more expensive, but still affordable items of a higher quality.
The fashion industry happens to be the second most polluting industry in the world. The detrimental impacts it has on the environment is unbelievable. Spread the awareness and make it more known to hold name brands accountable for the production of their clothing. While staying respectful to others, thrift shopping is the way to go when switching to sustainable shopping.
The Attic Bethlehem
516 Main St, Bethlehem, PA 18018.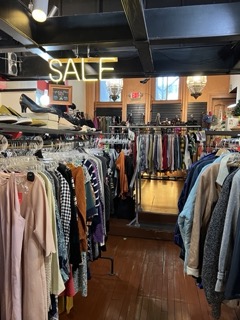 This popular local consignment shop is a super popular for the younger crowd looking for trendy and unique pieces to add to their collection. They sell a variety of items including clothes, designer jewelry, purses, wallets, and shoes. With a section for both men and women, The Attic has a great selection to browse around on main street in Bethlehem.
Designer Consigner
521 Main St, Bethlehem, PA 18018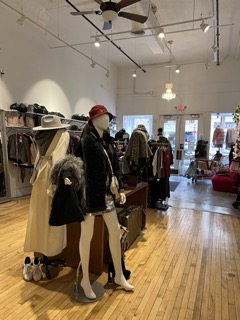 This is another wonderful consignment shop that mainly showcases designer items at a discounted price. They make sure to curate the highest quality designer fashion to sell to their customers. They are fantastic at making sure the styles fit for any occasion.
In current times the trend of thrift shopping has become a lot more common and popular. There are a ton of different options for shopping that completely avoid fast fashion. As our community keeps growing and changing, the issues of fast fashion will slowly fade away and become less popular. The Attic and Designer Consigner are two fast growing shops that seem to be getting more and more business and traction in their area almost every day.
References
Bosworth, R. (2021, April 23). Conscious thrifting: Fast Fashion and the environment. Group for the East End. Retrieved November 19, 2021, from https://www.groupfortheeastend.org/earth-month/2021/4/23/conscious-thrifting-fast-fashion-and-the-environment.
What is fast fashion and why is it bad? What is fast fashion and why is it bad? – Healthy Human. (n.d.). Retrieved November 19, 2021, from https://healthyhumanlife.com/blogs/news/what-is-fast-fashion.