By Ian Roth
The bright, young minds of tomorrow grow and learn in the Milton Hershey School Environmental Center. As a part of the STEAM program, students can get up close and personal with nature and wildlife.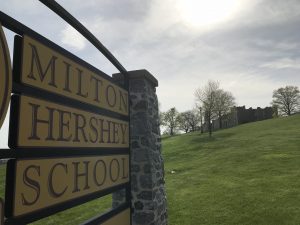 The beauty of sustainability and conserving our environment is that it's in everything we do. Sustainability is in the cars we drive, the food we eat,  and the technology we use on a daily basis.
Of course, in an age of rapid change in sustainability and with the United States paying more attention to the topic, the world needs new minds to bring in a fresh age of environmental conservation. At the Milton Hershey School in Hershey, PA students prepare for jobs in that very field.
As a subset of the STEAM (science, technology, engineering, arts, and math) program, the Agricultural and Environmental Education department teaches pre-kindergarten through twelfth grade students in various aspects of the industry. The content students are exposed to in this state-of-the-art curriculum gives students experience in handling crops and orchards, "floriculture, beef cattle, dairy goats, sheep, small animals and horses." 
After graduation, alumni can obtain careers in multiple different fields. Careers and internships in the program have ranged from production, processing, and marketing to development of agricultural resources.
In conjunction with Agricultural and Environmental Education, the Milton Hershey School operates the MHS Environmental Center. This center allows students to participate in activities like caring for animals, maintaining the campus, and keeping the environment in good trim.
In 2016 Casey, who was an MHS sophomore at the time, took an internship with the Environmental Center focussing in animal care. She said, "My favorite part of the 2016 internship was animal care. I liked how we had animals to care for and were able to enrich their habitat."
The Environmental Center also sponsored a trip to the Venice Trail on their north campus. There was an effort to help clean up some of the trails and make it better suited for people to walk down, and also to help the environment in the area.
"We made benches from scratch and painted them, and we planted trees by the stream," explained Kaela, a Milton Hershey School sophomore who went on the trip to the Venice Trail. "After all we did, it was empowering to head back to the trails this summer for maintenance and see they were still in good shape."
Close to all of the new additions to the trials were recycled materials. The trails themselves were lined with logs from fallen trees instead of using new lumber. Benches around fire pits were cobbled together with older pieces of lumber as well.
In the past, the Milton Hershey School has partnered with Messiah College to help them with their Grantham Community Garden. Sophia, an alumni of MHS, was a part of this small program while she was enrolled at the school. During her time at the garden she learned a lot about composing and sustainability while also delving into the business side of agriculture. The faculty of Messiah College and Sophia worked on some fascinating projects while she was there. One of which was "improving the pharmaceutical yield of the native medicinal plant goldenseal."
The future of environmental sustainability is very important to coming generations of not only Lancaster County and the surrounding areas but to the Unites States as a whole. Agriculture has always been a major part of Pennsylvania's and the nation's economy and it will continue to be for years to come. Right here in South Central Pennsylvania, the upcoming leaders and innovators in sustainability are growing at the Milton Hershey School in Agricultural and Environmental Education.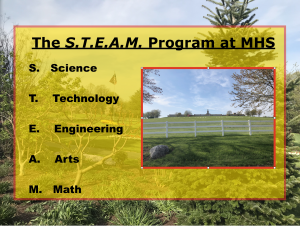 Timeline:
November 1909: The Milton Hershey School is founded.
September 1970: Enviromental Center opens.
November 2007: Eviromental labs undergo a rennovation.
October 2017: STEAM Cirriculum is first implemented.
MHS Class of 2017's Contribution to a Better Community
The Milton Hershey School, always leaders in sustainability, helped build a better community recently. Seniors of the class of 2017 worked together and built a fire pit in order to promote unity amongst themselves and the staff.
The idea behind the project was to build an area where students and staff could come together on the MHS campus. While four seniors from the STEAM and Sustainability Transitional Living programs led the project, many of their peers joined in to help. This fire pit project, while a wonderful idea to help the campus, also doubled as the classes gift to the Milton Hershey School.
The STEAM and Sustainability Transitional Living programs are both key parts of the school's 2020 Vision Strategic Plan. Sustainability is one of the five major themes of the plan. The 2020 Vision Strategic Plan, which was announced during the 2014-2015 school year, is going to help students now and well into the future by "cultivating strength of character and deliver a top-notch education; expanding their mission; and igniting staff engagement and exceptional performance."
Opportunities Plenty During the Summer at MHS
In the summer of 2017, the Milton Hershey School provided some hands-on extra workto select biology students. In conjunction with the Agricultural and Environmental Education department, students learned about different parts of nature around the school's campus.
During their three week extra-curricular summer activity, students ran a biotic index study of the streams around campus. In addition, students were also tasked with creating an algae reactor, to examine effects of carbon dioxide on plants, and collect water straight from leaves.
For eight days in specific, the group worked directly with the Agricultural and Environmental Education department. In that short time, students were able to look at different types of careers in the field. A science teacher at MHS, Jason Whalen said, "I saw their confidence and willingness to try new ideas increase throughout the three weeks."
President Gurt
Since August of 2014, Peter G. Gurt has been the president of the Milton Hershey School. From 2009-2014 Gurt served as the Senior Vice President and Chief Operating Officer of the Milton Hershey School.
When he was elected into office, Gurt immediately went to work on his 2020 Vision strategic plan to help students beyond high school. Since then, the school has reached a record enrollment of over two thousand students. In addition to having the highest numbers in enrollment, Gurt also achieved a ninety-three percent retention rate – the highest in fifty years.
Beyond serving as Senior Vice President and Chief Operating Officer, Gurt has also given time in the roles of Vice President of Student Life and Vice President of Administration. Peter Gurt was an assistant for the varsity girl's basketball team as well as the Milton Hershey School Alumni Association Board Officer and the President of the William E. Dearden Alumni Campus Advisory Board.
Peter G. Gurt diverse range of experiences with the MHS has made him a more than qualified man for the job. Because he attended MHS as a student as well, Gurt has person understanding for what it means to be an MHS Spartan.
Milton Hershey
Milton S. Hershey was born Sept. 13, 1857, on a farm in Central Pennsylvania. At his childhood home he grew up speaking "Pennsylvania Dutch" and learned the importance of hard work from his family. Hershey grew up with very little money and didn't receive much education because her mother thought the books would ruin him.
Hershey wasn't always the business savant that he is known as today. Before he found success in making caramel candies he failed at many ventures. He worked in Lancaster at a newspaper before moving to an ice cream and candy shop where he learned the basics of his future success. After numerous failed trips to Philadelphia, Denver, New York, Chicago, and New Orleans he returned to Lancaster and began making his candies.
While his first real income may have come in caramels, everybody knows that Hershey made the most of his fortunes in chocolate. He personally believed that his wealth should be shared for the benefit of others. By founding the Milton Hershey School in 1909 he did just that. He hoped that in the future the school could provide a quality education for the less fortunate so they didn't have to suffer like he did.
Sources
"Agricultural and Environmental Education." Milton Hershey School, MIlton Hershey School, 2014, www.mhskids.org/life-mhs/programs/agricultural-environmental-education/.
"Getting Hands On with Nature Through After-School Environmental Program." Milton Hershey School, MHS Enviromental Center Blog, 2014, www.mhskids.org/getting-hands-nature-school-environmental-program/.
"Learning to Explore through Environmental Center Internships." Milton Hershey School, Student Voices Blog, 2016, www.mhskids.org/learning-explore-environmental-center-internships/.
"Milton S. Hershey." Milton Hershey School, Hershey Museum, 1988, www.mhskids.org/about/school-history/milton-s-hershey/.
"Planting Her Roots in the Field of Agriculture: Sophia's Environmental Internship." Milton Hershey School, 2016, www.mhskids.org/planting-roots-field-agriculture-sophias-environmental-internship/.