Lancaster Food Co Tried to Make a Difference, One Loaf At a Time.
The Lancaster Food Company started after years of friendship talking about, well many things. But there were two persistent topics: how to have significant impact on the City of Lancaster, which has 30% poverty rate, and the other was food-making it, sourcing and supporting the best of it, and of course, eating it. The company was established in 2014 by two friends: Charlie Crystle and Craig Lauer.
And while the company is no longer in business, this article serves as a case study for trying to make a difference in your own community.
By Melanie Breneman
 The main goal for The Lancaster Food Company is to "make extraordinary food, source from organic farmers as close to home as possible, and hire people out of poverty into good-paying jobs".
About Lancaster Food Company
Giving Second Chances but also making delicious organic products with REAL ingredients! What could be better?The Lancaster Food Company makes certified organic breads, rolls, cookies, and maple syrup. You can find their products in over 140 stores and restaurants all around the Mid-Atlantic that include: Giant, Whole Foods and Stauffers. The Lancaster Food Company even ships frozen bread to a 250- grocery store chain all the way in the West Coast which is very impressive. The Lancaster Food Company makes over 700-2,400 loaves of bread a day!
Products
All of their products are organic, natural all are free of eggs, dairy, peanuts tree nuts, and sesame. The Lancaster Food Co's facility processes wheat and soy lecithin, and all breads contain soy lecithin and wheat.
Rye Bread
Country White
Honey Wheat
Seeded
Cinnamon Raisin
Sprouted Multi-Grain
Sprouted Chocolate Chip Cookies
Cinnamon Oatmeal Cookies
Maple Syrup
Sprouted Chocolate Chip Cookies
The Sprouted Chocolate Chips Cookies are made with organic sprouted flour and equal exchange fair trade organic chocolate. These vegan cookies are the perfect choice for customers with "free-form" dietary restrictions.
My Review on the Sprouted Chocolate Chip Cookies:
I was hesitant at first to try these cookies. The cookies are soft, a good size and taste good with a glass of milk! The cookies are a healthy alternative to your everyday chocolate chip cookie because of the ingredients. With only 80 calories, 7g of sugar and 4g of fat this cookie can be your cheat snack and you don't have to feel guilty!
Hiring
The Lancaster Food Co currently has 14 employees but hopes to expand to at least 100 more employees in the next 18 months. Many employees have stock as well within the company.  The Lancaster Food Company hires people who may have obstacles to employment and then they then are paid a thriving wage, while also contracting primarily with local suppliers.
Business Leaders
Charlie Crystle: Co-Founder and CEO- Charlie is the head commander when it comes to the company's sales, marketing, business development. Charlie is a Pennsylvania native. He lives in downtown of Lancaster. He also enjoys helping the community.
Craig Lauer: Co-Founder: Craig was just like Charlie which shows why they are good friends. He is passionate about all things food. Which led him and Charlie to form the company. Craig is a constant believer in bringing awareness of agricultural issues, the local food movement, wholesome food but also helping serve the community.Craig lived in New York City for 15 years before coming back to Lancaster City, and we are glad he came back.
Polly Lauer: Vp of Ops:  Polly has 20 years of experience when it comes to being an executive manager. She is very skilled when it comes strategic planning, operations, oversight, system analysis, and development. Before coming to The Lancaster Food Company she was a senior executive at Community Access. She also is part of day- to- day logistics and operations.
Community Help
The Lancaster Food Company in November 2017 had to close its door temporarily. The company was expecting to receive a $250,000 investment deal which fell through and production had to stop. This resulted in 22 employees not getting their pay.
The company had to do something… That something was to get the community involved to help start up production. When the community heard about the issue that happened they knew they needed to get involved to help the company that they love and appreciate. The community raised $12,401 on a GoFundMePage.
With eight weeks with the company being closed it finally re-opened after it had 9 investors raised $500,000 for the company.Owners Charlie and Craig were greatly appreciate of the generous donations of each person who donated. They were very excited to begin production again because of the rapid growth rate they had before shutting down temporarily.
Best Selling Bread
The Best Selling Bread from Prevention Magazine in 2016 was the: Sprouted Multi-Grain Bread. The bread from The Lancaster Food Company won the award for the cleanest packaged food. The white bread that the Lancaster Food Company makes has locally and organic Apple Cider from Oyler's Organic from Gettysburg, Pennsylvania in the bread. The only ingredients in the apple cider are certified organic apples. Oyler's doesn't add any preservatives.
My review on the award winning sprouted multi-grain bread:
After taking a taste for myself on this award winning bread, I now know why this bread won. The bread is soft and fresh when you take it out of the bag. The bread also tastes delicious when you toast it and put avocado on. The bread not only tastes great but it's low in calories, has 4g of protein and it's organic!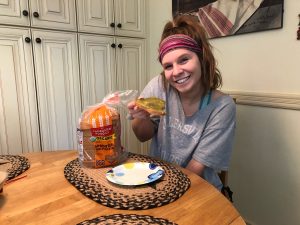 Photo my Melanie Breneman
I love what this is company is doing! It's amazing that their mission is to help people who are need, but also make amazing products is what many local companies should strive for this perfection.
For more information on this company you can go to:
https://thelancasterfoodcompany.com/
Sources
"Carlson Expo Finds ." Carlson Expo Finds , Carlson Labs , 19 Mar. 2018.
Chhabra, Esha. "How This Small Business Is Tackling Poverty And Paying Its Employees Twice The Minimum Wage." Forbes, Forbes Magazine, 30 Oct. 2015, www.forbes.com/forbes/welcome/
"Click Here to Support Restart The Lancaster Food Company! Organized by Charlie Crystle."Gofundme.com, 5 Dec. 2017, www.gofundme.com/lancasterfoodco-restart.
"Oyler'sOrganicFarms." Certified Organic Apple Cider | Oyler's Organic Farms, www.oylersorganicfarms.com/certified-organic-apple-cider.
"Recipe Card Templates." – Logo by Trevagne McCluskey, 24 Apr. 2018, www.canva.com/templates/recipe-cards/.
"The Lancaster Food Company Certified Organic Breads and Cookies." The Lancaster Food Company, 2018, thelancasterfoodcompany.com/.
Writer, TIM MEKEEL | Staff. "Lancaster Food Co. Shuts down after Cash Infusion Falls through, Idles All 20 Employees While Seeking New Investor." Lancaster Food Co. Shuts down after Cash Infusion Falls through, Idles All 20 Employees While Seeking New Investor, Lancaster Online , 4 Dec. 2017, lancasteronline.com/business/local_