"We believe in an independent voice and in adventure, inspiration, perseverance, and integrity. At the Stroud Center, we believe the future of fresh water starts here."
 By Anna Kubicki
Along the southeastern edge of Millersville University's campus, the Biological Preserve, known to the community as "The Bush" is present. Serving as a developing laboratory for the college's biology students as well as providing vegetation areas and forest shade for the Conestoga River. Millersville University Biology Department created a partnership with the Stroud Water Research Center to reforest areas that have been cleared for stormwater management purposes.
Photo by Anna Kubicki
Stroud Water Research Center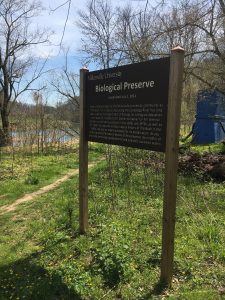 The Stroud Water Research Center has had one main focus since 1967 and that is working to seek more advanced knowledge of freshwater systems through global research, environmental education, and watershed restoration. They have been the leading effort since their establishment to produce innovative solutions for preserving and restoring fresh water.
Educational Programs
The programs are multidisciplinary and are aimed at a wide variety of audiences, hoping to motivate the knowledge of freshwater resources. Educators of the program have worked to develop extensive methods to educate both adults as well as students in grades 4 and up about the importance of watershed research.
Programs include:
On-site and off-site school programs

Scout research

Professional development workshops

Community and family programs
National Penn Bank began designating Stroud Water Research Center as a recipient of its Educational Improvement Tax Credit funds in 2007. Their continued support has helped to teach thousands of public school students about the importance of freshwater stewardship.
Students interested in science have the opportunity to collect data and conduct experiments while learning to be watershed ambassadors and training future generations. Monitoring equipment has been installed along the stream so that such things such as flow, temperature, acidity, and more can be measured in real time. A much healthier ecosystem has been created by having water flowing swiftly through the narrow streambed located by the residential building, and having a wider and shallower stream in the woods. The woodlands absorb rainfall readily, which then lessens the impact of storms.
The Watershed Education Training Institute, or WETi,  over the past two years has executed local reforestation projects, where several hundreds of trees have been planted to restore land that was stripped during construction.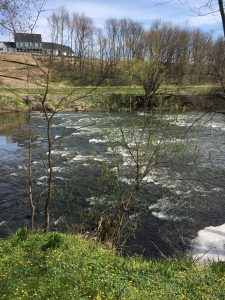 Photo By Anna Kubicki
Creek Lodge
In 2016, Millersville University bought a residential property that laid alongside the Conestoga River in the wooded area. It was remodeled into what is now called Creek Lodge, a retreat site for meetings and conferences.
Associate professor of educational foundations at the college, Nanette-Marcum-Dietrich, and John Wallace, Biology professor, collaborated to bring the Watershed Education Training Institute to the community. The two came to a conclusion that one of the shed located on the property would make an ideal place for a facility that combines education and research both indoors and outdoors.
Conservation and Restoration
The Stroud Watershed Research Center's specific group, Watershed Restoration, works to tap wide ranges of both private and public funds to assist landowners to afford their projects that often reach into tens of thousands of dollars. Part of the programs offered by Stroud are offered by the U.S. Department of Agriculture provide the core foundation for a number of the projects for watershed restoration. The main focus is to help landowners receive the best program funding to secure their farms and properties. So far, agencies have secured over $20 million dollars through the USDA's Resource Conservation Partnership Program in order to support restoration farm projects in the Chesapeake Bay area and agriculture conservation. The Research Center has also partnered with other watershed programs by donating trees for reforestation.
The center offers local scheduled events that are fun for all members of the family, such as volunteer training workshops, golf outings, road rallies, and more. Further information can be found here.
https://stroudcenter.org/events/
All monetary donations are accepted.
Questions?
Stroud Water Research Center
970 Spencer Road
Avondale, PA 19311
610-268-2153
"Stroud Water Research Center Home." Stroud Water Research Center, Stroud Water Research Center, stroudcenter.org/.
"Landscape and Grounds." Millersville University – Landscape and Grounds, Millersville.edu, www.millersville.edu/sustainability/sustainable-campus/landscape-and-grounds.php.
Staff
David Arscott, Ph.D.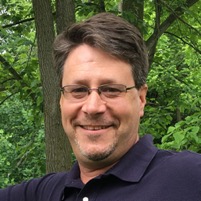 Photo from Stroud Water Research Website
President and Executive Director of the Stroud Water Research Center, David Arscott, has devoted all of his time towards freshwater preservation. His research focuses on a mainstream diversity and distribution of aquatic macroinvertebrates. Another branch he studies is the ecology of rivers and flood plains. Arscott's past research experiences have occurred in Michigan, New Hampshire, Alaska, Minnesota, New York, Italy, Switzerland, New Zealand, and Antarctica. Each location has provided him an insight in aquatic habitats through his experiences from the arctic tundra to the Southern Alps. Other interests of his include fish and algal ecology and aquatic food web dynamics.
Melinda Daniels, Ph. D

Photo from Stroud Water Research Website
Melinda Daniels is an Associate Research Scientist at the Stroud Water Research Center. Her research program mainly focuses on hydrology and the ecosystem ecology of natural human-modified river systems. Improving rivers and watershed management are some of her interests along with successfully restoring rivers. She does this by examining how people perceive the environments surrounding rivers and the process of science communication to river managers. In the past, Melinda has served as the principal investigator of the Fluvial Geomorphology Group, which studies the movement of water, organic matter, and other watershed molecules. It's done so in order to better understand watershed hydrology and biogeochemistry, using river restoration practices.
Timeline of events for the Stroud Water Research Center:
1956:
B. Dixon joined a snail-collecting expedition from the Academy of Natural Sciences
1956:
Dixon and his wife, Joan, met Ruth Patrick, head of the Academy's limnology department. Dr. Patrick urged the Strouds to build a small laboratory dedicated to freshwater research along their farm in southern Chester County.
1966:
The Stroud Water Research Center began as a field station in a cleared space above the Stroud family's garage.
The first year's budget was outlined from the Academy President to Dick Stroud
Dr. Patrick's hired a young scientist, Vannote. His experimental leaf packs had become a popular sight in local streams.
Today:
The scientists continue to ask a fundamental question, working as a team. They remain determined to make a difference in a world where clean water is not taken for granted.