By Jack Wisniewski
Lancaster city aims for 100% dependence on renewable electricity sources by 2025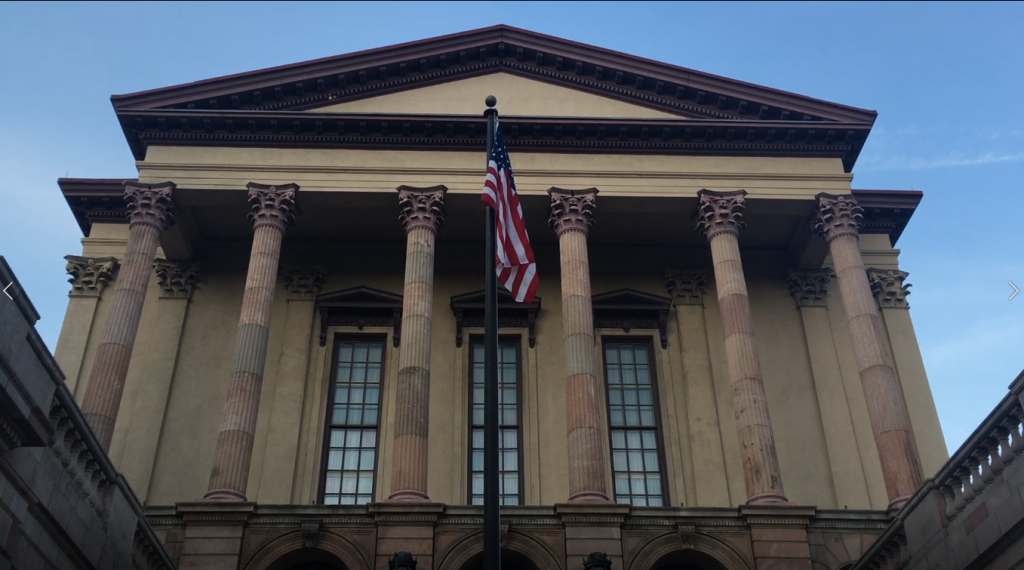 Lancaster City's Climate Action Plan will try to cut carbon emissions by 80% compared to levels recorded in 2017 by converting to renewable energy sources. The plan is focused on overall sustainability of the planet, keeping the city safe, while trying to save the city and its residents money. The plan is targeted toward making Lancaster more sustainable, but every proposal in the plan has a relationship to the ultimate goal of fighting climate change.
Reducing Electricity Use
A focus of the plan is to reach zero emissions related to the city's electricity use. The plan will try to reduce electricity use by moving to on and off-site renewable energy sources including
Solar power
Wind power
Hydroelectricity
Using on and off-site renewable energy sources will reduce the high cost of moving and treating the city's wastewater. Mayor Danene Sorace acknowledges the importance of managing water and the need to improve the municipal water system. "Moving water and wastewater through the city takes large amounts of energy". "We spend about 3-4% of our total budget, out of approximately 110 million, on electricity costs". The water services account for almost 70% of Lancaster's carbon emissions. The city is taking steps to combat this by implementing a "green infrastructure" that will use trees and plants to reduce the amount of rainwater joining the system. Strategies to reduce runoff that can be done by the city or communities are:
Planting trees
Using roof space for plants
Reducing water use in the home
Reducing Transportation Emissions
Climate change and high levels of carbon emissions in Pennsylvania negatively impacts the cities air quality. The plan will address air quality issues by reducing vehicle emissions. The plan wants to
Reduce miles driven by municipal vehicles
Make bicycles more accessible to municipal workers
Create bicycle sharing services
Reduce travel for workers
A section of the plan, Safety & Active Transportation Planning, is working to make Lancaster a safer city for bicycling and using alternative transportation. The plan proposes to
Creating a total of 40 miles of bike facilities
Install new energy efficient lights along paths and streets
Along with combating climate change, residents who use alternative transportation will potentially save money on fuel and improve health sustainability through activity.
The city is taking more steps to make our transportation more sustainable by:
Converting municipal vehicles to alternative fuel

The goal is to have 10% of vehicles run on cleaner energy sources

Improve safety and accessibility of citizen walkways with a walk-ability study
Provide incentives for citizens to use sustainable transportation
The focus of the Climate Action Plan is still on how it can positively affect residents.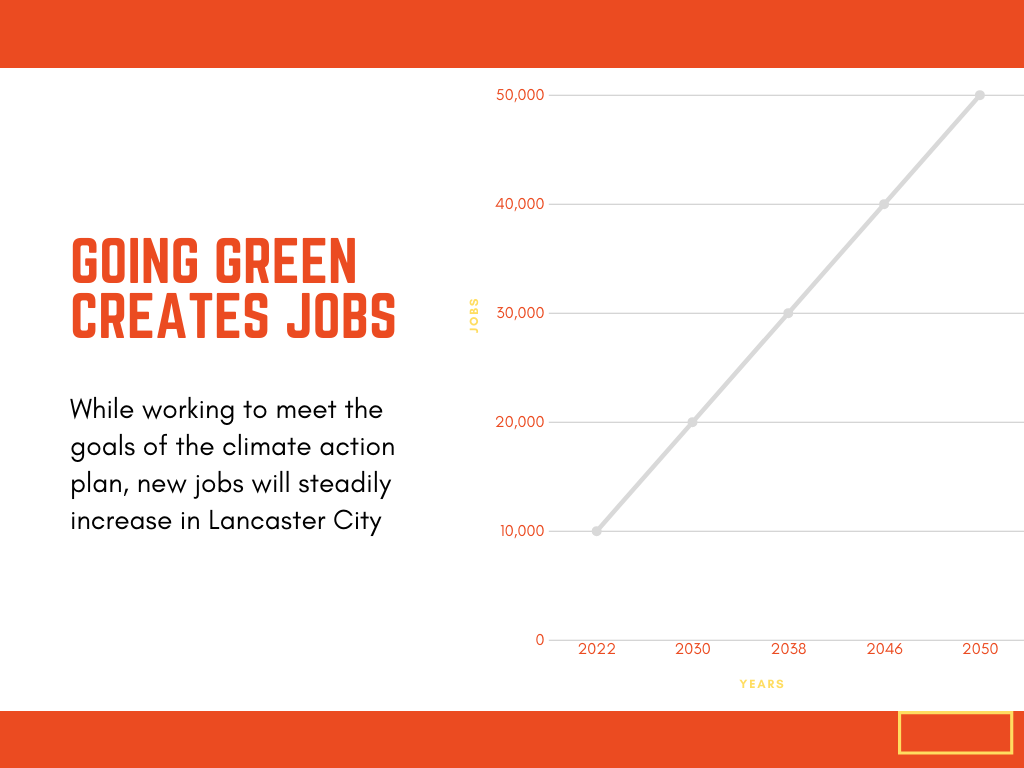 The need for infrastructure, maintenance, and installation while converting to renewable energy technology producing jobs and raises the amount of disposable income in a community.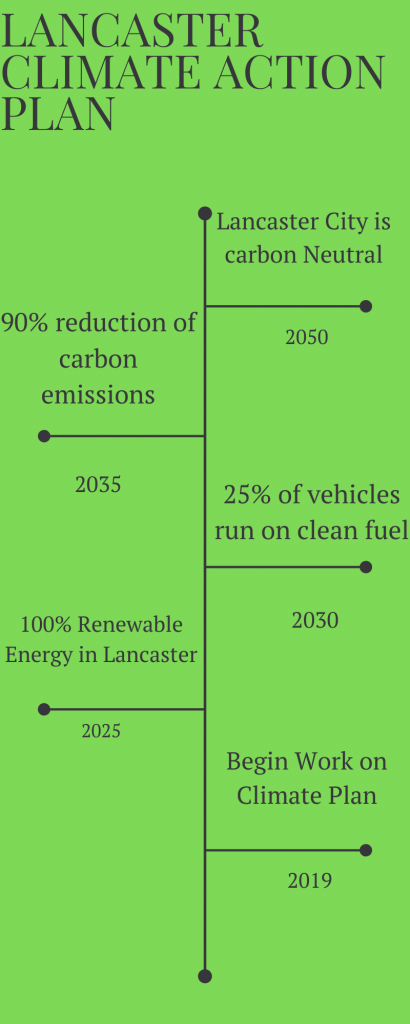 Climate Change Implications Beyond Lancaster
Lancaster City's climate plan goals closely aligns with the policies of the Pennsylvania state government. Executive order 2019-01 signed by governor Tom Wolfe aims to cut carbon emissions by 80% over the next 30 years. Both plans are concerned with risks climate change poses to PA residents. Order 2019-01 states "climate change impacts in Pennsylvania are real and continue to put Pennsylvanians at risk: in recent years, extreme weather and natural disasters have become more frequent and more intense." Rather than spend money on energy for waste water treatment. Carbon emission takes will go toward sea walls and other climate effect mitigators.

Setting caps on carbon emissions for municipalities and businesses supports the transition to renewable energy. Theodore Kury from the Public Utility Research Center outlines how carbon caps will reduce utility rates for citizens. "reducing expenditures on carbon allowances will increase the focus on rates designed to encourage conservation".
Community Connections
Lancaster City is working on initiatives to bring clean energy to the homes and businesses of residents as well as municipal buildings. The city is trying to adapt Philadelphia's "Solarize Philly" initiative to help low income areas install solar panels. Along with saving money for residents, investing in citizen solar projects lays the foundation for a green infrastructure that will be used in future city planning. Lancaster's local businesses are struggling with transitioning to clean energy because of expensive up-front installation costs. C-PACE low rate financing plans from the U.S. Department of energy, or Commercial Property Assessed Clean Energy plans, make the initial investment easier to overcome for small businesses. Government assisted solar programs will also produce new jobs. According to statistics from the American Council for an Energy Efficient Economy, for every 100 Solar panels installed, 15 new jobs are created that residents can earn a living wage from. A timeline for a "Solarize Lancaster" program has not been completed at this time.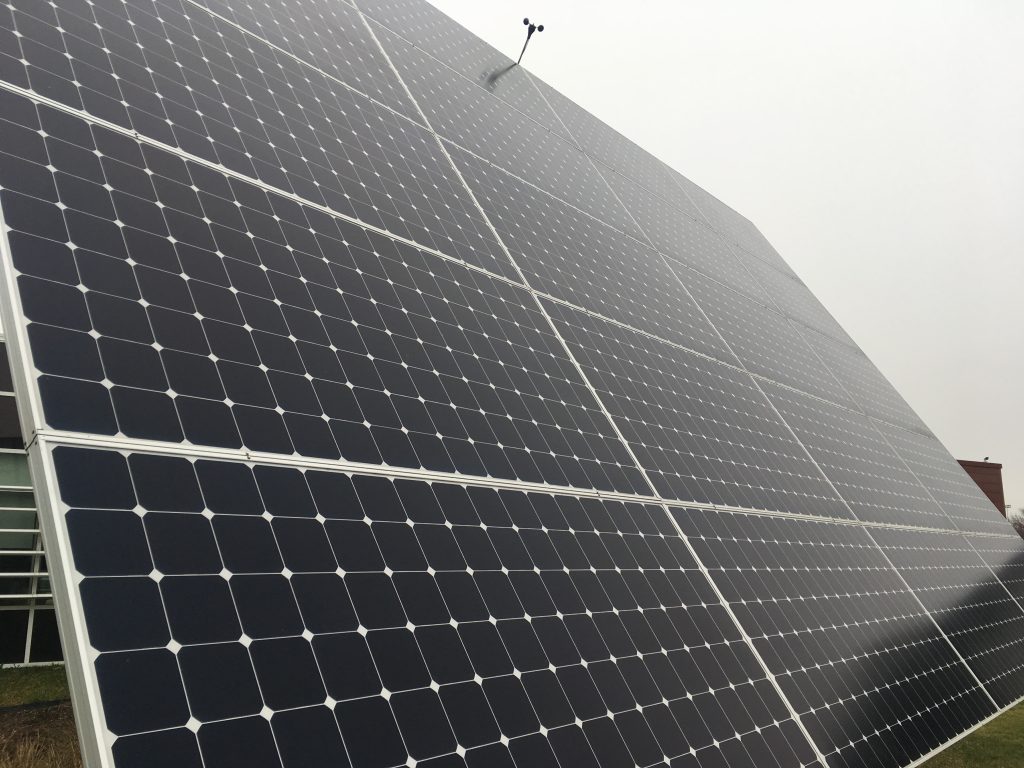 Citizens' Climate Lobby of Lancaster
Lancaster City's local chapter of The Citizens' Climate Lobby is Non-government and non-profit organization made up of local volunteers working to combat climate change. The grassroots movement is lobbying the Lancaster City and Pennsylvania state government to impose carbon fees on excessive greenhouse gas emissions. 100% of the revenue collected from the tariff will be distributed equally to Lancaster residents. The goal of this revenue return is to promote energy efficient technologies and give citizens the income to afford rising energy prices, while the city and county converts to cleaner energy practices. Visit Citizensclimatelobby.org to join Lancaster's local chapter and support the fight against climate change.

Danene Sorace
Danene Sorace has been Lancaster City's mayor since January of 2018. As a Lancaster County Native she feels strongly about creating a sustainable future for the city. Her roots in Lancaster and sustainability were solidified when she worked as the executive director of the environmental group, LIVE green. She is the workhorse and face of the Lancaster City Climate Action Plan and will continue to increase the scope of strategies to combat climate change. Mayor Sorace is encouraged by the plan's potential but sees and uphill battle ahead. "Implementing this climate action plan is not going to be easy. There's some low hanging fruit, but we've picked off a lot of it".
Sources
https://www.cityoflancasterpa.com/wp-content/uploads/2019/05/0519-EE-city-of-lancaster-factsheet-v3-DTS-5-9-19_0.pdf
https://www.cityoflancasterpa.com/wp-content/uploads/2019/09/City-of-Lancasters-Municipal-Operations-Climate-Action-Plan-hi-res.pdf
https://www.edf.org/climate/how-cap-and-trade-works
https://bear.warrington.ufl.edu/centers/purc/docs/papers/1004_%20Parmesano_Implications_of_Carbon.pdf