Written by: Angel Peña Pabon
In 2019 the city of Lancaster completed a plan to create a safe network of bicycles throughout Lancaster City.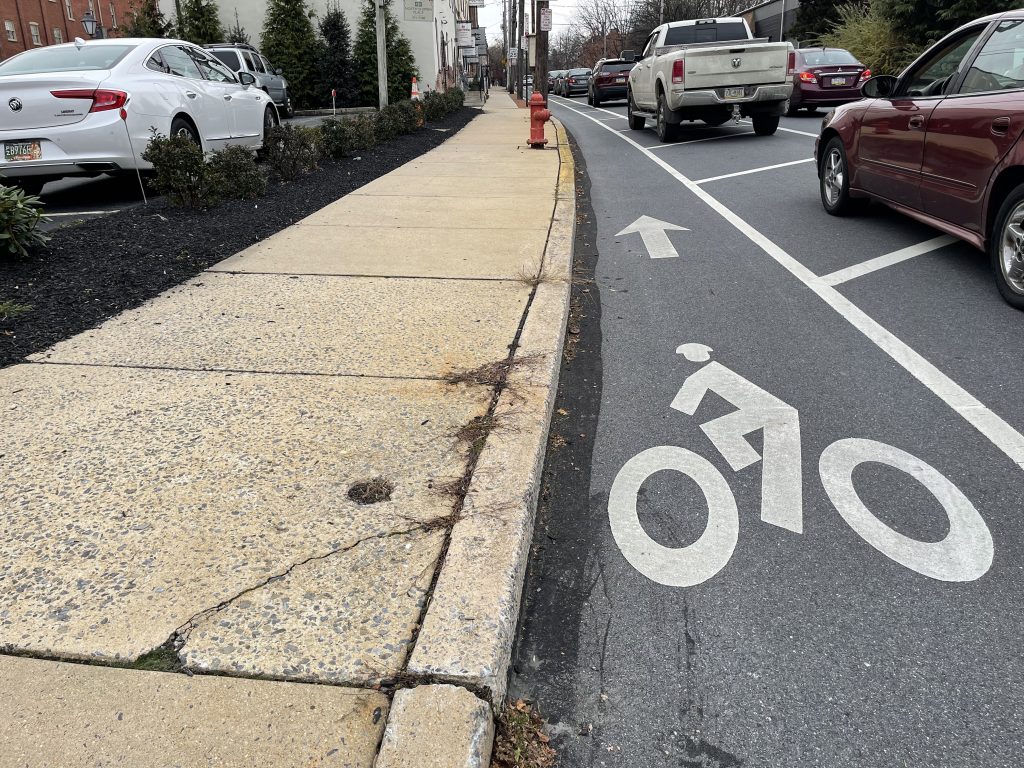 In early 2019 the City of Lancaster completed an Active Transportation Plan with Lancaster County and the Lancaster Inter-municipal Committee. Their plan was to create a safe and convenient network of bicycles throughout Lancaster City. This plan was made so that people had actual lanes to ride their bike in instead of having to ride them on sidewalks or on open roads (City of Lancaster, 2021). Not only were these lanes made for more safety but for the health of the residents and of the environment of Lancaster County. Active transportation helps reduce carbon emissions. This is because residents are using a vehicle that does not give out carbon emissions like automobiles would. Although cyclists are not required to use these bike lanes the City of Lancaster encourages them to do so to keep them safe on the road.
This active transportation plan combines biking on both on street roads and off street roads. In order to keep cyclists safe, facilities were made that included not only separated bike lanes but also parking for cyclists to park their vehicles with no worries. The city of Lancaster has information about the differences between bike lanes, bike boulevards and sharrows on their website (City of Lancaster, 2021). These lanes that are opening up will also connect parks, cultural destinations, economic centers, and access to food and water so that cyclists have opportunities every pedal of the way to their final destination.  With the active transportation plan residents will have easy access to trails that can be right behind their backyard. That way they can have a safe and easy location to go on walks/jogs in order to maintain healthy habits. Another reason why the City of Lancaster is implementing this plan is because they want to connect these trails to larger employment centers so that residents can walk/bike their way to work without driving a car (Lancaster Inter-municipal Committee, 2019). This will keep the resident's commute very efficient as not only will it reduce traffic on the roads but improve our air quality.
Many of these planned lanes are going to be set not only through main roads but through back roads as well. The goal is to connect most roads together through different lanes so that residents have access to these no matter what part of Lancaster County they live in. As with these planned lanes officials are always planning how they will be built, what materials will be used. So far there are three options on what materials can be used, the most expensive plan will be to make it where crushed stone comes first and then in the middle there would be asphalt, then ending with more crushed stone at the far right. The second option consists of crushed stone being on the left side and asphalt being on the right side. Using only two sets of materials instead of three in total. The Final and cheapest option that was mentioned in the plan was to only use crushed stone on the left and right side. In the plan book officials are looking to make one big route that connects all trail points located at the west of Leola and the New Holland Borough. The estimated cost for the project will be $14 million, that is including things like excavation, traffic control, pavement and all of the safety that goes behind every construction project (Lancaster Inter-municipal Committee, 2019).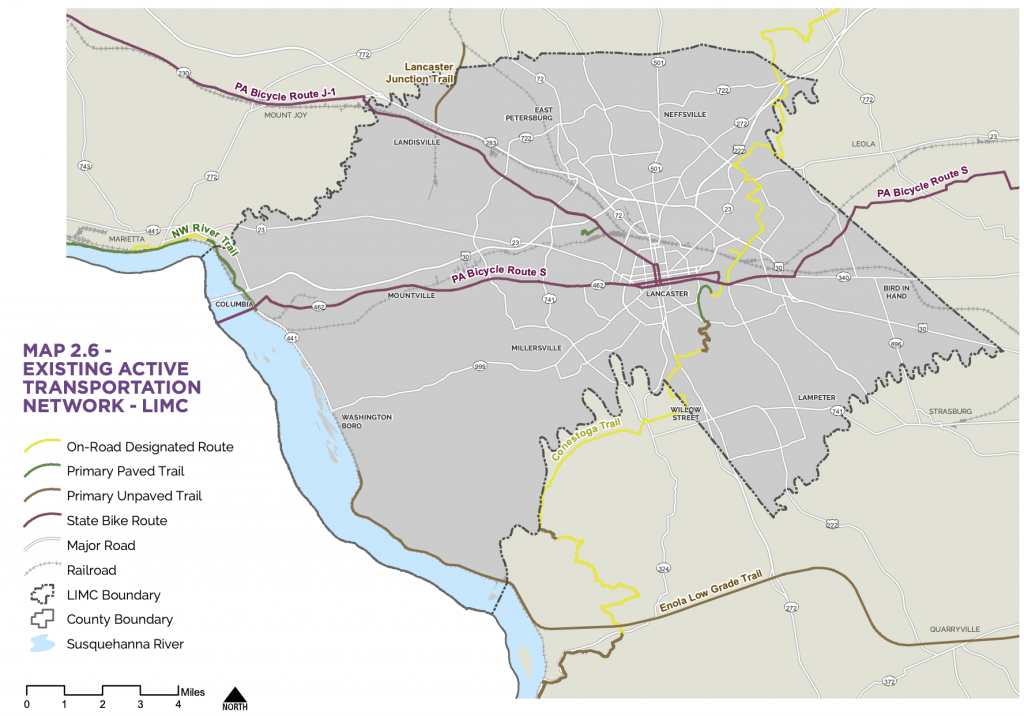 Timeline

In 2014, The Lancaster County Planning Commission began an annual bicycle count to see how much bicycles are actually used in the city.
In 2019, an Active Transportation plan was completed.
in 2020 Bike routes were implemented.
Today Lancaster County is finding more bike routes to establish.
The Lack Of Bike Routes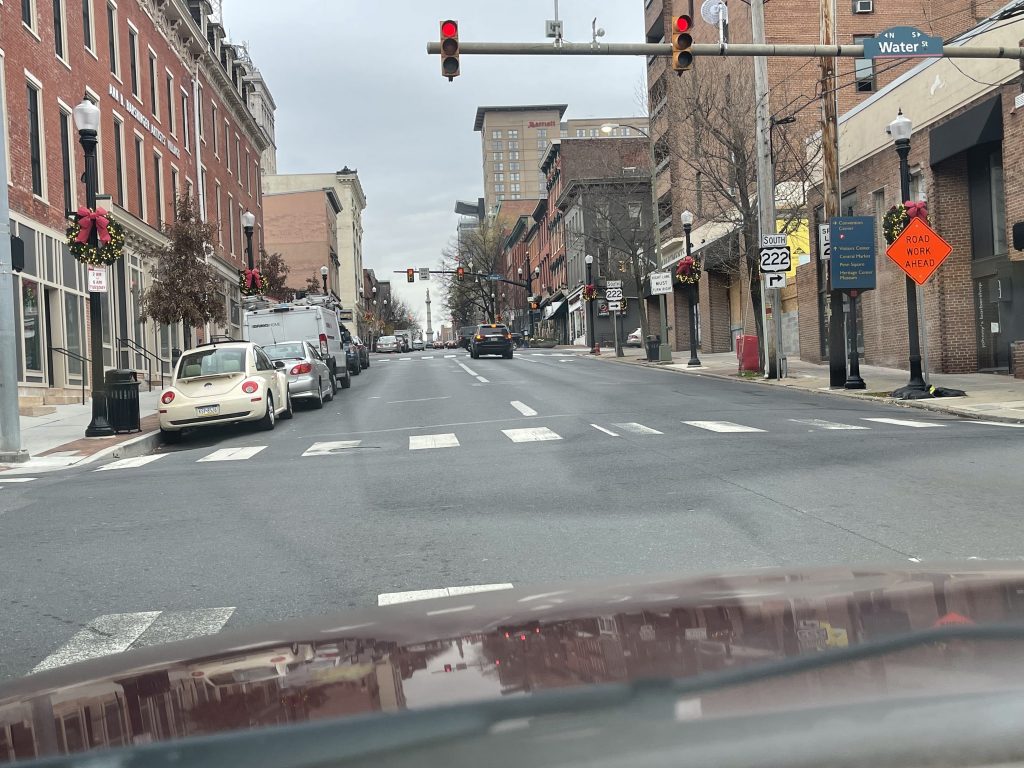 Many main streets in Lancaster City do not have any type of bike route established on them. As you can see in the photo shown W. King Street has a large amount of space, perfect for a bicycle lane. This is one of the main streets that connects people right into the heart of the Downtown area. Many people depend on streets like these to commute to their jobs, whatever time of day it may be. Although not many accidents have been recorded it is always better to be safe than sorry. Only 2 pedestrians were killed by accidents including bike routes between 2012-2017 (City of Lancaster, 2019).
W. King St Lancaster PA

Photo taken by Angel Peña Pabon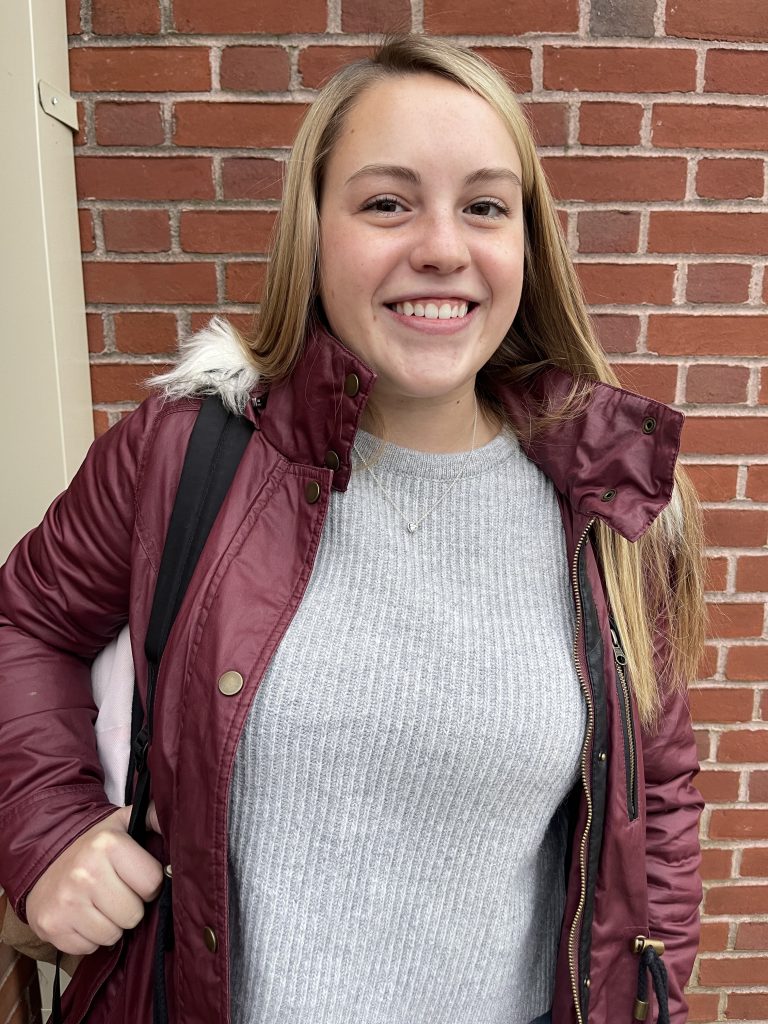 Lindsey Turunc is a senior at Millersville University with a soon to be bachelor's degree in Media Arts production. She moved to Millersville from Bear, Delaware. "It was quite the change coming from Delaware and moving to Millersville but overall the experience is awesome in both cities". She says she enjoyed being able to explore downtown Lancaster especially now that they implemented the bikes that you can rent. "Although the bikes were available there was no where to really drive them safely" said Turunc. She stated seeing some bicycle lanes here and there but they were not that consistent to be on every street as she rode along Downtown Lancaster.
Lindsey Turunc

Photo taken by Angel Peña Pabon
Bike it, changing the way we get around town.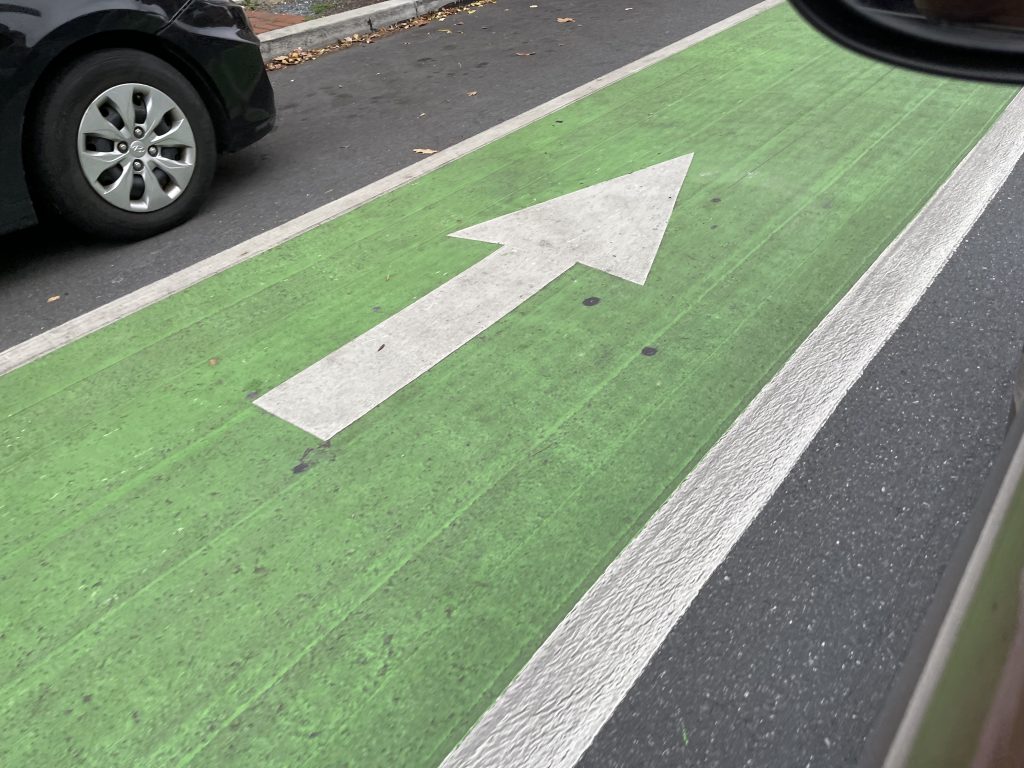 Bike it is a company in which they have available bikes in any area of the city. Through an application on your mobile device you can go on and pay to rent a bike. It will time you and then from that charge you how long you were on the bike. It also keeps track of where each bike is placed at via a GPS so that you can see where one may be located. With rides like these we are cutting pollution that is created by cars. We are living a healthier lifestyle in which we can make a daily habit to stay 100% on top of our health. Streets are marked with these green stripes to show that it is a safe space for bicyclists to ride on.
Green bike lane on N. Charlotte st.

Photo taken by Angel Peña Pabon
References
Ramsay, D. (2021, June 25). News. Bike It Lancaster. from https://www.bikeitlancaster.com/news.
Bicycle Network FAQ. City of Lancaster, PA. (2019, April). from https://www.cityoflancasterpa.com/bicycle-network-faq/.
The Lancaster Inter-Municipal Committee. (2021) from https://www.cityoflancasterpa.com/wp-content/uploads/2020/05/CH1-7-ATP20190506_201905080820238686.pdf.