By Melanie Hosterman
Lancaster's notorious Goodwill Bins may be moving out of the area, and donating can help you and our planet. 
There are seven Goodwill Donation store locations around Lancaster County, however, there is only one Goodwill Outlet Center, also commonly known as the Goodwill Bins among regulars. Most thrift stores and Goodwill are set up in racks like any regular clothing store except with donated clothing or furniture at discounted prices. Prices for thrift stores have been on a steady rise due to inflation and the recent trend of reselling. A lot of people are starting to notice and complain about these price differences. However, The Goodwill Store, Outlet Center & Donation Center located on Lincoln Highway in Lancaster is the one exception. The outlet center is run differently than regular stores. Here the clothing is placed in bins, thus why it is nicknamed "the bins" and is sold by the pound rather than being individually priced. New bins are also added every few hours. This is a popular store among resellers or people trying to find whatever they can for the best price. There have recently been rumors going around that the Goodwill outlet center in Lancaster is moving to all racks and no more bins.
Photos by Melanie Hosterman
A regular among the bins in Lancaster told me "I heard from someone that they're getting rid of the bins at this location and making it all racks and then there is going to be one big bins location somewhere in Middletown Pa. I'm not 100% positive this is happening but I was told by some other regulars this information" Victoria Knollmyer. If this change does happen, the next closest Goodwill Bins will be in Middletown, Pa which is about 35 minutes outside of Lancaster. There is no official word of if or when this will be happening as of now.
Goodwill Keystone Area stores located in Southeast and Central Pennsylvania have the Goodwill Rewards Card Program, which is FREE. Customers interested in the Goodwill Rewards Program can sign up at a register at any Goodwill Keystone Area store but can only be used in Goodwill stores managed by Goodwill Keystone Area.

Timeline of the company
Grace Rowcliffe added "As a college student, I go to the bins a couple of times a month and can find super cheap outfits. One of my hobbies is going to the bins, seeing what I can find, and making a cheap outfit. Sometimes you must get creative and modify things, but that's the fun in it".
Thrifting does a lot more for the environment than people think. If 1,000 people donated a shirt, they would save a million gallons of water that companies would then have spent on making new ones, and it also saves thousands of kilowatts each year that companies require to manufacture new clothing. Donating and thrifting clothing conserves a mass amount of energy and helps reduce one of the biggest polluters- fast fashion.
Another way donating clothing can help YOU out is by getting tax deductions for donations. Federal law permits Goodwill donors to claim tax deductions for many financial contributions and for donated clothing and household goods in good condition. When you donate, a donor representative will give you a receipt for tax purposes. You should hang on to that receipt for tax time. Goodwill Keystone Area is considered a non-profit and claims nearly 85% of revenues are channeled into job training and placement programs and other critical community services that benefit thousands of people each year.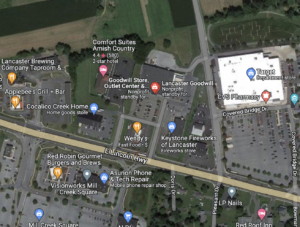 Photo taken from Google Maps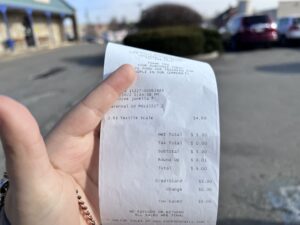 Photo By Melanie Hosterman
Reduce Reuse and recycle
Recycling was introduced in the 1930's and 40's during economic depressions. Reduce, reuse and recycle is the three-step guide to helping reduce the carbon footprint. Recycling has been on a steady rise due to recent trends! Recycling anything, whether it's clothing, paper, or plastic, this action is helping the environment more than people realize. Some common items that are recycled are clothing, pizza boxes/mail packages, wrapping paper, and milk cartons. Items that should never be recycled include, loose plastic bags, foam containers such as egg cartons and take-out containers, and plastic utensils, also wet paper is not accepted.
Electricity reduction
Thrifting is an important role in saving a mass amount of energy. Another way that you can save energy and it can end up benefiting you as well as unplugging. It has been said that you can save about $100-$200 a year by simply unplugging cords or power strips. Fossil fuels are the main form of energy used, examples of fossil fuels are coal, oil, and natural gas. When fossil fuels are burned they release carbon dioxide and other greenhouse gases into the air which is a key contributor to global warming.
Edward Lada Jr CEO
In January 2022, Ed Lada Resigned to Accept the Role of President / CEO at Goodwill Keystone Area and formally served as president and CEO of MoKan Goodwill, Goodwill of Western Missouri, and Eastern Kansas. He has a true passion for advancing the non-profit vision, mission, and values. Lada knew he could take his entrepreneurial skills and business acumen and propel the Goodwill movement to a new level in the Keystone Area. Lada holds a master's degree in public administration and ethical leadership and a bachelor's degree in social sciences.
REV. EDGAR J. HELMS (deceased)
Reverend Edgar James Helms (1863-1942), Founder of Goodwill Industries, where there is now a college named after him. Helms College creates opportunities for students to discover their strengths and build upon their knowledge, skills, and attitudes through extensive integrative and experiential learning. However, 1902 became known as the year Goodwill was born but is said Helms saw, conditions faced by immigrants who found themselves in a new country without jobs and sometimes desperate for food, clothing, and shelter. Helms went door-to-door in Boston's wealthiest districts asking for donations of clothing and household goods.
(2021, August 16). Ed Lada Resigns to Accept the Role of President / CEO at Goodwill …. Retrieved December 1, 2022, from https://www.mokangoodwill.org/mission/goodnews/ed-lada-resigns-to-accept-the-role-of-president-ceo-at-goodwill-keystone-area
Goodwill® Celebrates Founder Rev. Edgar J. Helms' 150th Birthday. Retrieved December 1, 2022, from https://www.goodwill.org/about-us/goodwill-celebrates-founder-rev-edgar-j-helms-150th-birthday/
Google. (n.d.). Google my maps. Retrieved December 1, 2022, from https://www.google.com/maps/d/viewer?mid=1oqN_AjRGdAsy8oQpLfwYrPU4O7w&hl=en&ll=34.83582700000003%2C-82.346561&z=17
Title: Historical Timeline – Goodwill Industries. Retrieved December 1, 2022, from https://www.goodwill.org/wp-content/uploads/2011/01/First_100_Years_Timeline.pdf
How Donating Clothes Helps The Environment. Retrieved December 1, 2022, from https://collectmyclothes.co.uk/how-donating-clothes-helps-the-environment/
Goodwill Store, Outlet Center & Donation Center – 2353 Lincoln …. Retrieved December 1, 2022, from https://www.yourgoodwill.org/shop/stores-donation-centers/Goodwill-Store-Outlet-Center-Donation-Center-2353-Lincoln-Hwy-Lancaster-PA-17602