New bike share program, Bike It Lancaster, Hopes to increase bicycle usage in Lancaster City.
Today's society presents many alternatives to driving a car, an example of which are ride-share apps such as Uber. Zagster, in its latest partnership with Lancaster City, moves to promote bike riding as an energy efficient alternative.
By Keith Kilgore
The most often used mode of transportation in the world is the bicycle, outnumbering cars by nearly 2 to 1. Many major cities across Europe and Asia use bikes as their primary method of getting around, whereas only 1% of trips made in the U.S. are done by bicycle.
Automobile emissions is a major contributor to global warming, making many concerned about pollution and their carbon footprint, having an alternative to driving is important. The city of Lancaster and Zagster have collaborated to bring a bike sharing program to the city called Bike it Lancaster.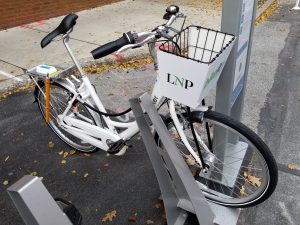 Photo by Keith Kilgore
They, alongside several local sponsors which include Franklin & Marshall College, Penn Medicine, and the Boys and Girls Club of Lancaster, and hope to provide a easy and affordable alternative to driving or calling for an Uber.
The Zagster app must be downloaded to use the service, but from there, renters can ride their bikes for up to 24 hours before returning it. The cost is $2.50 every hour up to $25, while annual membership owners get their first 2 hours free before being charged.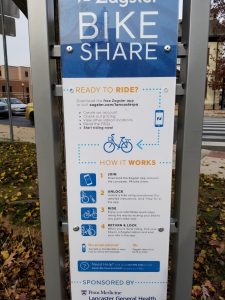 Photo by Keith Kilgore
By entering the number of the bike you want to use, Zagster gives you an unlock code for the bike. From there, you're able to ride the bike and you can stop anywhere in Lancaster. You stop anywhere, as long as the bike is locked up before returning it to any one of the 6 stations located around the city once you're done.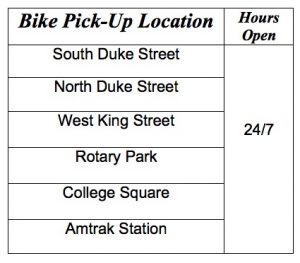 Table by Keith Kilgore
Riding a bike instead of driving a car can have many benefits on a person and environmental level. According to the Union of Concerned Scientists, 20% of all Carbon Dioxide and other emissions in America, while U.S. transportation, which includes planes, ships, and trains accounts for 30% of Global Warming emissions. Replacing drives over small distances with bike rides would do much to help lower the amount of pollutants we release into the air.
According to Sightline.org, most Americans don't get the recommended amount of exercise they need in order to live a healthy life. Bicycling is one of the best ways for a person to get active, but many people don't consider it an option since many major routes either don't have bicycle lanes. Adding better bicycle lanes, along with adding more bike-friendly traffic laws, have been shown to boost bike usage by 10% and could go a long way to creating change.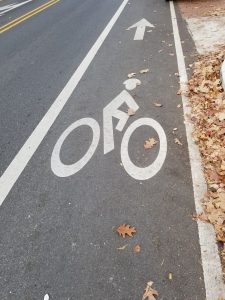 Photo by Keith Kilgore
With this new program, many of the roads in Lancaster city have been changed to make them more accessible to bicycles. On top of adding 3 miles of dedicated bicycle lanes, but also low speed streets where bikes and cars can use together called bike boulevards.
I rented one of these bikes, and I've found that only is it easy to use, but accessible due to the placement of the stations throughout the city. With the rise of ride-share services like Uber, Bike It Lancaster is not only a cheaper alternative, but is both better for the environment and part of a healthier lifestyle.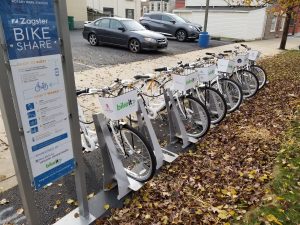 Photo by Keith Kilgore
References:
Zagster
North America's leading Bike Share App

Retrieved from zagster.com/
Zagster, based out of Cambridge, Massachusetts, as well as San Francisco, and Philadelphia, is one the pioneers of the bike-share movement in the United States, with the goal to promote bike riding as a major form of transportation with their Bike It program. They've brought their idea to many major cities including Washington, D.C., Columbus, Baltimore, and now Lancaster. They've also brought the program to many college campuses like Penn State, West Chester, and Princeton. Zagster provides bikes with over 30 states with over 200 programs across the country, with options to petitions to bring the Bike It program to your city or university.
Radius Bike Shop
Lancaster's leading bike/repair shop

Retrieved from radiusbike.com/
Radius Bike Shop is a Lancaster based full-service bicycle shop that both sells and repairs bikes. They're located on 545 New Holland Avenue, where they sell a variety of bike brands from Kona to Fairdale to Subrosa, as well as bike parts from specialty brands like Salsa, Jagwire, Demolition, and more to improve them for city transportation. Their repair shop specializes in standard repairs such as fixing a flat tire, as well as building customized bikes.They also accept bike donations, where the bikes will be serviced and sold, with the proceeds going to organizations such as Lancaster City Alliance or Neighborhoods United.
Pace
The Latest Dock-less, Bike Sharing App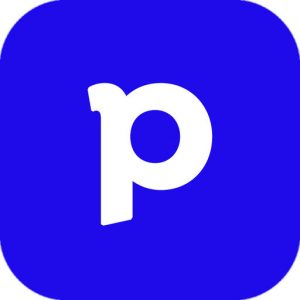 Retrieved from ridepace.com/
Zagster has unveiled a new bike-share program, Pace, a dock-less program similar to their Bike It program. Their goal is to provide the benefits of such programs, without any of the drawbacks. Starting at $1, this program aims to add even more freedom than the Bike It Program, by giving customers the capability to dock at any docking station, including any  public bike rack. The Pace app also provides a mobile bike map, which shows Pace rack locations and associated stores. The Pace program is currently only live in Tallahassee, Florida, but Zagster plans on implementing it in cities across the country, even here in the Lancaster city.
Holiday Bike Drive
Local Lancaster Store Hopes to Donate Bikes to Kids in Need.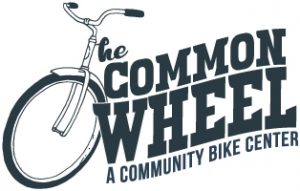 Retrieved from thecommonwheel.com/holidaybikedrive/
The Common Wheel, a Lancaster bike store, is having their annual charity event called the Holiday Bike Drive, where people can volunteer, sponsor, or donate money to help provide bicycles to kids in the Lancaster School District.
Last year, they had over 40 volunteers who worked for over 1300 hours, and were able to donate 200 bikes. This year, they're goal is to match that donation and also provide helmets and lights with every donation.
Bikes are great gifts for kids.They provide useful skills, plus are great for a healthy lifestyle. To either sponsor the event, volunteer, or donate $100, you can contact chris@thecommonwheel.com for more information.
References:
The Common Wheel. (2017). Holiday bike drive. Retrieved from  http://thecommonwheel.com/holidaybikedrive/
Radius Bike Shop. (2016). Radius bike shop. Retrieved from http://www.radiusbike.com/
Sightline Institute. (2006, March 7). Why bikes are a sustainable wonder. Retrieved from http://www.sightline.org/research_item/bicycle/
Union of Concerned Scientists. Car emissions and global warming. Retrieved from http://www.ucsusa.org/clean-vehicles/car-emissions-and-global-warming#.WjKN_kqnFPZ
Zagster. (2017, October 27). Bike share for the city of Lancaster. Retrieved from http://bike.zagster.com/lancasterpa/
Zagster. (2017). Pace. Retrieved from http://ridepace.com/
Zagster. (2017). Zagster. Retrieved from https://www.zagster.com/