49th Annual Earth Day Celebration
By Michea Wolfley
Earth day recognition started nearly fifty years ago, with the help of enraged students protesting the Vietnam War. The founder of earth day, Gaylord Nelson, used the war-opposed students to rally and protest that humankind be more mindful of the earth and how mistreated earth is. Earth day is April 22nd each year because it is between spring break and final exams week. The first earth day celebration brought approximately 20 million Americans to rally and raise awareness to these issues.
Many of the issues being protested at the start of earth day included oil spills, polluting factories and power plants, raw sewage, pesticides, and loss of wilderness. The first earth day gained support from both major political parties and by the end of 1970, the United States Environmental Protection Agency was created.
Each decade focused on rallies and raises awareness on new aspects of how earth can be improved. During the 1990s, the recycling campaign was started and helped boost recycling efforts worldwide. The start of the millennium brought concern and awareness for global warming and clean energy. This was the start of generating activists online, as the internet was very useful for earth day 2000. Citizens all over the world wanted quick and decisive action on global warming and clean energy.
Earth day 2010 was a challenge of cynicism versus activism. Citizens wanted to better the earth and slow down the rate of global warming, but climate change deniers, oil-lobbyists, politicians, and disinterested public were quick to either deny the earth its health or did not care to change their ways because of money investments. Earth Day Network brought a quarter of a million people to rally at the National Mall for a climate rally and then launched the largest environmental service project, A Billion Acts of Green. Earth Day is the largest secular observance in the world being celebrated by more than a billion people each year.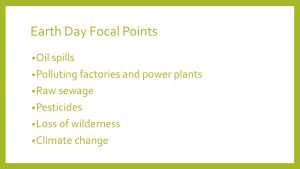 Chart created by Michea Wolfley
Climate change is real and studies show that humans are to blame. Humans burn fossil fuels which release carbon dioxide, methane, and other gases into the atmosphere. The gas that is responsible for warming is carbon dioxide. The past five years have been the warmest since record-keeping started in the late 1800s. Since 1977, the earth has had an above average global temperature.
The natural greenhouse effect is caused by the amounts of carbon dioxide released into the atmosphere by industry, transportation, and production from fossil fuel burning. Since the Industrial Revolution, carbon dioxide production has increased forty-six percent and continues to rise.
Due to the rising temperatures, the polar caps are melting which is causing the seas to rise. Glaciers lose nearly 390 billion tons of ice and snow per year. In the last twenty-five years, Antarctica has lost over three trillion tons of ice from global warming and melting ice. In the next sixty years, if greenhouse gas emissions continue, places that usually wouldn't expect hot temperatures will be expected to make them their new standard.
In the United States, extreme weather worsened by climate change killed nearly 250 citizens and cost the country almost 100 billion dollars. The unusual warmth contributed to the horrendous and catastrophic wildfires on the West Coast, causing twenty-four billion dollars in damage.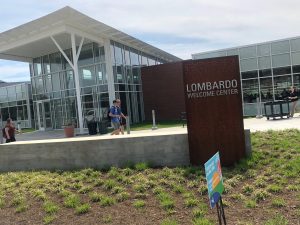 Photo by Michea Wolfley of the Lombardo Welcome Center at Millersville University
The Lombardo Welcome Center at Millersville University, which opened in 2018, is a zero-energy building. This super energy-efficient design, 550 solar panels, twenty geothermal wells, and energy-conscious behavior contributed to the building generating twice the amount of energy than it used in its first year.
Millersville University is converting building energy savings into human energy. This means that the Lombardo Center's energy-efficient design is funding student-led projects that contribute to local communities. The utility cost savings, from positive energy performance, will be used to fund student projects.
Earth Day is the largest secular observance in the world being celebrated by more than a billion people each year.
 Terracycle
Terracycling is the process of recycling different materials but those recyclables are broken down and made into different products. Most commonly, shampoo bottles and plastic bottles are broken down to form other products such as other plastic bottles and paper clips.
Terracycling is bigger than just recycling, whereas it is more efficient in the way it reuses the recycled products. At Millersville University, their first teracycle drop off location will be in use starting in the fall semester of 2019.
Electronic Waste
The Covered Device Recycling Act prohibits residents from disposing of covered devices such as trash and bans haulers from collecting these items as trash. Covered devices include:
desktop computers
laptops
Monitors
computer peripherals

Keyboard
Mouse
Printer
Speakers

Televisions
E-readers with internet connectivity
Household Hazardous Waste Facility accepts covered devices for Lancaster County residents and businesses for free. All devices must be intact for them to be accepted and a limit of ten devices per customer per day.
Other devices taken:
Cameras
All cell phones and their accessories
DVD and VHS players
MP3 and iPods
PDAs
Portable gaming devices
Stereos and peripherals
Key Stakeholders
Lancaster Waste-to-Energy
In Lancaster County, the majority of municipal solid waste is taken to the Lancaster Waste-to-Energy Facility where it is transformed into renewable energy. Steam, which is generated during the burning process, is used to spin a turbine which creates electricity. Ten percent of the electricity is used to power the facility, while the remainder is sold for revenue.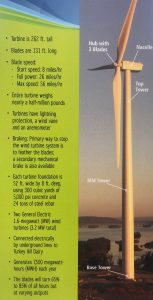 Photo by Michea Wolfley of wind turbine diagram brochure
The benefits of Waste-to Energy is it produces enough renewable energy to power the equivalent of 30,000 area homes. Also, the facility reduces greenhouse gas emissions by eliminating the creation of methane. This is also a zero-discharge facility which means all wastewater is treated and recycled on site within the system.
Lancaster County Solid Waste Management Authority
The Lancaster County Solid Waste Management Authority (LCSWMA) provides a combination of safe, clean, and efficient disposal of municipal solid waste, also known as trash. By collecting this waste, the LCSWMA generates clean, renewable energy from combusting waste and using a lot of the waste for recycling or to be reused.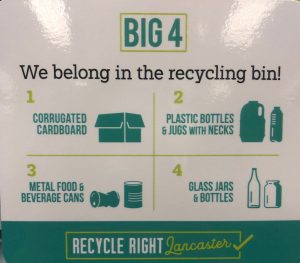 Photo by Michea Wolfley of Big 4 brochure
The LCSWMA uses the Integrated System. This includes minimizing the volume and toxicity of waste, consolidating and transferring waste, to combust the waste for volume reduction and energy recovery, and for minimal landfilling. These steps are necessary to ensure that Lancaster County uses as much renewable energy as possible to certify that the county remains beautiful.
References
A. Higgins, personal communication, April 23, 2019).
C. Walsh, personal communication, April 23, 2019).
D. Robertson, personal communication, April 23, 2019).
Earth Day's 50th Anniversary. (2019). Retrieved fromhttps://www.earthday.org/earthday/countdown-to-2020/
R. Kauffman, personal communication, April 23, 2019).
Rice, D., & Weise, E. (2019, April 22). 99.9999% chance humans are causing global warming, and other science-based facts on climate change for Earth Day. Retrieved from https://www.usatoday.com/story/news/nation/2019/04/21/earth-day-2019-climate-change-humans-global-warming-weather-rising-water/3507125002/
The History of Earth Day. (2019). Retrieved from https://www.earthday.org/about/the-history-of-earth-day/