The purchase and upgrade of historic Hinkle's in Columbia sees a rebirth of the downtown as other businesses begin to pop up. The economy is beginning to thrive again in the historic river-front town.
By Justin Schauren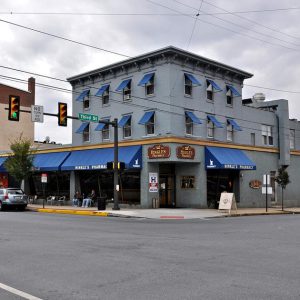 Photo courtesy of National Trust for Historic Preservation
For 124 years, Hinkle's Pharmacy and Restaurant in downtown Columbia, Pennsylvania has been serving whole-hearty food to the public for generations. The popular restaurant which got its start in the 1890's also served as a pharmacy where clients could pick up their medications; that along with breakfast, lunch or dinner was a pretty convenient feat.
Hinkle's was founded in 1893 by Samuel Hinkle, on the corner of Third and Locust streets in Columbia, where it still remains today. Four generations of the Hinkle family came on board to run the business over the course of the past 124 years. However, in late 2017 it was announced that the historic and ever-popular restaurant would be closing its doors permanently. John Hinkle III, fourth-generation owner, in a statement blamed the closing of the restaurant on "declining financial position over the past several years." Independent, small-business pharmacies such as Hinkle's struggled to withstand tough competition against nationwide chains such as CVS and Walmart, and unfortunately sometimes leaves damage to the economy of the small towns when they close.
This was a devastating loss for Columbia, as more and more businesses seem to have been leaving the town over the years, and Hinkle's closure seemed like it took it over the top. The question lingered on whether or not downtown Columbia could remain in a good economic state with limited businesses in use.
All of that came to a change, however, when it was announced at the end of 2017, just a mere few weeks after the closing announcement, that Hinkle's would be re-purchased by a local businessman and remain open for a whole new generation. Local developers Don and Becky Murphy, longtime Columbia residents, purchased the restaurant from the Hinkle's, and while the pharmacy will remain closed, the restaurant will remain open, and see a few upgrades going forward. The touching part of the repurchase is that the Murphy's decided to leave the name "Hinkle's" as the restaurant name, despite the new ownership.
New and Improved
Fast-forward to the present day, a little over a year later, Hinkle's Restaurant is booming! And that's not all; the downtown itself is seeing a revolution, thanks to the Murphy's expansive development to the town.
With the Hinkle's restaurant, the Murphy's upgraded the seating, added new flooring and entrance ways to the outdated original décor, and even added a private ballroom to the restaurant. The ballroom can be reserved for parties, wedding receptions or even business meetings.
The biggest (and possibly greatest) upgrade to the new and improved Hinkle's restaurant was the introduction of an impressively extensive candy and gift shop called, "Murphy's Mercantile." The point of the gift shop is to bring about a sense of nostalgia to guests, reminiscing the simpler days of candy stores from the 60s; a hidden gem inside the restaurant with candy of all kinds, and quant gifts to be purchased.
But the Murphy's didn't stop there. They realized there has been a lack of renovation and new businesses in downtown Columbia, so they purchased a few other properties around Hinkle's and brought new life to what seemed to be a declining town that was once an economic powerhouse. A fun-fact, at one time in the past, Columbia was almost voted in as the state's capitol, losing to Harrisburg. Since then, the town seemed to become almost a ghost-town in terms of economics and business.
Now, the downtown is booming like never before, and the economy is starting to do very well again! Besides Hinkle's, the Murphy's introduced Café 301, a southern-style cooking café and coffee shop, inspired by Starbucks, outfitted with an impressive lounge area and high tables with outlets for laptops and tablets for workers on the go.
Next Step
The Murphy's next venture is purchasing a long-closed hotel and bar in downtown Columbia not far from Hinkle's and Café 301. The rebirth of downtown businesses is bringing new life back to Columbia. The economy is beginning to do well again, more people are flocking back to the town, not just to experience the new restaurants, but to live. It's safe to say the town is going through a great revolution, for it's truly starting to flourish like the days of yore.
References
https://lancasteronline.com/business/local_business/hinkle-s-in-columbia-to-close-after-years-blames-declining/article_22170088-a767-11e7-9135-a32dd7f16e57.html
https://www.ydr.com/story/news/2017/10/18/hinkles-pharmacy-restaurant-remain-open-developers-buy/778250001/
https://www.murphys-mercantile.com/
The Best Foods Available at Hinkle's
While I'm no food critic (although sometimes I tend to think I am), I'm very certain that Hinkle's in Columbia has some of the greatest diner food around. Their menu offers everything from home-cooked breakfast, wraps, and sandwiches for lunch, and five-course meals for dinner, including steaks, and seafood.
I wanted to recommend some of my absolute favorites since I have been an avid regular at Hinkle's for quite some time now.
For starters, nothing beats breakfast food more than Hinkle's famous "Hinkle Country Style Breakfast" which includes scrambled eggs and homefries with peppers, onions, and mushrooms, choice of bacon, ham or sausage, all smothered with cheddar cheese and a sauce. Amazing!
My lunch recommendation includes the local favorite, "The Hinkleburger," which is a juicy quarter pounder topped with sliced ham, cheese, sweet pickles, lettuce, tomato, mayo, and jalapenos (optional). It's safe to say, it's a tasty good time!
Finally, I would have to choose "Hinkle's Chicken Croquettes" as my dinner recommendation. What makes this different than any other diner's chicken croquettes you may ask? well, it's the warm, savory flavor they put into the (secret) sauce they pour on top. It's a meal you just have to check out yourself to experience what is undoubtedly the best dinner I can have while in Columbia.
About the Author
Justin Schauren is currently a senior at Millersville University of Pennsylvania. With a major in Communication Studies and a minor in Journalism, he plans on graduating and starting a career as a writer or producer for a news or entertainment company. Besides writing and using social media, on his spare time he enjoys listening to music, working out and hanging out with his family and girlfriend, all Columbia natives. He has lived in the riverfront town all his life and is proud of the recent revolution the town has been experiencing.