The air quality in Lancaster could be more harmful than you think.
By Isaiah Terrell
A look at how Lancasters agriculture is causing the county to be affected and tested as having bad air quality through tests done by the American Lung Association as well as The Department of Environmental Protection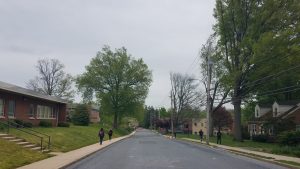 Photo by Isaiah Terrell of sky in Millersville
---
Through the years Lancaster has been recognized as having one of the worst air qualities in the metropolitan area. Studies were ran through over 200 areas in a 2018 study.The American Lung Association (ALA), which is a health organization whose mission is to better people's lives by improving lung health and preventing lung disease through education, advocacy and many methods of research, measured Lancaster air quality and the results are as followed:
58th for high ozone days out of 227 metropolitan areas,

28 for 24-hour particle pollution out of 201 metropolitan areas,

Ranked 15 for annual particle pollution out of 187 metropolitan areas.

Over the years the extended pollution levels have been failing the national standard.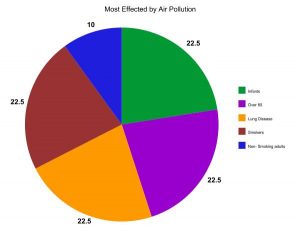 Chart by Isaiah Terrell
---
Lancaster county and the surrounding areas may seem it's a good place to live because of the open fields being 13.5% tree cover with huge farming environments and quiet living spaces but through the American Lung Association people in the area find the air quality in this small city is just as bad if not worse than a bigger city like Philadelphia or New York. The department of environmental protection will monitor counties and report high levels of ozone, as well as other hazardous pollutants that are present in the air. They will put a health warning in effect if any of the 5 major air pollutants reach a critical level:
ozone (burning fossil fuels at power plants, industrial boilers and cars.)

Particulate matter (mix of solid particles and liquid drops that are in the air.)

Sulfur dioxide (from industrial furnaces or power plants burning coal)

Carbon Monoxide (colorless, odorless, poisonous gas)

Nitrogen dioxide (formed when fuel is burned at a high temperature like cars)
How does Lancaster measure up?
In the 2018 air quality report card which addressed the two main outdoor air pollutants which are smog and particle pollutant but is often called soot. Lancaster received a passing grade of a D compared to the C received from the prior year. Lancaster sits tied as the 15th most polluted city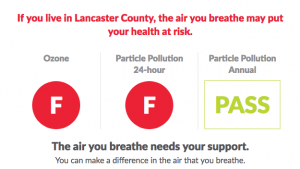 in the nation in 2019 Lancaster finds itself dropping down another letter grade compared to years prior.
Photo from American Lung Association
---
Profiles:
Dr. Edward Livingston
Livingston was a New York physician who promoted isolation and fresh air after a battle with tuberculosis (Tuberculosis will mainly affect the lungs, but can also affect other parts of the body which is spread through the air). After getting the disease in 1872 the next year after he graduated medical school he retreated to the mountains to be in peace. While there he thrived on the fresh air. This experience prompted him to come to a conclusion that mountain air and healthy living could give tuberculosis sufferers a chance at recovery. He founded the American Lung association in 1904. The American Lung Association is is on a mission to save lives by improving lung health and Ppreventing lung disease, through research, education and advocacy.
Harold P. Wimmer
National President and CEO of The National Lung Association. Wimmer began his work with the Lung Association in 1978 working his way up to higher rank becoming CEO in February of 2013. Carries out the policies established by the National Board of Directors and directs the executive operations of the Association. Wimmer helped transform the general goals with a very severe plan to expand its mission impact and save more lives. Under his leadership and direction, Wimmer helped turn the organization into an even more capable company that can deliver on its mission through his important role restructuring into one nationwide organization. He launched the Lung Force initiative, aimed at building awareness, patient support and research funding for lung cancer.
---
What's the problem?
There could be a variety of different issues present in the county that could explain the hazardous problem with the local air. It could be due to high farming rates as well as winds blowing in from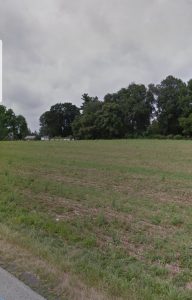 surrounding larger cities. The high usage of manure and major fertilizers are the main factor in high soot levels in Lancaster. That presence of soot is when ammonia gas is released. The gas mixes with other chemicals in the atmosphere then forms a water drop that will evaporate in the atmosphere which can be very harmful.
Photo by Isaiah Terrell of Millersville Pike crop field
Moving towards improvement    
Lancaster has done many attempts to try and improve on the failing grade received by the ALA which was the worse ranking received since 2011. Lancaster county has many open fields which is used for farming so many harmful fertilizers are used which will be harmful to the air quality. Though it may be hard residents can take steps to achieve a better grade from the Lung Association and help improve the air:
Reduce the number of trips you in your car/ avoid being idle in a started car

Carpool whenever able

Don't use heavy harmful cleaners/ hair products

Reduce smoking
The ALA will partner with congress to put in effect and defend the "clean air act" which will control air pollution on a national level. Kevin Stewart, Director of Environmental Health, American Lung Association of the Mid-Atlantic says "Across the nation, the report found continued improvement in air quality, but still, more than four in 10 Americans – 133.9 million – live in counties that have unhealthful levels of either ozone or particle pollution, where their health is at risk." Progress is still being made to maintain the air pollution in the county to get it back down to safe levels.
Zipcar
Millersville is now providing students access to the ride sharing company. This will assist student who are in need of transportation. The cars are very energy efficient and could cut down on fuels being emitted into the atmosphere by using the electric car choice. This program offers clean fuel as well as very low emission vehicles that include Hybrids and electric cars. By driving with Zipcar you use less gas and with the clean emission, that will have less pollutants in our ozone. For students Millersville is offering a discount for attending students and cars are available 24/7.
Lancaster Tree Tender
Lancaster is known for its farming community and urban forests, and the Lancaster Tree Tender is looking to help expand even more. By planting more trees in neighborhoods it could reduce the risk of storm water pollution and they could also cut down air pollution. Individuals can go to their website to fill out an application to receive a free tree for there home or there neighborhood. The trees planted so far through the group are a good representation of the efforts and the community engagement that they create. Lancaster Tree Tender is in partnership with Lancaster City Alliance and the City of Lancaster to help to make Lancaster more Eco friendly.
References
Air Quality Index. (n.d.). Retrieved from https://www.dep.pa.gov/Business/Air/BAQ/MonitoringTopics/AirQualityIndex/Pages/default.aspx
Lancaster. (n.d.). Retrieved from https://www.lung.org/our-initiatives/healthy-air/sota/city-rankings/states/pennsylvania/lancaster.html
Lancaster, PA. (n.d.). Retrieved from https://www.lung.org/our-initiatives/healthy-air/sota/city-rankings/msas/lancaster-pa.html#pmann
Sheehan, D. P., & Sheehan, D. P. (2018, December 14). More smog, less soot in Lehigh Valley compared to last year, according to American Lung Association report. Retrieved from https://www.mcall.com/news/local/mc-nws-pollution-report-20180418-story.html