Biking could be encouraged if students had more room to ride.
By Harrison Grimm
Millersville University is making strides as an environmentally-friendly campus, and it hopes to continue to provide students with greener options, including more bicycle-friendly spaces. Though there are obstacles to overcome in making these improvements, the benefits to biking should make the creation of safe riding spaces a priority to the university and surrounding community.
Encouraging Green Living
Millersville University (M. U.) has received recognition for various sustainability efforts. Earlier this year, the school was honored by the U. S. Department of Education with a Sustainability Award as a Green Ribbon School for its efforts in reducing energy usage and waste and encouraging healthy lifestyles among students and staff.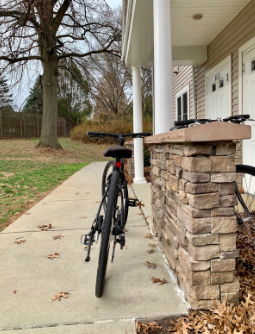 The University's transportation information page says the University, hopes to continue to provide greener options to help students get around campus and the surrounding area. The university currently offers bus service to nearby shopping centers and attractions, and has a partnership with Commuter Services of Pennsylvania to offer students carpooling options with local residents. The page says that the university hopes to become "increasingly bike friendly" in the future. 
Biking Offers Benefits
Biking offers health-related, monetary, and environmental benefits. Cycling gives riders all-important cardiovascular exercise, but beyond that bike riding can help riders keep their bank accounts healthy as well. PennDOT.gov recommends bikes to reduce or eliminate the gasoline, upkeep, and parking-related expenses that driving entails.
Environmentally speaking, bikes do not contribute to air pollution, and that is particularly good news for our area. In recent years, Lancaster County has been named one of the worst places in the nation in terms of air quality. In 2019, the county came in as the 15th most polluted in the nation for fine particulates, according to an American Lung Association report. Many of Lancaster County's air pollution woes are caused by emissions from cars and trucks.
Obstacles to Overcome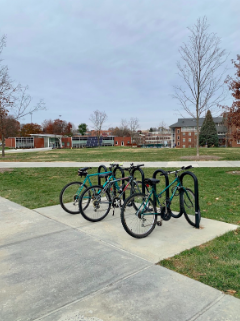 According to Millersville Borough's website, Millersville University's campus spans about 250 acres. While the winding pathways that stretch across it belong to the school, some of the roads that cut through and surround M. U. belong to the borough. While the university can add on-campus bike paths at their own discretion, the addition of bike paths on borough-owned roadways would require borough involvement and approval. Widening of certain borough roads could be difficult, costly, or even impossible.
Despite challenges, biking enthusiasts and environmentalists agree that cycling's benefits are substantial, and encouraging cycling as a viable means of transportation is key in increasing ridership.
The Push to Pedal Instead
In recent years, Lancaster County has joined other communities nationwide in their efforts to create safer areas for bicyclists to ride. The county is slowly adding biking lanes to city streets. According to cityofLancasterPA.com, only about 10 miles of bike lanes exist on the city's 120 miles of streets; still, progress is important. Research conducted by the national nonprofit PeopleForBikes Foundation shows that when cities create safe riding spaces, bike traffic increases significantly.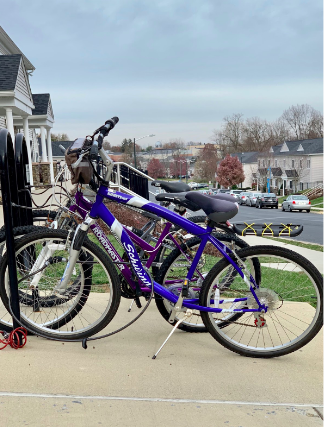 Stuart Smith, Lancastrian and board member of community bike center The Common Wheel, believes in making biking more accessible and safer for riders. Smith hopes that local campuses like Millersville's will make efforts to improve riding conditions.
Smith says it is important to note that bike lanes do not have to be a costly addition to campus. "Bike paths do not necessarily need to be new infrastructure. Creating dedicated lanes such as line painting on an existing road to make road riding safer is a very logical and inexpensive way to increase ridership."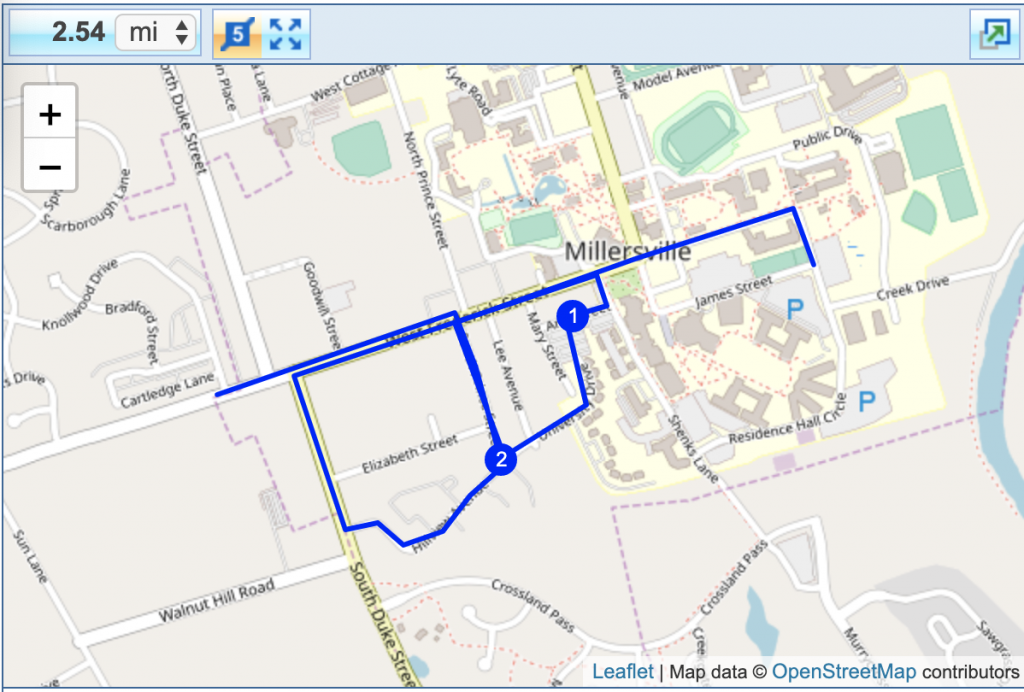 Still, says Smith, the benefits to creating bike paths both in towns and on campus must outweigh potential costs, noting "If people do not feel safe, they will not ride."
---
Cyclist on a Mission: Stuart Smith
Stuart Smith is an avid bicyclist who rides for pleasure and exercise, and has completed several long distance charity rides. He also serves on the board of directors for The Common Wheel, a nonprofit organization that works to make biking accessible, affordable, and safe for all.
Smith has also been active in Lancaster City Alliance's work to increase the number of bike lanes and paths within Lancaster City.
Smith is employed by Benchmark Construction Company as a pre-construction manager in the Senior Living Division. He lives in Lancaster city with his wife, Heather, and their two toddlers, who already like to bike on their trikes.
---
Cycling: Good for the Environment, Better for You!
No doubt the environment benefits when commuters ride their bikes, but how does cycling affect the riders themselves? Cycling has many benefits for the human body, including:
Helping to build a healthy heart through aerobic exercise
Providing a low-impact workout that protects joint health
Developing a rider's sense of balance
Building stronger bones
Building up muscles
The health benefits gained from cycling carry over into everyday life, giving riders greater strength, endurance, and ease of movement.
Riders should always wear appropriate protective equipment. Whether on bike lanes, sharrows, paths, or the open road: Helmets and highly-visible or reflective clothing are key elements in keeping cyclists safe while they ride.
---
---
Millersville University's Sustainability Director on Biking
Chris Steuer has accomplished many things since he was hired as Millersville University's Sustainability Director in 2015. One of his ongoing projects is improving conditions for campus cyclists.
According to a 2016 survey, about 3% of faculty and staff and 2% of students regularly used bikes for transportation. Still, the University would like to see more people use bikes, and Steuer says M. U. plans to "maintain sharrows, provide bike racks and bike repair stations."
Though M. U. does not have bike lanes, it added sharrows in 2016. Steuer explains that sharrows are marked areas that "encourage cyclists and cars to share the road."
---
Meet Chris Steuer: M. U.'s Sustainability Director
Millersville University's goal is to be a carbon-neutral facility by the year 2020, and Chris Steuer is the man in charge of overseeing the steps the campus takes towards that result.
Steuer came to the University in 2015 from ICF, a consulting organization that works with clients from around the world to help them make positive changes in their businesses and within the environment. He holds Bachelor's and Master's degrees from Penn State University in Earth Science and Geography, respectively.
As a member of Millersville's Climate Action Plan Committee, Steuer sets and works to meet goals designed to reduce the University's energy usage, waste, and overall carbon footprint.
---
---
References
Bicycle network FAQ. (2019). Retrieved from https://cityoflancasterpa.com/bicycle-network-faq/.
How does Millersville University of Pennsylvania rank among America's best colleges? (2019). Retrieved from https://www.usnews.com/best-colleges/millersville-university-of-pennsylvania-3325.
Lancaster's air quality worsened again for ozone smog pollution, finds 2019 'State of the Air' Report, as year-round average fine particle pollution ranks area 15th worst in U.S. (2019, April 24). Retrieved from https://www.lung.org/local-content/_content-items/about-us/media/press-releases/lancasters-air-quality.html.
Millersville University named 2019 U.S. Department of Education green ribbon school. (2019, May 22). Retrieved from https://blogs.millersville.edu/news/2019/05/22/millersville-university-named-2019-u-s-department-of-education-green-ribbon-school/.
Ride a bike. (2019). Retrieved from https://www.penndot.gov/TravelInPA/RideaBike/Pages/default.aspx.
Statistics category: PeopleForBikes. (2019). Retrieved from http://peopleforbikes.org/our-work/statistics/statistics-category/?cat=protected-bike-lane-statistics.
Transportation. (2019). Retrieved from https://www.millersville.edu/sustainability/sustainable-campus/transportation.php.
---