Written by Emily Jones
Millersville University explains how recycling is changing and what they accept at the university currently.
We all know how important it is to recycle. We can drastically help the Earth by recycling many different products. But did you know that the market for recyclable items is drastically changing in the United States?
According to the Recycling @ MU webpage on Millersville University's official website, in the past, many of the materials recycled in the United States were sent to China, where they were used as source materials for products developed by China. Now China is sourcing those materials for themselves. This has restricted what they will accept from the United States, along with other countries. Because of these restrictions, the market for recyclable materials in the United States has changed. The university has also had to change their recycling policies. Many areas in Lancaster County have had to do this as well.
The Recycling @ MU webpage discussed what they recycle on the university's campus. They recycle "the big 4." The big 4 things that they accept for recycling are glass, metal cans, cardboard, and plastic with a neck. An example of plastic with a neck would be a classic plastic water bottle with a screw off cap, for your reference. The University webpage gave details on each of these categories to make recycling easier on campus.
Glass items include clear, green, and brown glass bottles. Glass items also include green, brown, and clear jars. 
Metal items would include all food and beverage cans made from steel or aluminum.
Cardboard items would include shipping boxes, packing boxes, and pizza boxes. Pizza boxes must be free of grease or food remnants according to the university. It is recommended that students flatten the boxes and remove all packaging materials such as bubble wrap.
Plastic with a neck would include items such as plastic bottles, jars, jugs, and any other plastic items with a neck.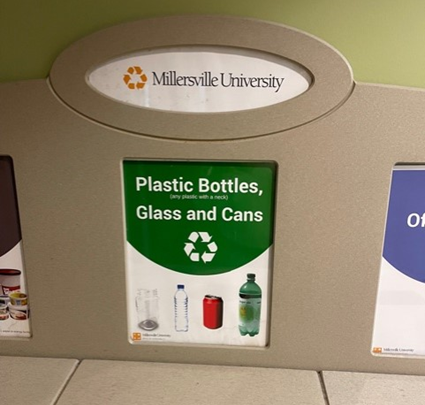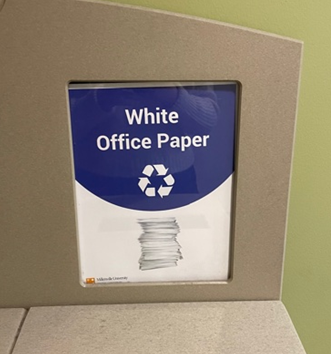 The Recycling @ MU webpage recommends that metal items, plastic bottles and glass items be rinsed out before recycling and that the lids be thrown away. Some items that may not be recycled are cereal boxes and food cartons. According to Millersville University, the items listed above are the only items that can be recycled on campus. Examples of items that cannot be recycled are food cartons.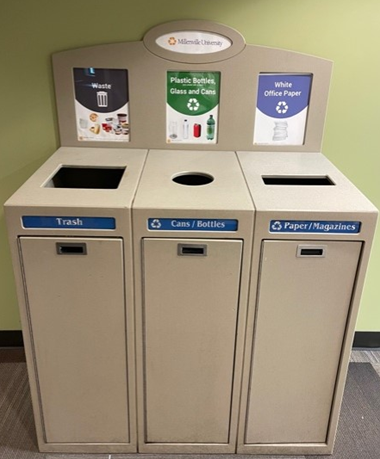 The Recycling at MU webpage quoted "when in doubt, throw it out." Wishful Recycling occurs when people throw items in the recycling bin and hope the items be recycled. This can actually do more harm than good in the long run. According to an article by the School of Marine and Environmental Affairs, wishful recycling can cause large amounts of recyclable items to be taken to landfills. Instead of the recyclable items being recycled properly, they end up piling up in a landfill. Both webpages recommend that if you are unsure if an item can be recycled, it is best to throw the item away.
Lancaster City's recycling center, located at 850 New Holland Ave, was mentioned on the university's webpage as well. Items such as paper products, styrofoam and newspapers can be recycled at Lancaster City's recycling center. The City of Lancaster's official website discusses various recycling information including their hours of operation, days they are open to accept items for recycling and helpful information on how to recycle due to the new recycling restrictions in the United States. Millersville University recommends that individuals on campus recycle items other than "the big 4" at Lancaster City's recycling center.
Recycling continues to be a way that we can all help our planet. The new recycling restrictions in place are being followed closely by Millersville University to ensure that items are being recycled accurately.
Timeline of Recycling

The first curbside recycling program started in France in 1884

Recycling was put on hold in the 1940s and 1950s due to a post-war economic boom

In 1980, Woodbury New Jersey became the first city to mandate recycling

In 2000, more than 5,000 cities started to use recycling programs

In 2009, over 33% of trash is recycled in the United States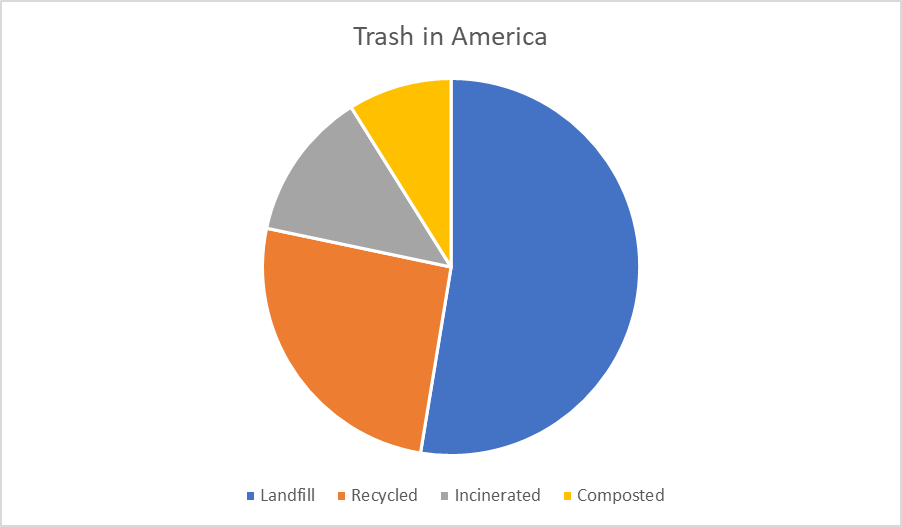 A website called Recycle Right Lancaster was developed by the Lancaster County Solid Waste Management Authority to help aid Lancaster County residents in understanding what can and cannot be recycled. The website contains several instructional videos about recycling and also contains various images on what items are allowed to be recycled locally. They also have a chat area for Lancaster residents to be able to ask questions they may have.
An article written by Global Citizen discussed what will happen to our trash when the landfills in the United States reach their capacity. According to the article, over 2,000 active landfills in the United States are reaching their capacity! The article suggested a few ways we can help to prevent this from happening, or at least slow it down. Recycling when possible is important. The United States is also moving towards burning trash to produce energy, like many other countries in the world.
Jim Warner, who is the CEO of the Lancaster County Solid Waste Management Authority, oversees a large budget and is in charge of moving large tons of waste materials every year in Lancaster County. He and his staff have implemented programs to reduce waste in Lancaster County, along with creating plans to move large amounts of material waste to their proper locations. The Lancaster County Solid Waste Management Authority also has been working towards ways of producing energy.
A local Lancaster County gentlemen named Tim Kauffman has his own special way of recycling scrap metal. Tim collects trash metal from local residents and neighbors. He then recycles the metal to raise money for Grandview Church in Lancaster County. He has helped raise a generous amount of money for the church so far and has a goal of raising even more in the upcoming year!
Fun Facts about Recycling!!!
Landfills first appeared in the United States in 1940!
The United States hit its 25% goal of recycling in 1996!
References
City of Lancaster PA. (2021, November 2). Recycling Drop-Off Center. https://www.cityoflancasterpa.com/recycling-center/
Get to Know the Big 4. (20 C.E.). Millersville University. https://www.millersville.edu/sustainability/sustainable-campus/recycling.php
'Wishful recycling': More harm than good. (2018, February 12). School of Marine and Environmental Affairs. https://smea.uw.edu/currents/wishful-recycling-more-harm-than-good/