How the Climate Action Plan will help Pennsylvania create a better future
By Reed Donnelly
The climate action plan is produced by the Department of Environmental Protection once every three years. The latest plan centralizes itself around human health and equity. Included within this plan:
Identifies greenhouse gas emission and sequestration and baselines in the commonwealth
Evaluate cost-effective strategies for reducing or offsetting greenhouse gas emissions
Identifies costs, benefits, and co-benefits of reduction strategies
Identifies areas of agreement and disagreement among committee members: and recommends to the General Assembly legislative changes necessary to implement the Action Plan.
Why do we need to make a change now? Many people in the population will ask this very same question. To start, Pennsylvania has only been getting hotter since 2010. With our excessive use of greenhouse gases, we have seen that the average temperature in the state has jumped 2 degrees since 1900. The current projection without change for the middle of this century is that we will be an average of 5.9 degrees hotter. With this, it will lead to more extreme weather conditions plus significant water level changes.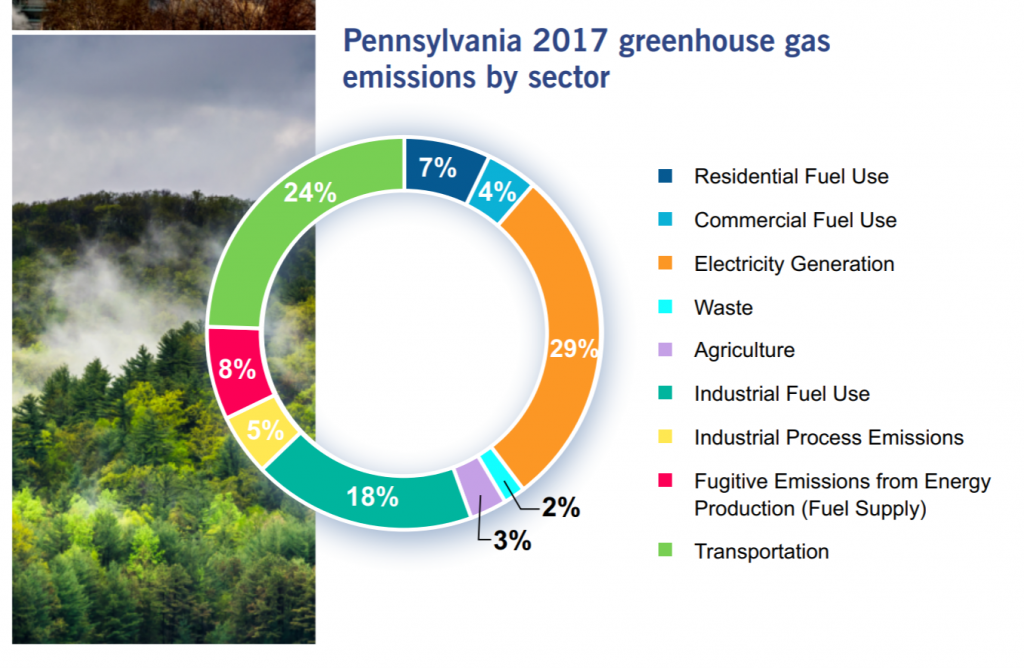 Currently, there are 3 plans set to help meet Pennsylvania's Greenhouse Emission Goals. All of which is starting now and will be implemented fully in 5, 10, and 10+ years. In 5 years it is planned for residents to have improved efficiency within their electricity and gas. Another aspect of the plan is using incentives and programs that will increase energy efficiency for use within the agriculture field. In 10 years there is a push for an increase in fuel efficiency for commuter vehicles. Alongside this, there is a push for fewer miles traveled by single-occupied vehicles. Also planned for 10 years is providing an increase in land and forest management to increase carbon absorption. Finally, planned for 10+ years from now we are looking at a carbon emissions-free grid within Pennsylvania as a whole. As well as implementing by 2050 zero-emission medium and heavy-duty vehicles.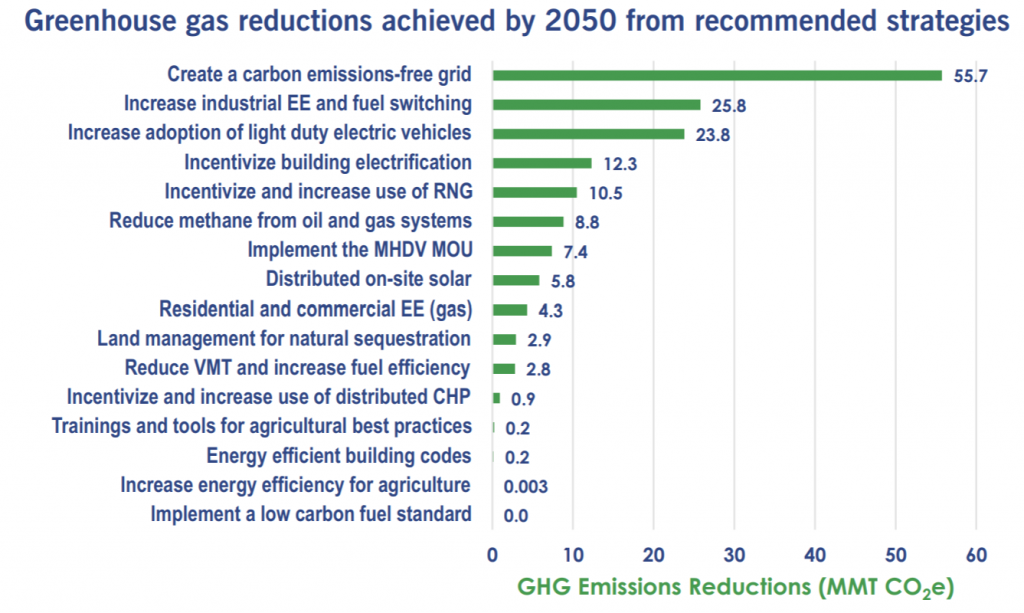 While we are working on creating a carbon emission-free grid we also have strategies for climate change preparation and adaptation. Pennsylvanians should be aware of all of the aspects that could endanger lives due to climate change. These aspects include increased temperature, heatwaves, and flooding. Rising temperatures will most impact forests, ecosystems, wildlife, and agriculture. Currently, there are many pathway charts made to make sure that we are able to mitigate immediate issues so that we are able to continue our path in the course of climate change.
Environmental justice areas are areas that have 20% of residents living under the poverty line or 30% that identify as non-white residents. In these environmental justice areas, we will see 30% of these communities experiencing a great risk of both flooding and heatwaves. The reason this is such a large issue for these communities is that many of the homes and living conditions are poor and can have potential harm due to any weather disasters. With Lancaster being one of these areas it would be safe to say that this action plan will directly help us in the future. We need to make sure that our communities are given adequate living conditions so that in the future we are all safe from climate change. Some things that need to be updated would be living in older homes, homes without air conditioning, limited transportation options, and health conditions that stem from poor air quality. With just small investments into these communities, we can prevent bad situations from becoming much worse. This would even help save the lives of individuals.
Works Cited
(FOX43), A. D. M. (2021, November 19). A local approach to climate solutions in Pennsylvania. fox43.com. Retrieved November 19, 2021, from https://www.fox43.com/article/weather/a-local-approach-to-climate-solutions-in-pennsylvania/521-b15cb61e-9f35-4ba3-a1a5-687c3422d071. 
Pa climate action plan. Department of Environmental Protection. (n.d.). Retrieved November 19, 2021, from https://www.dep.pa.gov/Citizens/climate/Pages/PA-Climate-Action-Plan.aspx.
Pa.gov. (n.d.). Retrieved November 19, 2021, from http://www.depgreenport.state.pa.us/elibrary/GetDocument?docId=3925168&DocName=2021+PENNSYLVANIA+CLIMATE+ACTION+PLAN+%28BOOKLET%29.PDF++%3Cspan+style%3D%22color%3Agreen%3B%22%3E%3C%2Fspan%3E+%3Cspan+style%3D%22color%3Ablue%3B%22%3E%28NEW%29%3C%2Fspan%3E+9%2F21%2F2023.