by Michael Zabkowski
The Food Recovery Network club has donation boxes set up around campus for food to be donated to the Campus Cupboard. 
Millersville University has given a substantial effort to not only be environmentally friendly, but also take care of the community. The Food Recovery Network club at Millersville has taken an initiative to reduce food waste on campus. The network describes food recovery as "a process to recover safe, edible surplus food that would otherwise go to waste and donating it to a hunger-fighting non profit organization".
For students that have meal plans, students must select a minimum of three items to use a meal swipe. However, many students do not eat all the items they buy when using a meal swipe, and a lot of food is wasted as a result. Another important aspect of this issue is the amount of food that the dining halls throw away at the end of every day.
Instead of putting those items in a trash can, students can now help their community and donate those food items to "The Campus Cupboard". Located inside of "The HUB", "The Campus Cupboard" provides food for students and community members who suffer from food insecurity. The Food Recovery Network has set up boxes outside of "The Galley", "The Anchor", and the Starbucks located inside McNairy Library. While donation boxes are currently only found at dining hall locations on campus, the club is looking to do more. Millersville's chapter is looking to expand their effort to other areas in the surrounding community, such as grocery stores and convenience stores local to campus.
Non-perishable food items, such as chips, cereal cups, granola bars, fresh fruit, and more can all be placed in these boxes. Donations placed in these boxes are then sent to "The Campus Cupboard" for students and members of the community to utilize. The Food Recovery Network club has taken charge with this initiative. In doing so, the club has not only helped feed the community, but also cut down on waste as well. With so many issues to combat, this is one of few instances where one action works to solve two separate issues. 
The Food Recovery Network is a non profit organization that has chapters in Universities all across the United States. Students from the University of Maryland, Evan Ponchick, Ben Simon, Mia Zavalij, and Cam Pascual established the organization in 2010. Noticing how much dining hall food was thrown away at the end of the night, these students looked to feed people while also eliminating food waste. 
The biggest student lead movement in America, 187 colleges and universities have programs in 46 states and the District of Columbia. Since the organization was founded, the network has recovered and donated millions of pounds of food and meals. Precisely, the 10.9 million pounds of recovered food and nine million donated meals have prevented over four thousand metric tons of CO2 emissions.
Millersville's chapter, which was founded in 2016, has recovered over two thousand pounds of food. Overall, the commonwealth of Pennsylvania has Food Recovery Network chapters at 18 colleges and universities. 
The campus club has taken two prominent issues and is working to solve them by becoming a chapter of the Food Recovery Network. So next time students think about throwing out their non-perishable food items after a meal, they should think about donating it to "The Campus Cupboard". Whether they are at "the Galley", "the Anchor", or even the Starbucks in McNairy Library, students can help their community out and put non-perishable food items in these boxes as opposed to throwing them out.
Regina Anderson, Executive Director of the Food Recovery Network
In 2015, Regina Anderson joined the Food Recovery Network as the Executive Director. Anderson is responsible for laying the strategy and fundraising efforts for the organization. Businesses, events, and public institutions have a big role in reducing food waste. They also have a role in recovering surplus food, but Anderson wants to ensure they are integrated in the Food Recovery Network. Anderson most recently was tasked with implementing a three-year strategic plan for the network. She has worked in the nonprofit sector of social justice for over a decade. Anderson has committed her life to this line of work due to her belief that it makes the biggest difference in the world.
Dr. Jennifer Frank, Millersville FRN Chapter Faculty Advisor
Associate professor Dr. Jennifer M. Frank is the faculty advisor of Food Recovery Network chapter at Millersville. Dr. Frank got her Phd in social work from the Bryn Mawr College Graduate School of Social Work and Social Research. With being a licensed social worker in the Commonwealth of Pennsylvania, Dr. Frank has gotten plenty of experience in areas of poverty and homelessness. In the local community here at Millersville, Dr. Frank is also very involved. She is involved with the Penn Manor school district as an integral member of The Loft Community Partnership. Dr. Frank is also a board member of The HUB, which is where community members can find The Campus Cupboard and The Campus Closet. For community members that are battling food insecurity, they can utilize donations made to the Food Recovery Network, which go to The Campus Cupboard.
How The Food Recovery Network Began
A little over ten years ago, in 2011, four students from the University of Maryland (College Park), established the Food Recovery Network. These four students noticed an astonishing amount of perfectly edible dining hall food wound up in the trash at the end of the day. With all this food set to be sent to the landfill, they worked to recover meals. By the end of the school year, 30,000 meals were donated to Washington D.C. One year later, in 2012, the second Food Recovery Network chapter was founded at Brown University. To date, over five million pounds of food have been recovered, which is estimated to have provided 4.1 million meals.
Making a Better Future
The Food Recovery Network strongly believes that it is a human right to have access to food. Wasting food also directly harms the environment as doing so creates excess greenhouse gases. The organization looks forward to policy to tackle the root causes of both food waste and food insecurity. Currently, 38 million people in the United States are facing food insecurity. The Food Recovery Network believes that their student network has the skills to engage with leaders at local, state, and national levels. Advocacy efforts from the organization looks to disrupt the status quo of an unsustainable food production system, one that is inaccessible to way too many people. Working alongside student leaders, the network strives to create a more equal and sustainable future.
Food Recovery Network Timeline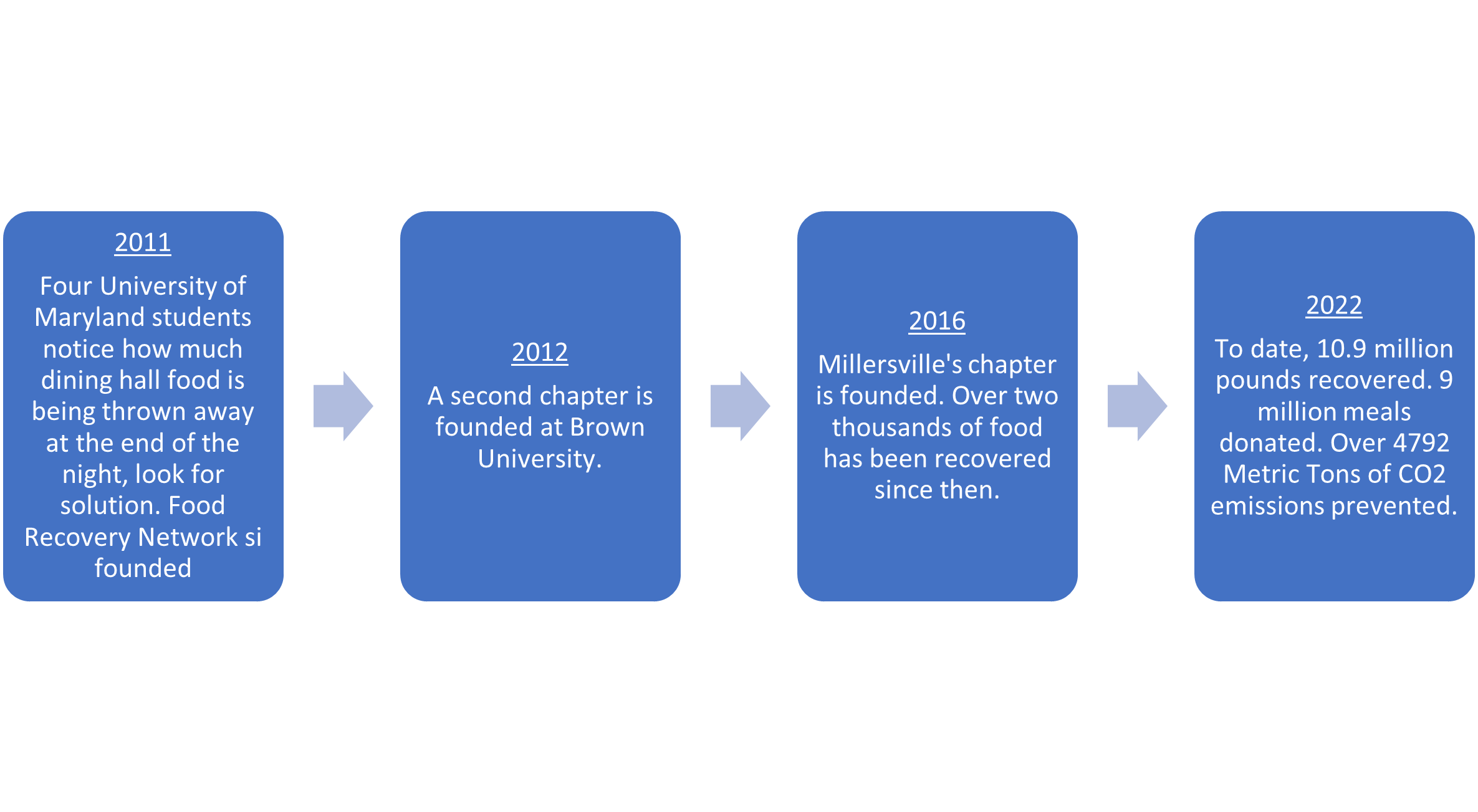 Interview with Millersville FRN Chapter President, Kelli Hamme
References
Associate professor. Millersville University. (1970, December 1). Retrieved December 1, 2022, from https://www.millersville.edu/socialwork/faculty/jennifer-frank.php  
Food Recovery Network. (n.d.). Retrieved November 21, 2022, from https://www.foodrecoverynetwork.org/
Our story. Food Recovery Network. (n.d.). Retrieved December 1, 2022, from https://www.foodrecoverynetwork.org/what-we-do  
Our team. Food Recovery Network. (n.d.). Retrieved December 1, 2022, from https://www.foodrecoverynetwork.org/frn-national