Penn State researchers examined the farming conditions of Lancaster County farms for their corn yields depending on climate change predictions.
Written By: Hunter Lohmann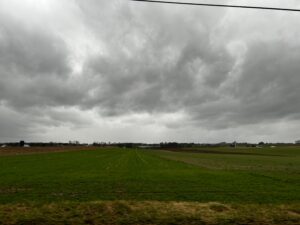 Photo taken by Hunter Lohmann
Lancaster county farmers may have to change their strategies for growing corn due to climate change in the near future. Climate conditions are expected to warm throughout the northeastern United States. Consequentially there are many farms and dairy farms in the region that will have to reconsider how they are going to produce their products. A study funded by the U.S. Department of Agriculture's Agricultural Research Service examined climate change projections from specific locations across the globe, one of which took a precise look at how dairy farms would be affected in Lancaster County's Landisville. This latest study comes after a separate study was released in 2017 from Penn State researchers about how temperature increases could decrease fertility in dairy cows.
Heather Karsten, the associate professor of crop production ecology at Penn State's College of Agricultural Sciences shared her input on the matter. "If climate projections hold, it will threaten the dairy industry in Lancaster County. Depending on which climate scenario occurs, we could see severe impacts on corn production in that major dairy area. Lancaster County is looking like it is going to experience more days with extreme temperature stress that will reduce corn yields."
The Northeastern region of the United States is expected to have the greatest impact from these changes in climate. Corn is an extremely multipurpose crop and seeing as how the Northeast is a critical dairy producing region, corn is used quite often to feed many farm animals. Interestingly, the much higher temperatures could be the highest in Lancaster County compared to the rest of the Northeast. This could have effects on corn plants that cause them to mature faster but grow smaller and could delay corn growth at a critical time in the growing season. It's also critical to these farmers to produce as much yield as possible, not only for their financial value but also because most corn is harvested to make silage. With these warming conditions on the horizon, experts believe that corn yields will likely be unchanged or even enhanced, however the farmers who grow corn may be forced to irrigate their fields.
During some of the key growth stages for corn, temperatures are expected to reach a high of over ninety-five degrees Fahrenheit which could drastically affect the reproductive element of corn. Projections show that by 2050 the Northeast's ambient temperature could be warming up by approximately 5.4 degrees Fahrenheit compared to the global ambient temperature rising by approximately 3.6 degrees Fahrenheit. Assistant professor of crop, soil and environmental sciences professor, Rishi Prasad, explains that "Climate models suggest that the higher temperatures will occur most often later in the growing season, and that's when corn plants are vulnerable – when they are silking, pollen is being formed, endosperm is dividing into kernels growing."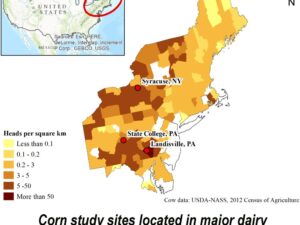 Map provided by Heather Karsten Research Group/Penn State
These same experts have also proposed some solutions for farmers to get their crop's worth. In the case that farmers' corn yields do become affected by climate change, it could potentially be a good idea for farmers to grow a second silage crop. These other crops, which could include rye or winter wheat are known to be extremely beneficial in a multitude of aspects such as erosion control, as cash and cover crops, weed suppressor, and as nutrients. Karsten proposes two other ways to combat the effects of climate change on corn. She suggests farmers to reconsider "management strategies such as shifting the planting dates based on last spring freeze". Farmers may also want to irrigate their fields during the biggest water-deficit periods of growth to fight the effects of the projected increase of heat and drought stress.
Karsten hopes that evolving developments in this research will focus more specifically on Lancaster County so that researchers may better understand the local level of global warming as well as projecting more accurate adaption strategies to meet local needs.
PAs Ranks In Produce and Dairy

Pennsylvania has the fifth highest number of fruit and vegetable farms compared to the rest of the country. However, the state only ranks twenty second nationally in crop production sales. In total approximately $358.9 million dollars were made in crop sales in Pennsylvania in 2017 alone. Overall, the state specializes in selling sweet corn, cantaloupe, pumpkin, snap pea, and strawberries as some of its most important and popular sales. Dairy farming is particularly rich in the Keystone state. Based on the number of dairy operations, Pennsylvania ranks second only to Wisconsin. The state outputs an average of $8.3 billion dollars in dairy product sales annually, further proving why Pennsylvania's yields are detrimental to the country's demands.
PAs Drought Forecast

At the end of this past summer, the Pennsylvania Department of Environmental Protection issued a drought watch under numerous counties. The dry conditions could cause crops such as corn to grow with shorter stalks or smaller ears or even produce less crops overall. According to the DEP's drought coordinator Susan Weaver the late summer drought isn't particularly uncommon anymore for Pennsylvania and is a consistent cycling event in recent history. Farmers worried about their yields predicted somewhere between thirty and eighty percent of their crops could potentially be cut from their annual harvest. The most common crops grown in Pennsylvania are soybeans and corn.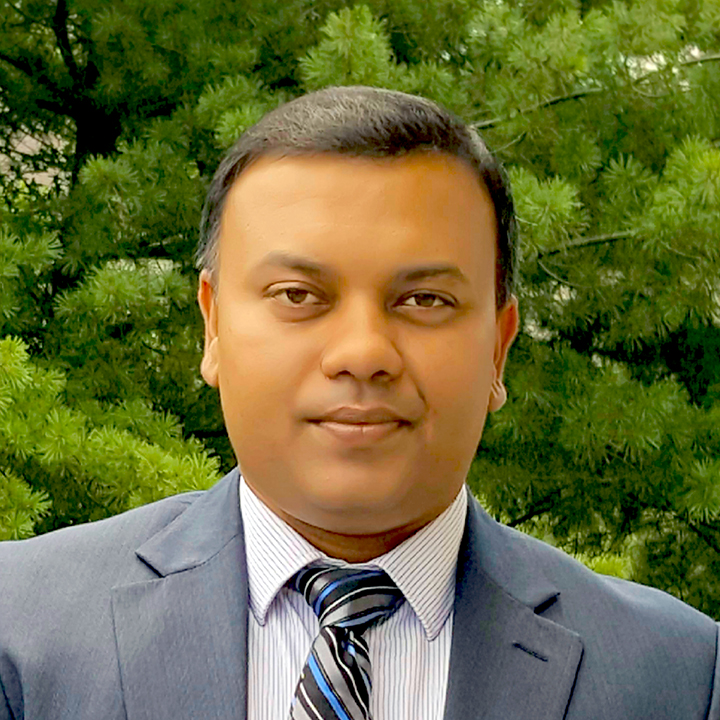 Photo provided by Auburn University
Rishi Prasad
Rishi Prasad works as an assistant professor and extension specialist for animal sciences as well as crop, soil, and environmental sciences at Auburn University. Prasad has a Ph. D. in soil and water science, a bachelor's degree in agricultural sciences, and a master's degree in agronomy. His research focuses on solving environmental problems with both crop and livestock production systems. He has a goal in mind to make the public and farmers alike financially well-off and healthy. Prasad contributed his thoughts towards the topic at hand by admitting that the unusually high temperatures could be more prevalent primarily in the later end of the growing season when the corn plants are most vulnerable.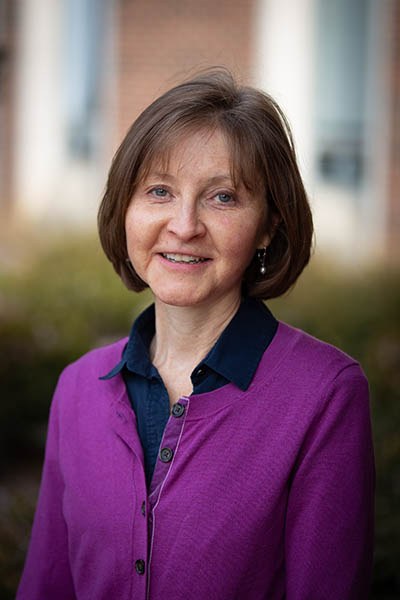 Photo Provided by Penn State University
Heather Karsten
Heather Karsten works as an associate professor of crop production and ecology at Penn State University. Karsten has a Ph. D. in Agronomy and a bachelor's degree in environmental biology. Her research includes interests in designing sustainable cropping systems while reducing the environmental impacts they could potentially have. She has also done work researching livestock's grazing patterns and grazing management strategies that follow with them. Karsten believes that Lancaster County dairy farmers could be at great risk with the rising temperatures that are caused by global warming. This would specifically be a result of low yields of corn production from temperature stressors across Lancaster County.
References
Countryside. "Winter Wheat: The Good of Grain." Countryside, 2 Sept. 2022, www.iamcountryside.com/growing/winter-wheat-the-good-of-grain/.
Heather Karsten, ph.D.. Plone site. (n.d.). Retrieved December 6, 2022, from https://plantscience.psu.edu/directory/hdk3
Mulhollem, Jeff. "Climate Projections Suggest Lancaster County Corn Yields in Jeopardy by 2050." Penn State University, ​Penn State News, www.psu.edu/news/research/story/climate-projections-suggest-lancaster-county-corn-yields-jeopardy-2050/.
Study: Climate Change Could Threaten Dairy Industry in Lancaster County." LancasterOnline, 26 June 2018, lancasteronline.com/news/local/study-climate-change-could-threaten-dairy-industry-in-lancaster-county/article_e567f918-78b1-11e8-bf02-c7b5fc996eec.html.
Woods, J., Hollis, P., & Edwards, T. (n.d.). Rishi Prasad. Auburn University College of Agriculture. Retrieved December 6, 2022, from https://agriculture.auburn.edu/about/directory/faculty/rishi-prasad/