The Wolf Administration is providing over a hundred counties with funding for garbage and recycling programs 
by Nicole Dalton
An initiative, the Lancaster Co-Ops is a new program that is aiming to prevent unnecessary food waste from going into landfills that could have instead been composted. The Co-Op was created in April of 2021, their goal was to composting more accessible to the people of Lancaster County. They are just an example of an initiative that is occurring in Pennsylvania trying to help with the push to fix the current composting practices. For Lancaster residents who are interested in helping with Lancaster Co-Ops, you can become a member. This will include attending New Member Orientation at your chosen site. As well as signing the Member Agreement. After that, you are given the code to the lock to be able to start bringing in your own scraps to be composted. Composting is the act of recycling natural and organic matter (such as fruits or vegetables and fruit scraps) After everything decomposes it can be used as nutrient-dense fertilizer with the help of worms, bacteria, and other composting organisms.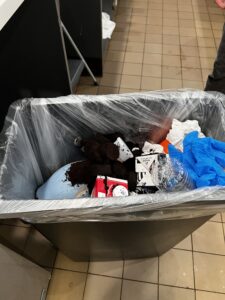 Source: Nicole Dalton
In April of 2022, the Commonwealth is providing an award to over one-hundred-fifty counties with government funding that would aid in the recycling programs to prevent excess waste in landfills as well as create better composting practices. The thirty million dollar grant will help both county and municipal governments. Lancaster County is being awarded over three hundred thousand dollars alone. It will be helping Lancaster City, East Petersburg Borough, Mount Joy Borough, and West Earl Township. 
Much of the grant is going towards improving the leaf collection programs since "leaf litter" is not able to be sent to landfills, and burning them can become a public issue. Burning the leaves is not environmentally friendly due to the fact that it will release pollutants in the air like mold and soot. So, instead, residents are recommended to compost their leaves which will help to create said fertilizer. These grants will also work side by side with the Litter Action Plan which is more focused on preventing litter from happening in the first place. Their goal is to collect and clean up over 500 million pieces of trash across the state. Governor Tom Wolf discussed how "Pennsylvania is a great place to live, work, and raise a family. It's a beautiful state with stunning landscapes and bountiful natural resources. But, we've got a litter problem." The grant, together with the Lancaster Co-Ops will be able to help the non-profit initiative and provide them even more support. While neither of these initiatives will completely eliminate the spread of litter and unnecessary waste, they will still be able to push for people to be more aware of their actions and to change their current practices. 
Source: Pixabay
For Lancaster County residents who are unsure of how to properly dispose of waste the LCSWMA or the Lancaster County Solid Waste Management Authority, provides all information on their website. Their goal is to be sustainable in the way they are using and managing waste. They have many different services such as trash disposal, hazardous waste drop off, and recycling. Within the resources on their website, residents can find alternatives to just throwing something out. Such as asking yourself if you really need something that you know you will never use or donating unwanted items. They provide links to local donation places like Community Aid, Goodwill, or Habitats For Humanity. The DEP or Department of Environmental Protection also put out a list of things to support these existing plans. Many of their recommendations work together with other areas of the state like the DCNR, Department of Conservation and Natural Resources, and the Department of Education. The DCNR is implementing its "Leave No Trace" program which is trying to help with the excessive litter in food service. The Department of Education is trying to add more anti-litter-based education and be more aware of the waste created. 
YES

NO/AVOID

Crushed egg shells

fruit/vegetable scraps

Coffee grounds

Leaves

Old herbs and spices

Odorous food (ex: garlic)

Meat

Dairy

Pet waste
For those who live in Lancaster County J. P. Mascaro & Sons is a well-established waste and composting company in Pennsylvania. They provide composting and recycling services to industrial, commercial, and municipal customers across Pennsylvania and the Tri-State area. On average they are able to compost almost 250 million pounds of food waste and sewage per year. With the ever-growing amount of food waste created every year they are trying to combat unnecessary waste or said waste going to the wrong places. Their facility resides on a large area of land in Lancaster county with an over 455,000 square foot building that holds the composting operations.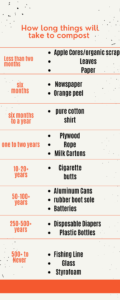 Source: Pixabay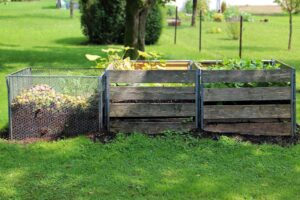 Even though most people have no issues with composting as an idea, issues are beginning to arise with the bins that the scraps are being put in. In Lancaster county, some residents think that the compost bins are an eyesore. The bin is 4 feet by 12 feet and is in Musser Park to try and is open to the public to make composting more accessible. Even one of the volunteers for Lancaster Co-Op, Ellen Campbell does not like the placement of the bins either, "We couldn't visualize where it could go and not be in the line of sight of people," she said, they also worried about its placement since the park is not that large.
Erin Wells- Regional Director
Erin Wells is the regional director of the Department of Environmental Protections for the Northwest Regional Office in Pennsylvania. She was named director in May of 2021. Before working for the DEP she was the liaison for the region's local governments which is a 14-county area. Her most recent work before becoming a regional director was working at the Pennsylvania Department of Community and Economic Development Governor's Action Team. She also earned a Bachelor of Arts degree from Edinboro Univerisity in environmental and geography studies. As well as a program coordinator at Allegheny College which was helping to run their center for Economic and Environmental Development.
Robert Zorbaugh- CEO
Robert Zorbaugh is the Chief Executive Officer of the Lancaster County Solid Waste Management Authority and has served since January 2019. He has a bachelor's degree in Geo-Environmental Science from Shippensburg University and certifications from the University of Wisconsin Landfill Design Course. He began his career at LCSWMA in 1990 and has served in many different positions until becoming the CEO in 2019. As well as being the Chief Operation Officer 8 years beforehand. His responsibilities include reporting the Authorities' activities to their Board of Directors, he also oversees their long-term planning within areas of finances, and capital projects and providing reliable services to community stakeholders. 
Sources:
Decker. (2021, June 2). Erin Wells Named DEP Regional Director Of Northwest Regional Office. Pa.gov. Retrieved November 30, 2022, from https://www.media.pa.gov/pages/DEP_details.aspx?newsid=1452 
Lancaster Compost Co-Op. (n.d.). https://www.lancastercompost.us/. Retrieved November 19, 2022, from https://www.lancastercompost.us/
Lancaster County Solid Waste Management Authority. (n.d.). LCSWMA. Retrieved November 19, 2022, from https://www.lcswma.org/
Mascaro's A&M Composting Is A Major Regional Provider Of Sludge And Organics Disposal – J.P. Mascaro & Sons | If it's service, it's us! | Solid Waste and Recycling Services for home, business and industry. (2020, October 19). J.P. Mascaro & Sons. Retrieved November 28, 2022, from https://www.jpmascaro.com/news/mascaros-a-m-composting-is-a-major-regional-provider-of-sludge-and-organics-disposal-nwmft_199.aspx 
Thrasher, J. (2022, April 27). Wolf Administration Awards Nearly 160 County And Municipal Governments Funding For Waste And Recycling Programs. Pa.gov. https://www.media.pa.gov/pages/DEP_details.aspx?newsid=1596
Sauro. (2021, July 18). Composting bin attracts criticism, support after placement in Lancaster city's Musser Park. Lancaster Online. Retrieved November 30, 2022, from https://lancasteronline.com/news/local/composting-bin-attracts-criticism-support-after-placement-in-lancaster-citys-musser-park-lancaster-watchdog/article_f882ccdc-e4c7-11eb-9095-e3f518a4195e.html 
Wolf Administration Releases First-Ever Litter Action Plan, Calls for Action Statewide. (2021a, November 22). pa.gov. https://www.governor.pa.gov/newsroom/wolf-administration-releases-first-ever-litter-action-plan-calls-for-action-statewide/