Refillism is an eco-friendly, zero waste store located in York, PA. With all-natural, plant-based products, customers can bring in containers to refill their body care and household products for cheap!
by Kacey Emmell
Located in York, PA, Refillism is a sustainable, zero-waste store and online shop. Refillism is a part of a movement to live an eco-friendly lifestyle and be conscious about the environment with every purchase made. They work to provide as many products that are:
All-natural

Plant-based

Chemical, vapor, and chemical free

100% biodegradable

Non-toxic to people and pets

Cruelty-free

Made in America
Founder and owner Elizabeth Bower states: "We want to change the future of everyday household products and lead the industry in sustainable thinking. We not only provide refillable and reusable products that put the environment first, but we also curate products that are aesthetically beautiful and thoughtfully simplistic."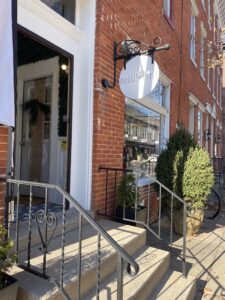 Photo by: Kacey Emmell
How does Refillism work you may ask?
In-store: bring your own container or purchase a new one in-store to fill it with one of the eco-friendly products they have to offer. You only pay for the per-weighted ounce that you have filled your container with. They also have reusable, refillable, recyclable, and compostable zero-waste goods that can be purchased in-store. 
Online: On their website, you can browse their household and beauty refills, reusable bottles, jars, and other goods. You simply add the products to your online cart and order. They ship anywhere within the United States. 
Refills come in a ready-to-use bottle, pouch, paper bag, or kraft pouch. When your package arrives, simply transfer your refill to a clean container and it is ready to use! All containers that come in the mail are recyclable and should be disposed of properly. 
Body care and household products are available for customers to refill in-store or online—products ranging from carpet spot cleaners and laundry soaps to body washes and sunscreen and so much more.
Photo by: Kacey Emmell
Rewards are available for returning customers. With their already cheap prices, rewards can make your beauty and household goods extremely cheap, saving you money!
Participants can earn points by creating an account (50 points), sharing the company of different social media platforms (10 points each), and purchasing goods online or in-store (1 point for every $1 spent)
Refillism is guided by four principles:
Reducing the amount of products they buy

Reuse what you have or what others no longer need or use

Refilling their consumable products instead of purchasing new goods/containers

Rethinking how every environmentally friendly action makes a difference 
By focusing on these principles, customers are boosting their carbon footprint and helping out our earth.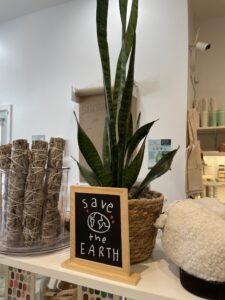 Photo by: Kacey Emmell
Refillism does not like landfill. They believe in products that can be easily recycled, reused, or biodegraded. This is important because they are trying to leave a healthy, clean earth for future generations. 
This company also does not use any plastic while shipping their goods. They work hard to ensure their shipping and packaging is plastic-free. All products are wrapped and shipped in materials that can be recycled, reused, or biodegraded. This makes sure that none of their products end up in oceans or places where they shouldn't be. 
With billions of sales and tons of plastic packaging, 91% of plastic isn't even recycled. This means that the rest of the plastic goes into landfills, oceans, or gets littered. With Refillism, they are limiting the amount of plastic that can potentially end up in the wrong places. 
To gain more knowledge and awareness about the environmental issues that affect our world, Refillism offers a book club that meets twice a month. During this book club, the group reads a book about the topic and discuss how it affects them and our world.
Stop into the York Refillism store or visit the online website: https://refillism.com/ to start being more friendly to the environment!
92% of consumers say they're more likely to trust brands that are environmentally or socially conscious
87% of consumers would buy a product with a social and environmental benefit if given the opportunity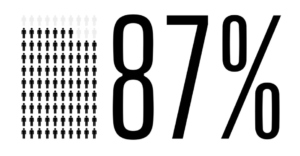 Related Stories
Zero Waste Lifestyle Changes
When wanting to live a zero-waste lifestyle, you should first think about what you throw away most often, which will help you figure out ways to reduce these things. You should consider things like plastic, single-use products, and fast-fashion items. For example, old glass jars make great storage, and old clothing can be used as reusable, washable rags. Other things to consider are reusable drinking straws, travel cutlery when eating out, and reusable bags for grocery shopping. Buying second-hand products such as clothes, furniture, cars, electronics, etc are also a great step towards living a zero-waste lifestyle. 
How to Sustainably Recycle or Reuse Clothing
Reusing clothing is a great way to eliminate some waste by passing them on to someone else or upcycling. If your clothing is in good condition, and you don't have a use for them anymore, don't throw them away! Try selling them to a local thrift store, you may even make some money off of your clothes! You could also donate them to people who are in need. But, if the clothing is no longer wearable, you can repurpose them to items that you can use such as rags to clean with. Simply cut up your clothes to the size rag you want and use them around the house, this makes them washable and reusable. 
Profile Stories
Reusable Face Cloth
Instead of using a one-use cotton round or a single-use wipe, a reusable, organic face cloth does the same thing and eliminates waste. It grabs any dirt from your skin and removes dead skin cells while also exfoliating your skin. The cloth is 100% biodegradable and plastic-free. When purchasing this item, the Zero Waste Club plants a tree with every purchase. The face cloth is washable, so it can be reused as many times as needed. Single-use cotton rounds and wipes are terrible for the environment while the face cloth is cheap and good for the environment. 
Dishwasher Powder
This product easily gets rid of grease, food particles, and more, leaving everything in your dishwasher clean. One tablespoon can be put in your dishwasher for each cycle, just use the hottest water available. The plant-based, biodegradable formula is better than traditional dishwasher pods because it eliminates all the plastic that is being used to make them. Even though there is not a lot of plastic on those pods, it adds up when so many people buy them in bulk. This powder is septic-safe, phosphate-free, and is a great switch for anyone looking to live an eco-friendly life.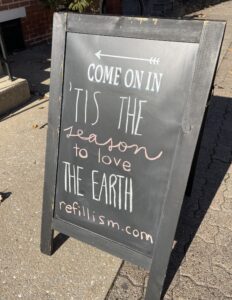 Photo by: Kacey Emmell
Resources:
Bower, Elizabeth. "Refillism a Refill & Eco-Lifestyle Shop." Refillism, https://refillism.com/.
Butler, Adam. "Council Post: Do Customers Really Care about Your Environmental Impact?" Forbes, Forbes Magazine, 12 Oct. 2022, https://www.forbes.com/sites/forbesnycouncil/2018/11/21/do-customers-really-care-about-your-environmental-impact/?sh=236d68ba240d.
Spartan Life, "10 Ridiculously Easy Zero Waste Changes You Can Make Right Now," 2019. https://spartanlifeblog.com/10-easy-zero-waste-changes/.  
Velez, H. (2017). 10 Impactful Ways To Recycle & Repurpose Used Clothing. Retrieved from The Good Trade: https://www.thegoodtrade.com/features/how-to-recycle-and-repurpose-clothing