By Ruby Mundok
One of the core values of Homefields Care Farm is integrity. They share on their website that they 'opt for goodness in our actions and legacy, toward our constituents and the land' – and they succeed at it.
The History of Homefields: A Place for All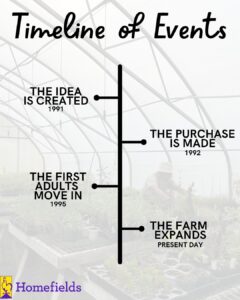 In 1991, a group of parents gathered in Lancaster County, eager to make a difference. Each of these adults had one unique thing in common: they were the parents of an adult with intellectual and developmental disabilities, and they wanted to make sure that Lancaster was a place where their children could get a job, support themselves, and learn.
The next year, five of these families put their resources together and bought an 8-acre farm in Millersville, right down the street from Millersville University. The team got together and restored a ranch house, a stone house, a barn, and the farm itself. These buildings house individuals with disabilities who may not be able to live on their own as adults. Three adults moved into the stone house, and once the ranch house was complete, three more moved in there.
The goal for these individuals was to provide an environment where they could be financially stable and semi-independent, but still supported with assisted living. The founding five families aimed to open the farm so it was functioning, where the disabled residents could work and have a feeling of success and productivity and serve the community at the same time.
The CSA
A Community Supported Agriculture program, or CSA, is a farm that grows and provides fresh products directly from the farm to the community with a subscription-like program. In either spring or winter, local members of the community can purchase a share of the farm's harvest – and then throughout the harvest season they are provided with high quality, delicious, home grown items. The farm has expanded overtime as the board works to preserve Lancaster farmland and provide even more crops. They now boast a 19-acre portion of land to call home.
Homefields provides 3 different share options for those interested. The options range from a small share (5-6 vegetables weekly) to a large share (12-13 vegetables weekly). Shareholders have the selection of all in-season and specialty items when they head to the farm to select and pickup their produce. The farm also collaborates with local creators to provide add-ons such as bread, dairy, and kombucha.
The Care Farm
The Care Farm aspect of Homefields is what makes it truly special.    The combination of providing for those who are at a disadvantage and creating a welcoming, productive home for them while supporting the community is at the core of what Homefields does. The farm has had over hundreds of disabled people who typically can't work a traditional  job work on the farm, and houses six individuals in their assisted-living homes. The campus has been alive and active for 29 years, and hosts fundraisers, events, and live educational programs for the community.
The campus contains 2 houses, the stone house and the brick house, which are the homes of 6 residents. They also have the main farmland, which is home to all of the organic vegetables, fruits, and herbs — and where they host different events.
The Volunteers
Homefields is an official registered nonprofit 501(c)3 organization and relies on volunteer support to not only help residents but help maintain the farm. They offer a selection of volunteer opportunities, from one-time to ongoing work. In 2022 alone, the farm reports that they have had over 2,000 volunteer hours logged. Volunteer groups exist within local schools and university to create bonds with the community.
A Sustainable Solution for Lancaster County
The definition of sustainability is 'a societal goal that broadly aims for humans to safely co-exist on Earth over a long time.'
Homefields keeps sustainability at its core, amidst the other values of volunteerism, support, and providing locally grown items for Lancaster. The board ensures that their part of Lancaster County remains in its natural state, and recently bought surrounding farmland to keep it from being developed into more housing and disrupting the ecosystem.
They provide sustainable food options for the Lancaster community and shareholders, by growing produce and donating extras. The farm has donated over 1,200 pounds of fresh produce to local food banks this year alone.
And Homefields provides sustainability in quality of life for individuals who may have barriers to working traditional jobs or living traditional lives. They allow these residents to co-exist with the world and find a feeling of purpose by providing for the community that supports them in return.
Related Stories
Homefields Care Farm Becomes Certified Organic
In July 2022, the Homefields community-supported agriculture program was officially ruled 'organic' by the U.S. Department of Agriculture and Pennsylvania Certified Organic. The process is a long one – but worth it to the team of farmers and residents. Becoming certified involved years of applications, planning, and documenting the farm's status. This new certification expands the horizons of Homefields, by allowing them to provide food to different markets and organizations in the county. However, the growing methods of the farm won't change much, as they have always strived to practice chemical-free and all-natural routines.
CSA Programs in Lancaster County
Community-supported agriculture programs, or CSAs, are a great way to connect with local farmers in your area – and reap the benefit of delicious, homegrown products. These programs allow residents to purchase a 'share' of that season's harvest and receive locally grown fruits, vegetables, and more weekly. There are national programs such as Lancaster Farm Fresh Co-op which deliver food to many regions in the country, and Lancaster-centric programs such as Homefields CSA which prioritize local shareholders and helping the community. If you are searching for a way to shop and eat local, consider supporting a local CSA program!
Profiles
Meet Katie Landis, Farm Manager
Katie Landis has been a part of the Homefields Community for three years, and the farm manager for two. She loves the sense of community and the happiness that everyone shares when they're working. Landis shared in an interview that she has always loved gardening and growing food. This passion stems from her mother who had a large garden and would let Landis and her siblings help with the growing process. She started an internship afterwards at an herb and vegetable farm, and knew that farming was her passion. She now serves as the farm manager, where she plans out crops and works with shareholders to improve the CSA program.
Meet Jason, Resident
Jason is one of the amazing residents that makes Homefields so special. He has Cerebral Palsy, so learning to walk and talk was difficult growing up. He was adopted in 1975, and after some schooling, his parents decided it was time to put him on the list for a group home. Soon after, Jason was accepted to Homefields, and his family said it is the best thing that could ever have happened for them. The staff at Homefields shared that Jason is meticulous and organized, and always likes to welcome guests to the farm. Jason works at Ephrata Area Rehabilitation Services, and he loves working hard to earn a paycheck.
Sources:
Home. Homefields. (n.d.). Retrieved December 1, 2022, from https://www.homefields.org/
Homefields Incorporated. (2019, April).