Lancaster County farmers are working to change their farms to save local waterways from pollution.
Local waterways and the Chesapeake Bay are becoming polluted by the farming industry, so farmers are coming together to help put and end to the pollution.
By: Rebecca Smith
Lancaster County is an area well known for its farming lifestyle. The area has some of the richest soil in the world, making it a prime spot for growing an array of crops. However, sometimes farming is not too great on the environment, so farmers are starting to take a stand on protecting the counties and surrounding counties environment from pollution.
Photo Credit: Rebecca Smith
One of the biggest things in the environment that gets polluted from farms is water. Often time farmers place their cattle in fields where a stream runs through but, if manure gets into the stream it can cause pollution. All of our county's streams connect to bigger bodies of water that connect to the Chesapeake Bay watershed so, anything that gets into local waterways will eventually make its way to the Chesapeake causing pollution there as well. Cattle who are in a field with a waterway fenced in with them often time cause pollution due to them breaking down the shore line and knocking sediment into the stream. Many farmers are practicing a new method to help in protecting the water from being polluted by putting in riparian buffers along the bodies of water. Stream bank fencing is a method similar to the riparian buffers in which it helps to prevent nutrients rainfall gathered ending up in the waterways. These are best to stay on the field because they help with crop growth.
Photo Credit: Rebecca Smith
Some other methods farmers are practicing in order to keep them from polluting the water of manure is by placing concrete slabs along the bank of the water or even storage units to keep waste from running off into the streams.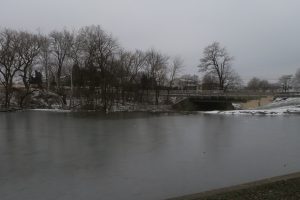 Photo Credit: Rebecca Smith
Keeping the soil full of nutrients and not running off into the waterways is important as well in helping to stop the pollution. One method is by the use of planting cover crops which are vegetation that holds soil in place with its roots. It helps to prevent erosion even when the cash crops are not being grown. Cover crops provide help to provide shade, preventing sunlight from causing weeds and keep the soil cool. The roots of cover crops discharge organic materials into the soil, which helps to replenish future commercial crops and provide food for soil. Farmers too are working to help preserve the soil in the area by switching to no-till implements. Tilled fields can cause large amounts of pollution in nearby waterways after a heavy rainfall. Also tilling the fields now-a-days requires usage of heavy equipment like tractors, which use fuel that can be damaging to the environment.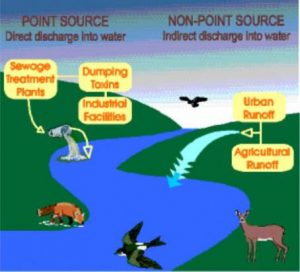 Credit: Rachel Nyugen and Jasmine Le
"The more land that we can preserve and farm properly, the more soil we're going to have; and we're going to be able to grow the food of our nation." said local farmer Luke Brubaker. Taking care of our waterways and making sure they are clean is important not only for the community of the county but also for farmers, by keeping the nutrients on the fields. Lancaster County farmers need to start prompting for a stronger stand on protecting the waterways in our area as well as incorporating the new rules if they want to maintain a health industry and cut pollution to local waterways and the Chesapeake Bay.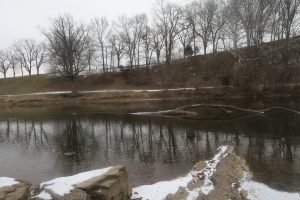 Photo Credit: Rebecca Smith
Riparian Buffers
Riparian buffers are vegetated areas of trees and shrubs that sit along the edge to block out the nutrients going into the water. They are useful to help stop pollution to both waterways and habitats. Riparian buffers help to intercept nutrients getting into the waterways that harm fish as well as intercepts pesticides. Pesticides getting into the waterways is also harmful to fish if it bioaccumulates that causes chemicals to reach harmful levels once they are ready for consumption by us humans. Riparian buffers help to keep banks stabilized. If banks erode away sediment and siltation can get into the waterways which can reduce the lifespan of a reservoir.Some benefits they have on habitats are they provide one to many different types of species, they increase biodiversity by re-providing a habitat to a species that may have previously left the area, it shades the water cooling it for the aquatic life and increasing their habitat quality as well as productivity. A restoration specialist from the Chesapeake Bay Foundation says the buffers so far are covering 1,300 acres.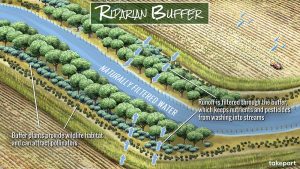 Credit: Laine Honneger
Lancaster County Water Week
Every year Lancaster County Conservancy holds a week in honor of celebrating and promoting clean water. Lancaster County's water week was created by Spike Brant and Fritz Schroeder. They created the idea of a week dedicated to preserving and restoring our county's water after kayaking along the river seeing the pollution and erosion up close and personal.
When seeing this they decided to create a campaign to promote and celebrate all 1,500 stream miles of Lancaster County's unique waterways. Water week helps to educate the public on the opportunities we can create to save our waterways and promotes activities the public can do to help preserve and restore our waterways.Currently 47% of our streams are polluted. These rivers are the source of our drinking water, do we really want to be drinking polluted water?
Water week was created to have the Lancaster County community come together to help strengthen and protect our waterways. To find out when Water Week is in 2018 and how you can donate to preserve our waterways go to www.lancasterwaterweek.org
Creator of Lancaster Water Week: Fritz Schroeder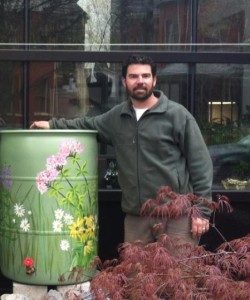 Lancaster County native, Frtiz Schroeder is the developer of residential and institutional greening programs at the Lancaster County Conservancy since 2007. He graduated from College of Wooster where he got a B.A. degree. Prior to working at the Lancaster Conservancy he was the director of economic development for East King Improvement District. Schroeder has been the leadership role for several non-profits. Several of those being Lancaster Buy Fresh By Local, Lancaster County Conservation District Foundation and Susquehanna Sustainable Business Network. Schroeder brings extensive background knowledge of landscaping to the conservancy, as well as knowledge in overseeing design and installation of stormwater capture techniques to green roofs.
The Chesapeake Bay Foundation
The Chesapeake Bay was founded in 1967 as an organization dedicated to saving the bay. It is currently the largest organization dedicated to this cause. For over 50 years CBF has been there to engage the public in committing to restoring the bay, and making an awareness of its poor health. The CBF serves as a watchdog that fights for effective and science-based solutions to stop the pollution. CBF leads the way in restoring the Bay and its rivers and streams. The main goal is to have it free from toxic chemicals, have clear water, and oxygen levels back to healthy.
CBF has offices in the states of Pennsylvania, Maryland, Virginia and District of Columbia.
President of Chesapeake Bay Foundation: William Baker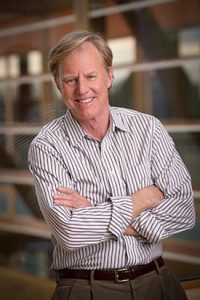 Photo Credit: Chesapeake Bay Foundation Website
William Baker is the current president of the Chesapeake Bay Foundation. He began his career with CBF as an intern right out of college in 1976. He became president of the foundation in 1982 which he has been since, leading the largest nonprofit conservation organization dedicated to protecting and restoring the Chesapeake Bay. He has been previously awarded with an Honorary Doctor of Public Service from Washington College, Honorary Doctor of Laws Degree from University of Maryland, and an Honorary Doctor of Humane Letters from St. Mary's College. Aside from being the current president of CBF he is an emeritus board member of the Baltimore Community Foundation, Director of Central Maryland Transportation Alliance and a member of the UMBC board of visitors to name a few. Since his run of being president CBF has received several awards in recognition of its educational environmental program.