Serving up Solutions: How Millersville Dining Makes Campus More Sustainable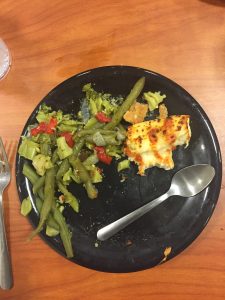 Photo Credit: Abigail Rissinger
Food waste is a problem all across America but especially on college campuses. I sat down for an interview with Gerry Shehan, Associate Director Of Dining, and Chris Steuer, the Sustainability Manager to discus food waste, dining, and the future of sustainability on Millersville's campus.
Written by: Abigail Rissinger
Food Waste in the World
Food waste has always been a problem for this country but has become a popular topic when thinking about sustainability. According to the USDA, last year Americans didn't eat about 40% of our food supply. To put that in perspective that's about 133 billion pounds of waste of uneaten food. Straws, plastic Utensils, and food packaging litters garbage dumps across the country. These items are normally made of polyethylene (PE), polypropylene (PP), polystyrene (PS). These materials are all part of the category of plastics which are harsh on the environment to produce and take over hundreds of years to biodegrade.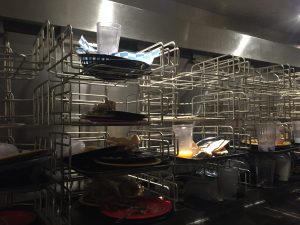 The Machine that students put their food on after done eating
Photo Credit: Abigail Rissinger
Food Waste on campus
A recent poll of Millersville students show that the majority of students do not finish all the food that is left on their plate when eating at the upper deck. The poll of 86 students from the class of 2020 revealed that while 61 of the students claim to eat most of what is on their plate only 11 students claimed to finish all of it. More students claimed to regularly eat less than half of the food on their plate than those who had claimed to finish all of it.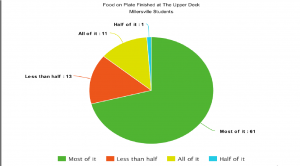 Photo Credit: Abigail Rissinger
A poll taken of 86 students show that the majority of students do not finish al the food that they put on their plates.
The Inside Scoop: Interviews about Food Waste
The statistics above lead to a question that highlights a bigger issue: What happens to the food at the Upper Deck after students give up their plates? I interviewed Gerry Shehan, Associate Director, and Chris Steuer, the Sustainability Manager, to discuss sustainability in dining at Millersville.
1. Could you walk me through what happens after food is put on the tray machine at the Upper Deck?
Steuer: Employees separate food waste from plates and utensils. Food waste is mixed with other compostables and transferred to a bin outside Gordinier to await pickup by Environmental Recovery Corporation (ERC). ERC picks up the compostables every two to three days and takes them to their facility where the food waste is composted.
Shehan: The composting facility is actually Oregon Dairy about 20 minutes from campus. They use our compost to run their farm. We compost about 7 tons of waste per month there. It's a good system because it keeps the process local which helps save on transportation waste like gasoline.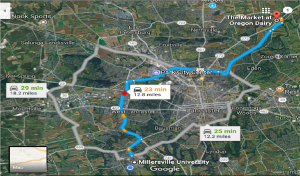 Photo Credit: Google maps
Map showing distance between Millersville University and Oregon Dairy
We also discussed many of the ways that Millersville dining has become more sustainable.
Changes that have decreased waste on campus:
-Sending 50-60 tons of food waste per year to collection facility for composting.
– Reduces the number of trash bags entering the landfill.
– Eliminated use of straws, ketchup, honey and lemon packets, and other non-compostable products entering the landfill.
– Eliminating Trays from the Upper Deck. (This lead to a 20% drop in food waste)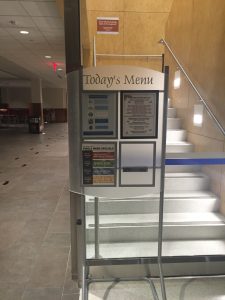 Menu board outside upper Deck. This eatery offers a variety of food choices.
Photo Credit: Abigail Rissinger
The Last Question: The Future of Sustainability
What do you think the future of food waste at Millersville will look like?
Steuer: Dining and Conference Services have made significant reductions in food waste through tactical changes (e.g., eliminating use of trays). The food waste that is generated is treated responsibly through composting. Improvements should focus on additional food waste reduction both through continuing to donate perishable food to campus cupboard and encouraging less food waste generation among students through education and outreach.
Shehan: Personally, I would love to see Millersville do more with our community garden. We grow produce on campus and I know other colleges like Delaware Valley University partner with their food providers to serve what they grow on campus.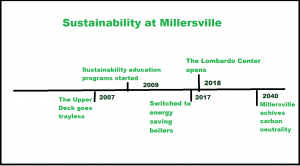 Timeline of Millersville Sustainability
Made by: Abigail Rissinger
The Lombardo Center: Millersville`s First Net Zero Building
Millersville University has always had a long standing commitment to sustainability. Millersville`s newest construction project demonstrates that commitment. The Lombardo Center will be the University's first net zero building. The term net zero comes from the energy that this building will produce. The Lombardo center will be equipped with solar panels as well as geothermal heat pumps to make all of the energy that the building needs to run. The center will be about 13,600 square feet and act as a new welcome center for the university for prospective students. The Lombardo Center will be opening in January of 2018.
Del Val Sustainability: A Shining Example
Delaware Valley University sits right in Doylestown Pennsylvania. Del Val is a private school that focuses on the agricultural sciences. This campus is home to future farmers, biologists, and Veterinarians alike. This campus is special in many ways but one of them is that much of the food grown in the campus gardens are harvested then served in the dining hall. This unique arrangement allows students to work with the school's food company: Parkhurst dining. This program helps students learn how to interact with corporations. This program also fosters a sense of community through sustainability. Great job Del Val! Go Fightin Aggies!
Oregon Dairy: Cows, Cream, and Compost
Just 20 minutes from Millersville sits Oregon dairy. This farm is one of the jewels of Lancaster. This farm has activities such as corn mazes, animals to pet, and home made ice cream. Oregon Dairy may just seem like a nice spot for Agro-tourism but it is also fully functioning! On its campus also houses a compost facility. There, food waste from all over Lancaster county is brought and given a second life. The Upper Deck, an eatery on Millersville's campus, ships its compost to this facility. About 60 tons per year! This is a great way to keep it local and sustainable!
Getting to Know ERC
The Environmental Recovery Corporation, also called ERC, is one of the largest waste management operations in the mid Atlantic region. This company was started in 1988 by Richard Middleton as a wastewater and waste oil treatment facility but quickly spread to other areas of waste management. This company has a focus on sustainability and responsibility to the environment. The company also specializes in tasks such as transport, disposal, and food waste. They are partners with many organizations including Millersville university. This organization helps the university recycle 400 pounds of waste food a day. That`s about 7 tons per month and 70 tons per year!
Sources Cited
Gerry Shehan, Associate Director Of Dining
Chris Steuer, the Sustainability Manager

http://www.millersville.edu/sustainability/
http://www.ercofusa.com/