Millersville University is always getting more environmentally healthy and the Lombardo Welcome Center's Energy Dashboard tracks it all.
By Max Galley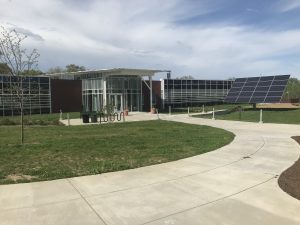 Lombardo Welcome Center
An Energy Dashboard is a showcase of how energy is being created and spent in a select location. Millersville University has recently built an Energy Dashboard with the Lombardo Welcome Center. The Energy Dashboard of Millersville has different sections which include:
Millersville + You

Why Millersville

Do You Have My Major?

Global Goals, Sustainability on Campus 

and of course

Energy Dashboard.
I had a hands on experience with the Energy Dashboard.
Everyone has a wish and sometimes that is to improve the world. The Global Goals section of the Energy Dashboard shows many different goals that someone may have such as;
No Poverty

Climate Action

Affordable and Clean Energy

Life on Land or Below the Sea

Gender Equality

Responsible Consumption and Production

Clean Water and Sanitation.
The Dashboard talks about how it has this section to give you diverse experiences that can help you grow into different roles. Whenever you look at one of the sections of the Global Goals it will show you what different majors can do to solve these specific problems- for example if you were to look into solutions of climate action you would get ones you would expect like how meteorology majors can help but then there's more niche ones like marketing majors being able to help through commercial. A question often asked is, "what do you plan to do with your major?" and the Millersville Energy Dashboard gives practical uses for the skills you learn in your classes.
Sustainability on Campus section of the Energy Dashboard looks at the different aspects of campus and how they are sustained. The Lombardo Welcome center for instance has many different aspects of it that makes it well sustained and environmentally friendly using things like 548 solar panels to power the Lombardo Welcome Center, all the furniture being made of recycled materials, and having 23 ground source heat pumps. All of these things make the Lombardo Welcome Center the most efficient building on campus, which is the goal of this building. The Sustainability in the Curriculum talks about how different professors on Millersville and how they are making things like labs and applied learning more sustainable. Sustainable Operations looks at different concepts and principles on campus that focus on making campus healthier. It also talks about different kinds of events and activities such as speeches, educational campaigns and events based around environmental health. However the most important part of sustainability is making sure that we stay sustainable, so be sure to recycle, carry around reusable water bottles, and share rides. There are many things on campus that can help you to achieve these for example there are water refilling fountains attached to many of drinking fountains around campus.
The main draw of the Energy Dashboard however is to observe the usage of energy so we can improve our consumption in a more healthy manner. The Millersville Website for the Energy Dashboard is spit up into seven different parts. Among these are a page that will show you the energy usage of all buildings on campus including both residence halls and academic buildings, a page that shows the electricity usage of each of the buildings and will also compare usage from the current time period to another designated amount of time (from a week to a month or year). It also has usage of natural gas, the climate action (such as CO2 releases), and a leaderboard showing which buildings have saved or used the most amount of energy in an allotted amount of time. Caputo Hall has saved the most energy on campus this semester while Hash/Bassler has increased their energy consumption. Caputo also uses the most energy on campus so the improvement is great.
Acclaim
Due to the Lombardo Welcome Center, Millersville was recognized as nationally recognized for its environmental efforts. Millersville was one of the ten universities across America and the only university in Pennsylvania recognized by the 2019 Higher Education Climate Leadership Summit. The Lombardo center produces just as much energy as it burns which is why it got this prestige. Millersville University Sustainability director, Chris Steuer says " It's an honor to be recognized by Second Nature for our climate change work.This award speaks to a growing collaborative effort among our faculty, staff and students, and with the surrounding community, to respond to the challenge of climate change."
History 
The Lombardo Welcome Center began construction began in February 2017 and was finished in July 2018. The Lombardo Welcome Center began with the idea of complete energy conservation in mind, taking every possible way to conserve energy and squeezing it into one building. Zero Energy starts with energy efficiency, and the Lombardo Welcome Center is 60% more energy conscious than any other building on Campus. It is designed not only to house offices but also as a way to teach us about how to conserve energy.
Chris Steuer
Chris Steuer is the Sustainability director at Millersville University. He is responsible for directing all of the sustainability events that happen on Campus. Notably he has implemented the University's Climate Action Plan and making the Lombardo Welcome Center how it is. Steuer has also done interviews for Comcast News talking about the Lombardo Welcome Center. Steuer has worked as the Sustainability Management Consultant for ICF, a consulting firm where he has developed sustainability projects for a multitude of corporations.
Interview with Steuer
I had an interview with Chris Steuer and he had some interesting highlights on how the Energy Dashboard functions.
The underlying software is BuildingOS from Lucid.  They provide the software, similar to using Microsoft Excel, and I build the pages.  All of the data is supplied through electricity meters on our buildings that report electricity use to the software every 15 minutes.  The 10 buildings on the campus dashboard each have one meter and the Lombardo Welcome Center has 350!  We aggregate Lombardo's 350 into 40 that get reported as "virtual" meters to the dashboard.
Steuer says that monitoring energy consumption allows us to know where we can make improvements and solve problems if they are to arise.
https://buildingos.com/s/millersville/storyboard139/?chapterId=730https://lancasteronline.com/news/local/millersville-university-among-institutions-nationally-recognized-for-their-environmental-sustainability/article_139ca95a-3ac2-11e9-b9b3-7f5b469f0016.htmlhttps://www.millersville.edu/sustainability/chris-steuer.php